City break in Utrecht. Active leisure ideas for Utrecht - attractions, recreation and nightlife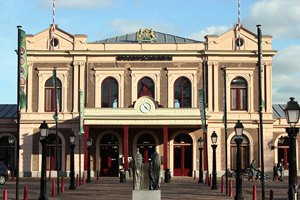 Travelers going to Utrecht in search of new experiences and exciting entertainment won't be disappointed. The most amazing and unusual entertainment center of the city is a miniature park Madurodam. The most interesting sights of the country are recreated there in 1:25 scale. The park occupies a rather impressive space - about 18,000 square kilometers; it will take more than one day to inspect its vast territory.
Foreign visitors should definitely take into account local rules of conduct and rules of etiquette, as it will make your stay in the city even more comfortable. Those coming to Utrecht on …
Open
Shopping enthusiasts will be delighted by colorful local markets; the most interesting is located in Vredenburg. It works few days a week; at the market you can buy a variety of souvenirs and trinkets. In warmer months, fine flower fairs and Oudegracht Janskerkhof offering luxurious fragrant bouquets work on Saturdays.
Most stores and shopping complexes would be found in Oudegracht, Neude and Vredeburg; there are elite clothing stores, stylish boutiques and highly specialized trade pavilions among them. Those who are used to do shopping in large-scale malls are recommended to go to Wilhelminapark, the largest shopping center of the city. Not far from the train station there is an attractive shopping center, Hoog Catharijne; it is ready to offer visitors a wide range of products of different price categories. Copyright www.orangesmile.com
In Utrecht there is the oldest religious building in the Netherlands; the first mention of the Cathedral (Domkerk) dates back to the 7th century. The ancient religious building was severely …
Open
In addition to exploring many shops, holidaymakers have an opportunity to enjoy the splendor of local parks. A city is great for hiking and biking, anyway, boat trips along local channels are more popular among tourists. A significant portion of residents are students, so the nightlife of Utrecht is very rich and diverse.
Fans of club music and noisy discos will appreciate the Monza club; one of its main distinguishing features is a huge dance floor. Taking a break from the loud music, visitors can pop into the cozy bar serving a decent selection of beers and cocktails. The stylish club Stadscafé Heerenplein has become the actual venue for popular DJs. There is always trendy music and a huge selection of treats for guests. It is worth noting that among club's visitors there are lots of tourists, so travelers from other cities and countries would feel very comfortable.

This guide on active recreation and leisure in Utrecht is protected by the copyright law. You can re-publish this content with mandatory attribution: direct and active hyperlink to
www.orangesmile.com
.
City tours, excursions and tickets in Utrecht and surroundings
Sites around Utrecht from our surveys on extreme Earth places
Netherlands Institute of Sound and Image
From the series
"Glass Architecture - Impressive Villas and Buildings from Glass"
Check on the map:
Distance from Utrecht center - 17.1 km.
The project of this bright façade was made by an artist Jaap Drupsteen. He decided to devote this building to the history of Dutch television. Every glass panel on the façade is a washed-out photo where is depicted one or another important moment from the history of television. All photos were thoroughly chosen by the artist. He matched them on the façade by colour. The main part of the building is a warehouse of the audio-visual depository that is one of the largest in Europe. …
Read further

Queen's Day
From the series
"Most Enchanting and Vibrant Festivals"
Check on the map:
Distance from Utrecht center - 23.9 km.
Orange clothes is ''a must''. Many sew their own costumes. Such outfits are distinguished by originality and extravagance. The owners of domestic animals sew festive outfits for their pets. The hugest party across the whole country includes a variety of entertainments. Performances of street actors, live music and special festivities are combined with the market in the streets. …
Read further

Castle Muiderslot
From the series
"Impressive Castles and Palaces Located on Water"
Check on the map:
Distance from Utrecht center - 28.2 km.
Its name is one of the most interesting stages of the history of the castle. Peter Hoft was interested in the literature and therefore made the majestic castle a literary salon. Outstanding writers and poets, including Jacobs Kats and Bredero have visited the castle. Among the other well-known guests is the world-famous painter Maria Tesselschade Visscher. At this period, the magnificent gardens on the castle's dungeon, which inspired many writers. …
Read further

Photogallery of picturesque Utrecht
Search for active leisure and attraction spots on Utrecht map
City break ideas for neighbours of Utrecht
Guide to your best city break in Utrecht - popular places for recreation and leisure. Things to do during the day in Utrecht - attractions, parks, beaches, aquaparks, racing tracks, biking trails or waterski. Recommendations (with addresses, phone numbers and links) where to spend your time in the evening (bars, discos, clubs, etc.). We share some good ideas and the question 'What to do in Utrecht?' disappears immediately.