Preparing your trip to Marrakech: advices & hints - things to do and to obey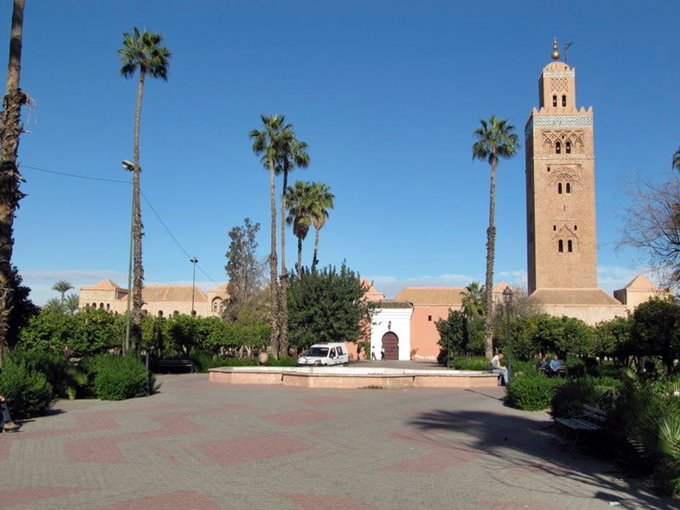 1.
Tourists should keep in mind that during the Ramadan being a holy month in Marrakesh alcohol is strictly forbidden even for the city guests. Spirits are not sold during this period in local shops as well as gastronomy destinations get deprived of any alcohol at all. Many state institutions and stores can keep to the shortened working schedule or may be completely closed.
2. Local drivers as well as pedestrians do not keep to the road traffic rules eagerly. Travelling by car one should be at the extreme of the attention as local folks can cross the road in any convenient place. Pedestrians in their turn should be attentive as well and strictly keep to the sidewalks.
3. Purchases should be paid only in national currency as any other currencies will not be accepted by merchants. The currency can be exchanged in local banks or private currency exchange offices meanwhile using individual services is banned by law.
4. Setting off to the market one should have enough change as high-denomination note may be a trigger to put up a price for a merchant and a buyer thus is challenged not to get the rest.
5.
One of the worst challenges of Marrakesh is pickpockets that is why one should be extremely watchful and keep track of personal things. One should not keep documents and substantial sums of cash by oneself without urgent need. Plenty of jewelry and gems on will as well attract the pickpockets. Copyright www.orangesmile.com
6. The best time for shopping is weekdays as weekends features extreme skyrocketing of the prices. Markets and private shops welcome bargaining that will help sufficiently reduce the price.
7. The next sufficient problem of Marrakesh is beggars who are aimed exactly at foreign tourists. One should avoid talking to them or giving them some cash otherwise the beggars will follow the tourist all day long.
Marrakech is a city located in the heart of Morocco. This is one of its most important cultural centers. It was founded in 1062 by Yusuf ibn Tashfin, who was the representative of the …
Open
8.
Tourists should avoid tap water consuming. The water should better be bought in one of the grocery stores in plastic bottles. One should be watchful as well with refreshing drinks and cocktails as these may be blended with tap water too.
9. Tourists should be backed up with sun protecting creams and sprays as sun burn of unscreened skin is guaranteed during the first day of the visit. The sun in Marrakesh is rather tricky and dull weather is rather rare.
10.
Almost any service should be rewarded with tips. The sufficient reward for the restaurant service is about 10% of the total order sum meanwhile taxi drivers, guides, hotel maids are commonly rewarded with 1 – 5 dirham.
Preparing your trip to Marrakech: advices & hints - things to do and to obey You can re-publish this content with mandatory attribution: direct and active hyperlink to
www.orangesmile.com
.
City tours, excursions and tickets in Marrakech and surroundings
Morocco: travelling advices
10. Before entering the house of a Moroccan, it is customary to take off your shoes, wash your hands in a specially designed bowl and say "Bismillah".
11. During a meal, the food is taken with three fingers of the right hand. It is forbidden to touch the food with the left – "unclean" – hand.
12. You can refuse tea only after drinking a third glass.
13. Do not quench your thirst with water from a tap, as this often leads to digestive disorders. …
Open
Photos of Marrakech
Services search (pharmacy, police, parking, banks) on Marrakech map
Tips for the cities around Marrakech
Travelling to Marrakech - advices and tips. What should be provisioned in advance, the rules you might want to follow, and the things you better avoid doing in Marrakech. We help you to make your trip smooth and easy, with no unexpected surprises.