Family trip to Haarlem with children. Ideas on where to go with your child
In miniature Harlem, there are many interesting sights and cultural sites, some of which are sure to interest the youngest travelers. Vacationers with children will be interested to visit the mini-zoo Artisklas. The zoo is quite small, and there are no large animals in it. However, there is a magnificent terrarium and a beautiful pond with fish. In the warm season, the zoo literally drowns in an abundance of greenery. Its guests will be able to relax on one of the benches in the shade of trees and just enjoy a rest in a picturesque place. The zoo is always quiet and peaceful. It will be a pleasure to relax with young children in it.
Haarlem offers lovers of lavish vacations the opportunity to choose from a wide selection of upscale hotels, one of the most popular of which is Van der Valk Hotel Haarlem. This hotel is …
Open
Another attractive place that fans of nature will surely like is the Flevo Birdwatching Center. This is a large and beautiful park, which is perfect for both walking and cycling. There is a beautiful pond with ducks on its territory. The main inhabitants of the picturesque park are birds, the observation of which will give a lot of impressions. The park will be interesting to visit not only in the warm season, but also in winter, it is perfect for winter entertainment.
Sports entertainment is very common in Harlem, and will certainly interest tourists with teenage children. In the warm season, holidaymakers always have the opportunity to engage in kayaking or organize an interesting boat trip, and one more common entertainment, cycling. It is difficult to attract children to visit classical historical sites, but they will enjoy the fascinating excursion on bicycles. You can rent a bicycle yourself; an excellent rental center is located near the railway station. Copyright www.orangesmile.com
Haarlem has several enchanting romantic hotels, a vacation in any of which will present you with a lot of unforgettable experiences. One such establishment is the Ambassador City Center …
Open
Harlem has many interesting and beautiful parks. One of the most unusual is Haarlemmer Kweektuin. This charming botanical garden can be visited completely free of charge. It is especially beautiful in the spring, when the trees bloom and rose bushes start to blossom. A pleasant surprise awaits young visitors in the garden - a beautiful pond in which live turtles. The park is quite large. In summer, it is always decorated with hundreds of flowers. Even economical travelers will be able to visit this landmark.
Another incredibly beautiful oasis of calm and silence is Frederikspark. This is the oldest park in Harlem, which was founded in the first half of the 19th century. The park became available for free access relatively recently. Today the park is very popular not only among tourists, but also among the townspeople. Here you can ride a bicycle or read a book under one of the centuries-old trees, and you can enjoy active entertainment with the whole family. The park is quite large, so it is not difficult to find a peaceful place to relax on its territory.
Haarlem will please tourists and shoppers with a variety of specialized shops and malls. Tea drinkers and lovers of chocolate will be interested in coming by De Kale Jonker shop, which has …
Open
There are many museums in Harlem, but not all of them will be interesting for children. A pleasant exception is Archeologisch Museum Haarlem - a magnificent archaeological museum, which occupies one of the most beautiful historical buildings. To view its unique artifacts will appeal even to kids. Children will be able to see ancient clay products, tools and weapons of primitive people, as well as a collection of old black and white photographs depicting artifacts discovered in the ground. In Harlem, there are many prospects for active family rest; the city has many beautiful parks and sports centers, as well as interesting cultural attractions for guests with children.

This guide to family holidays in Haarlem is protected by the copyright law. You can re-publish this content with mandatory attribution: direct and active hyperlink to
www.orangesmile.com
.
City tours, excursions and tickets in Haarlem and surroundings
Famous sights of Haarlem
Sauna Deco
From the series
"Most Extraordinary Thermaes, Baths and Saunas in the World"
Check on the map:
Distance from Haarlem center - 16.3 km.
In the 1970s, the department store, which was known for its exquisite interior design, was renovated. After the renovation, most decor elements were abolished. These magnificent decor elements of the historical department store were brought into the sauna of Amsterdam. Today its visitors can go to the pool on a unique wooden staircase, over which several decades ago Parisians went shopping. Tourists who decide to visit the most famous and popular sauna in the Netherlands, should observe an important rule - wearing a bathing suit in sauna is strictly prohibited …
Read further

Anne Frank Huis
From the series
"Apartment-museums of great celebrities"
Check on the map:
Distance from Haarlem center - 15.8 km.
A kind of shelter was set up in the backrooms of an old building when the war began. The entrance to the shelter was disguised as a closet. The Jewish family managed to hide here for two years. The building was searched in 1944. All the family members were arrested and sent to concentration camps. The Frank family became famous in 1947. A few lines from Anna's diary were published in one of the newspapers at that time. This treasured diary is the main exhibit of the museum today. Viewing a documentary film dedicated to the girl's biography is a mandatory part of the excursion. More than a million people a year visit the Anne Frank Museum in Amsterdam in recent years. …
Read further

Pythonbrug
From the series
"The Most Unusual and Strange Bridges on Earth"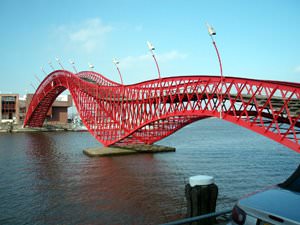 Check on the map:
Distance from Haarlem center - 20.3 km.
The bridge connecting Borneo Island with the Sporenburg Peninsula was opened in 2001. The bridge is located in the center of Amsterdam, next to the striking historical monuments. The workers of the architectural office West 8 decided a few years ago to refresh the center of the city and built this strange high-tech bridge, which reminds of the huge winding python. …
Read further

Photogallery of best places of Haarlem
Children attractions (aquaparks, zoos, amusement parks) on the map of Haarlem
Interesting places to visit with children around Haarlem
Guide to sightseeing and entertainment for children in Haarlem - parks, attractions, museums, zoos, water-parks. All fascinating and educational sites of Haarlem, which are must visit and see for your child. Find out the best discovery routes and places for kids (local theaters, exhibitions and museums), where you can spend quality time together. Haarlem for families with children.