Family trip to Alkmaar with children. Ideas on where to go with your child
In miniature Alkmaar, there is not much entertainment for children. However, it is still possible to plan an interesting family entertainment program. One of the main symbols of the city is cheese, which has been produced for many years in local historic factories and farms. Not surprisingly, one of the most unusual and interesting city museums is dedicated to cheese – Dutch Cheese Museum. A visit to this museum will be interesting with children of any age. They will definitely like realistic figures of cows. They will be able to see the old equipments that were used to make cheese hundreds of years ago and most importantly - to try the best varieties of local cheese, which is famous all over the world.
The city of Alkmaar will satisfy the desires and tastes of tourists of all the ages. Besides attractions and shopping facilities, you will be able to indulge in an immense world of …
Open
Fans of active entertainment in Alkmaar will have the opportunity to visit the ice rink De Meent Bauerfeind, the main guests of which are vacationers with children. This skating rink is located in the sports complex of the same name and is covered. So, you can visit it at any time of the year. Also in the center, there is an excellent pool and a lot of sports grounds that are also available to all visitors.
In the city, there is a beautiful zoo Alkmaarderhout en Westerhout. Both adults and children will get a lot of fun from the visit. The zoo is beautifully decorated. Animals in it stroll through spacious enclosures with a green lawn, in which many trees and other live plants grow. On the territory of the zoo, there are several artificial lakes with fish. The distinctive feature of the zoo is a rich collection of exotic birds. Here you can also see fabulously beautiful peacocks, and miniature birds that live in the rainforests. For small visitors, playgrounds are situated in the zoo. They will be able to feed the friendliest inhabitants of the animal world. Copyright www.orangesmile.com
1. The historic city center is easily accessible by public transport. Those who're planning to visit the suburban areas of Alkmaar and travel by train are advised to buy tickets in special …
Open
For those who want to diversify the family vacation with unusual entertainment, it is worth going to the center of Alkmaar Citytours. It organizes the most interesting boat excursions on the channels of Alkmaar. They are also popular family entertainment. During the water excursion, you can see many beautiful areas and iconic sights of the city, which is not so interesting to explore during hiking.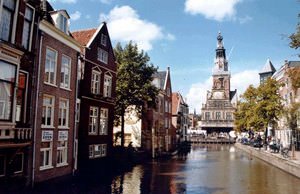 The De Hoornse Vaart Sports Center remains a favorite destination for travelers with children. It has a large indoor water park with special pools for children, a lot of colorful hills and other attractions. In addition, playgrounds are built directly in the pools for the smallest visitors. In the center, there is an excellent cafe, so you can relax in it with comfort all day.
When you want to diversify your holiday with an interesting cultural event, you can go with the whole family to inspect the old mill Molen van Groot, which has survived in the city. Today, it has been converted into an interesting museum. The mill managed to preserve almost all the original equipments. There is a mill on the river bank, in one of the most picturesque areas of the city. If the mere inspection alone does not seem enough, you can go on an exciting river trip. In the warm season tourist boats always cruise on the river.

This guide to family holidays in Alkmaar is protected by the copyright law. You can re-publish this content with mandatory attribution: direct and active hyperlink to
www.orangesmile.com
.
City tours, excursions and tickets in Alkmaar and surroundings
Photogallery of best places of Alkmaar
Children attractions (aquaparks, zoos, amusement parks) on the map of Alkmaar
Interesting places to visit with children around Alkmaar
Guide to sightseeing and entertainment for children in Alkmaar - parks, attractions, museums, zoos, water-parks. All fascinating and educational sites of Alkmaar, which are must visit and see for your child. Find out the best discovery routes and places for kids (local theaters, exhibitions and museums), where you can spend quality time together. Alkmaar for families with children.