Preparing your trip to Prague: advices & hints - things to do and to obey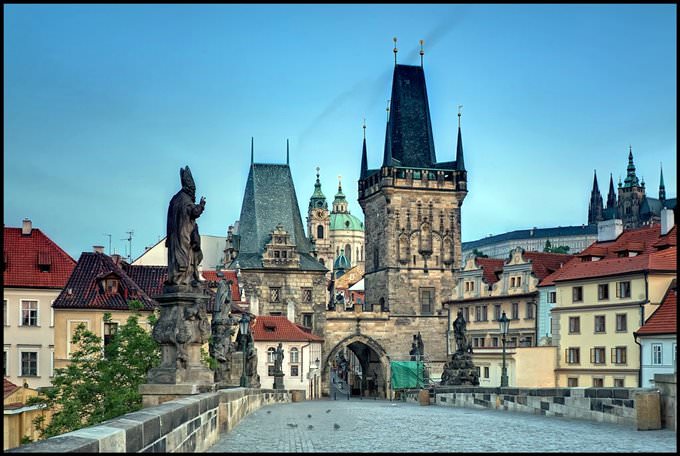 1.
Those, who expect to devote much time to walks around the city, are recommended to bring comfortable shoes with them. The reason for this is in the fact that the majority of streets are lined with stone blocks, so only comfortable shoes are suitable for long walks.
2. Fans of cultural events are advised to purchase ISIC card. It entitles you to a discount when you visit various museums, theaters and cultural institutions.
3. Drivers should be especially careful in Prague, because there is a strict speed limit throughout the city - 50 km/h.
4. The majority of cafes and small restaurants have special promotional stands installed near their entrances. These stands feature most popular dishes and prices for them.
5.
Staroměstské náměstí is the location of best souvenir shops in whole city. Travelers typically purchase crystalware and Czech glass, as well as chocolate as souvenirs from Prague. Copyright www.orangesmile.com
6. Tourists are recommended to give valuables to the reception or close them in a safe installed in the guestroom. Do not take much money and other valuables for you walk in the city.
7. When going to shops, you can notice that the price for the same type of products can differ no more than by 20%. The fact is that prices for the majority of goods are fixed, and this fact really simplifies life of shoppers.
Palladium shopping mall is a real historic landmark of the city. The mall offers more than 200 shops that sell clothes of different price categories, including high-class designer boutiques. …
Open
8.
The majority of exchange offices are concentrated in the city's center. It may be quite problematic to find a place to exchange money in remote districts of the city. Many restaurants and shopping centers allow paying by credit cards of international standard.
9.
Experienced travelers recommend buying your favorite souvenirs immediately. The thing is the range of souvenirs can vary greatly in various shops, so you simply can fail to find the item you've liked in other stores.
Preparing your trip to Prague: advices & hints - things to do and to obey You can re-publish this content with mandatory attribution: direct and active hyperlink to
www.orangesmile.com
.
What to visit being in Prague - unique sights
Dancing Building
From the series
"Top 16 Most Amazing Buildings of the Planet"
Check on the map:
Distance from Prague center - 0.2 km.
The initiator of the construction of the new building on the ruins was the President of the Czech Republic Wazlaw Gawel, whose house was not far away. Its idea was realized only in the 90s of the previous century, and one of the central streets was decorated with the new impressive building. Beside the modern building are the unique historical buildings, which were not destroyed by a miracle during the war. The fine towers with the glazed façade contrast with the majestic 19th century buildings. Many tourists prefer to graze at the booth center from the panoramic windows of the La Perle de Prague restaurant. …
Read further
The Historic Centre of Prague
From the series
"Top 15 Unesco Sites in Europe"
Check on the map:
Distance from Prague center - 1.5 km.
Incomparable Gothic monuments can be admired during a walk along Mala Strana. There are numerous religious monuments built in the Baroque style. In Prague, various tour itineraries suit all tastes. Tourists will be able to walk through the Royal Road, admire the old buildings in the Old Town Square, stroll in parks along the banks of Vltava, and enjoy views of old pedestrian bridges, which make the city look really special. …
Read further
City tours, excursions and tickets in Prague and surroundings
Czech Republic: travelling advices
3. It should be borne in mind that food, clothes, books and everything else that can be bought in the very center of Prague are always much more expensive than in the rest of the city. The center of the capital is aimed at serving tourists where there are always many of them. Czechs themselves prefer to visit it for walking and visiting the sights, but rarely for buying something, knowing full well about high prices.
4. Shouting and raising a voice in public places is considered bad manners and disrespect towards others. The same applies to loud talking on the phone.
5. In areas where there are many tourists, one should avoid taking a taxi. Taxi drivers cash in on tourists who don't know much about local prices, greatly overcharging them. Instead, one should search for existing taxi services in advance and call there, or order a taxi online. You can also catch a passing taxi. It is better to negotiate payment in advance.
6. In the Czech Republic, it is customary to yield seats in public transport to the elderly, pregnant women, and children of preschool age. Ignoring this rule can cause resentment among others. …
Open
Photos of Prague
Services search (pharmacy, police, parking, banks) on Prague map
Tips for the cities around Prague
Travelling to Prague - advices and tips. What should be provisioned in advance, the rules you might want to follow, and the things you better avoid doing in Prague. We help you to make your trip smooth and easy, with no unexpected surprises.