Preparing your trip to Plzen: advices & hints - things to do and to obey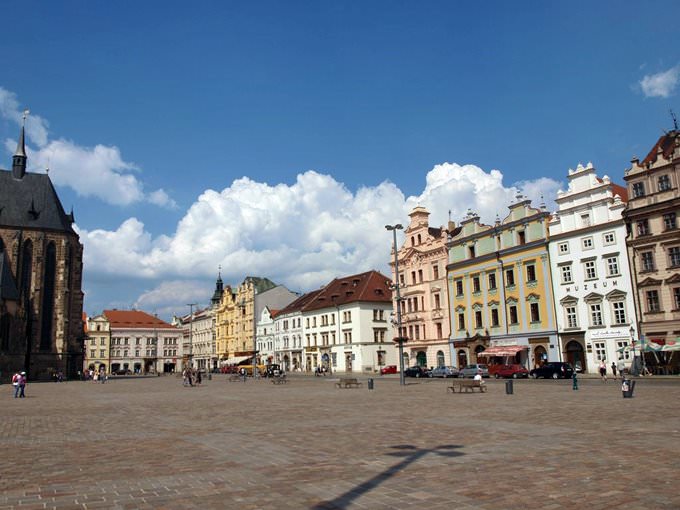 1.
Plzen is connected with big neighbored cities by bus and train systems. So, a travel to Prague will occupy a little more than one and a half hours, the same time is needed to get to Karlovy Vary. As for Munich, it is better to go there by train, it will help to save time.
2. It is recommended to go through the historical district of the city on foot, because all the important trip sights are located not far away from each other. Also there is two-wheeled transport which is the excellent alternative variant to walking on foot, there are bicycle leasing centers in a lot of big hotels.
3. There are two big touristic centers in the city, one of them is located near the central square, another is located on the territory of the central railroad station. There you can take a free city's map and specify time of trips and book tickets to the cultural events.
4. In Plzen public transport is represented as a branchy net of buses, trams and trolleybuses, by them it is possible to get to almost any object you are interested in. It is necessary to buy tickets in special automats, which are placed at all the transport stops or in the tobacco kiosks.
5.
The biggest number of travelers visit the city at the beginning of October, they are interested in globally popular Beer Festival. people who plan a travel for this period need to worry about it earlier. Also the peak of touristic season is Christmas holidays. Copyright www.orangesmile.com
6. Almost all the local museums and entertaining centers offer big sales to children. Traditionally a great number of museums and cultural establishments decrease the tickets' price in winter, but in summer prices are the most expensive.
7. It is recommended for foreign travelers to book a great number of trips earlier, they can do this in one of the touristic centers or in hotel. In this case you can be sure that the trip will be with your native language.
Plzen is interesting owing to its entertaining establishments. This city is good for family resting; travelers and their children need to visit the local zoo. It is located on the …
Open
8.
Trips to the local brewers are available only for adult travelers. Children under 18 years old must come to the trip only with adults. People who want to visit brewers' cellarage need to provide themselves with warm clothes, because the temperature is about 8 degrees centigrade in the dungeon.
Preparing your trip to Plzen: advices & hints - things to do and to obey You can re-publish this content with mandatory attribution: direct and active hyperlink to
www.orangesmile.com
.
What to visit being in Plzen - unique sights
Zamek Zbiroh
From the series
"Amazing Ancient Fortresses Preserved to This Day"
Check on the map:
Distance from Plzen center - 30.8 km.
Among the oldest castles in the Czech Republic, one must definitely mention the 13th-century Zbiroh Castle. Literally his name is translated by the Czech as 'collecting the horns'. The history of the castle is incredibly interesting. A legend tells that its founder was the hunter Zbynek Zaits. In the 13th century he lived in this area with his entourage. After sunset the hunters have climbed up to the top of the hill where they have stayed. In the morning they discovered the huge number of deer horns all around. …
Read further
City tours, excursions and tickets in Plzen and surroundings
Czech Republic: travelling advices
11. It is important to avoid appearing at events - formal and informal - without an invitation. This is considered a manifestation of arrogance and bad manners.
12. Being invited to an event, it is much better to be a little late than to come too early. Arriving earlier, there is a risk of catching homeowners not yet ready to receive guests, dressed in home clothes, and at an official event, there will be just nothing to do so early. If for some reason the guest had to come to the Czech house earlier, then, in order to make amends, the hosts should be helped with the preparations - for example, with setting the table.
13. Do not be surprised by young children peeing freely in the grass or bushes. Preschool children are allowed to do this in the Czech Republic, so no one pays attention to such things. But among older children and adolescents, such an immoral behavior is considered unacceptable, while an adult can even be arrested for this.
14. In the Czech Republic, one shouldn't be afraid to drink tap water - it does not contain any chemical impurities and is absolutely safe. …
Open
Photos of Plzen
Services search (pharmacy, police, parking, banks) on Plzen map
Tips for the cities around Plzen
Travelling to Plzen - advices and tips. What should be provisioned in advance, the rules you might want to follow, and the things you better avoid doing in Plzen. We help you to make your trip smooth and easy, with no unexpected surprises.