Family trip to Winnipeg with children. Ideas on where to go with your child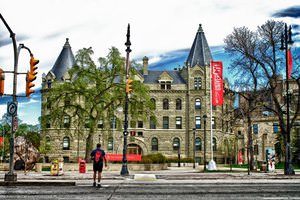 Winnipeg will pleasantly surprise vacationers with children with a variety of entertainment. It will be worth starting a family excursion program with a visit to the Assiniboine Park Zoo. It occupies a large territory, which is conditionally divided into several thematic zones. There is a zone dedicated to Arctic where you can see polar bears, and there is a beautiful tropical pavilion in which you can admire butterflies. The zoo is very beautifully decorated, and has many interesting monuments and playgrounds for children. In the warm season, visitors can ride round the zoo on a beautiful horse drawn cart.
Some hotels in Winnipeg are very popular among wealthy travelers. One of such is reputable The Fairmont Winnipeg. It occupies a very astonishing and large-scale modern building which makes …
Open
Nature lovers and lovers of outdoor excursions will definitely like the Assiniboine Park, which is located near the zoo. It is also very impressive and very well-groomed. There are many playgrounds and sports grounds in the park for children. Adults will like the cozy recreation areas with benches. There are many paths in the park, along which you can take a walk or ride a bike, and also, equipped picnic areas. In summer, the park often hosts interesting cultural events, including open-air concerts.
There are several excellent amusement parks in the city. At the peak of popularity remains the amusement park, Tinkertown Amusements. Here you can perfectly relax with the whole family, ride a carousel and colorful cars, try out extreme rides, and admire the panorama of the city from the Ferris wheel. This amusement park is aimed at children of different ages. Suitable attractions can be found for both kids and adults who sometimes also want children's fun. Copyright www.orangesmile.com
Winnipeg is set to offer travelers several charming hotels with historical scenery. One of the most attractive establishments from this point of view is The Fort Garry Hotel. The hotel …
Open
With older children, you can go to the amusement park, Grand Prix Amusements. Its distinctive feature remains the first-class go-carting center. For children, the park is equipped with interesting obstacle courses. There is a real pirate ship and a lot of sports facilities here – a great place for active entertainment. While children have fun on the playgrounds, adults can relax on comfortable benches in the shade of trees.
Those that are most fond of water attractions and entertainment, in summer in Winnipeg, should definitely visit the water park, Fun Mountain Water Slide Park. It is out in the open and located on the territory of a picturesque park. There is a huge swimming pool with many colorful slides for holidaymakers here. Near the pool, there are equipped terraces where you can get a tan. There is also an excellent cafe in the territory of the water park.
Romantic couples planning a visit to Winnipeg should pay attention to the Homewood Suites by Hilton Winnipeg Airport - Polo Park hotel. It has magnificent, top range suites with a high white …
Open
There are wonderful children's museums in the city, including Manitoba Children's Museum. This museum will be interesting to visit with kids from the age of one year. It occupies a colorful modern building and looks more like an unusual entertainment center. The museum has colorful playgrounds for children of various ages, as well as interactive expositions. Children in a play form can learn how to build houses, how to operate various vehicles and play musical instruments; the colorful museum will appeal to all the kids.
With children of school age, it is worth looking into the Manitoba Planetarium & Science Gallery. It is not just a planetarium where you can admire the starry sky in a telescope, but a real science center in which children are invited to take part in interesting technical experiments. Each day, special cognitive excursions are conducted for the young visitors in the museum.

This guide to family holidays in Winnipeg is protected by the copyright law. You can re-publish this content with mandatory attribution: direct and active hyperlink to
www.orangesmile.com
.
City tours, excursions and tickets in Winnipeg and surroundings
Reference information
Amusement parks near Winnipeg
♥ Amusement park 'Grand Prix Amusements' Winnipeg, 12.1 km from the center.
On the map
Photo
♥ Amusement park 'Tinkertown Family Fun Park' Winnipeg, 14.4 km from the center.
On the map
Photo
Car rental on OrangeSmile.com

Hilton builds third luxury hotel in Kyoto
The Hilton Kyoto hotel will be attractive to a wide range of guests. Leisure travelers will appreciate the close proximity to famous attractions such as Heian and Yasaka Temples, the Kyoto Imperial Palace, and the scenic Gion Historical District. In a few minutes, guests can reach the metro stations, the path to the sights of interest will not take much time.
Read this
04.06.2023
Photogallery of best places of Winnipeg
Children attractions (aquaparks, zoos, amusement parks) on the map of Winnipeg
Interesting places to visit with children around Winnipeg
Guide to sightseeing and entertainment for children in Winnipeg - parks, attractions, museums, zoos, water-parks. All fascinating and educational sites of Winnipeg, which are must visit and see for your child. Find out the best discovery routes and places for kids (local theaters, exhibitions and museums), where you can spend quality time together. Winnipeg for families with children.