Cuisine of Winnipeg for gourmets. Places for dinner - best restaurants
Winnipeg is home to hundreds of different dining facilities. Among them you will find modest coffee shops and restaurants with home-made food, and fashionable restaurants that have won many honourable awards. Promenade Bistro restaurant is traditionally very popular among travellers. Here guests can always find a great choice of salads, hot dishes, pastries and favourite desserts. In addition to delicious food visitors will be offered to order flavoured coffee and juices. Denny's Restaurant has won recognition among fans of home cuisine. Simple and hearty dishes, cozy home-like atmosphere and friendly attitude of the restaurant's staff have made Denny's one of the most attractive restaurants in the city.
Winnipeg is set to offer travelers several charming hotels with historical scenery. One of the most attractive establishments from this point of view is The Fort Garry Hotel. The hotel …
Open
Fans of sushi will be surely delighted with the restaurant of Masa Japanese, which will pleasantly surprise visitors by wide choice and variety of oriental dishes. The restaurant's hall is decorated in accordance with best national traditions, which make the meal served here even more enjoyable. The menu of Garry's Deli restaurant consists of the most popular delicacies. Among the signature dishes of this place you will find many delicious meat dishes and rare seafood. Large selection of alcoholic beverages is, without a doubt, one of the main advantages of the restaurant.
Moxie's snack house is a great place to relax after a day full of sightseeing and walking around the city. Here you can conveniently relax with your friends of family members, enjoying original salads, appetizers and desserts. The spacious hall of Moxie's can easily accommodate even a large company. In the evening this place attracts fans of beer. Sweet Impressions is one of the best coffee shops of the city. Visitors can hardly find such a variety of sweets and pastries in any other restaurant of Winnipeg. You can taste excellent pastries right in the coffee shop or order take-out meals. Copyright www.orangesmile.com
Romantic couples planning a visit to Winnipeg should pay attention to the Homewood Suites by Hilton Winnipeg Airport - Polo Park hotel. It has magnificent, top range suites with a high white …
Open
La Fiesta Cafecito is an attractive budget restaurant that specializes in cooking dishes from the local cuisine. However, its menu also includes popular dishes from the Mexican cuisine. Guests of La Fiesta Cafecito particularly enjoy ordering meat with hot spices and savoury salads. Ken's is one of the most popular places among restaurants that serve Chinese dishes. Here visitors will be offered to choose from a wide variety of dishes, starting from traditional Beijing duck to rare delicacies and original signature dishes. If you like dishes cooked on grill, you will surely enjoy Ham-N-Eggs restaurant. Among its signature meals are many meat dishes, in addition to which visitors will be offered to order vegetable side dishes. Ham-N-Eggs is also famous for its desserts. The restaurant often organizes theme evenings with presentations of new dishes.
The regional cuisine is very simple and casual. It is simply impossible to imagine it without nutritious meat dishes. Fillet Brochettes is a very interesting local dish. It is made of small bacon pieces roasted on a broiling rack together with mushrooms and onion. This unusual food is usually served as an appetizer. For the main dish, visitors of local restaurants usually order meat stewed with vegetables. High-class restaurants of Winnipeg offer many interesting dishes cooked from rabbit meat. Venison is one more interesting meat delicacy. Boling is the most typical way to cook venison in the region.
Winnipeg is just perfect for shopping. It has dozens of specialized shops of various price categories. The Forks Market occupies a beautiful historic building. This is the most famous place …
Open
Fans of fish dishes will also not be disappointed. Local restaurants are always ready to offer baked sturgeon and herring. The latter is cooked in quite an unusual way in the region. Various kinds of meat and fish pies are also very popular in the national cuisine. Foodies will be pleased with a special oyster pie that is also available in many Winnipeg restaurants. Gourmets interested in visiting the most high-class restaurants in the city should definitely try gammon of a pig in maple syrup.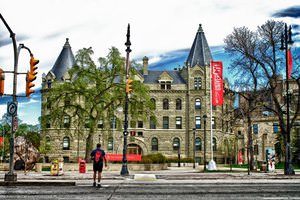 Snacks offered by the national cuisine restaurants are also quite nutritious and are distinguished by large portions. Local restaurants can offer various meat pastes, baked fresh ham, or various potato dishes as an appetizer. Potato is a very important vegetable in the national cuisine. As a rule, the potato is served with different types of cheese and sauces.
A small town Winnipeg, located nearby a lake with the same name, needed a hundred of years to turn from a modest settlement into a modern megalopolis and a center of industry and tourism of …
Open
Not all local dishes are hard to cook. Everyone can easily cook one potato dish that Winnipeg residents eat virtually every day. For that purpose, bake potatoes in their skin and then slice it into pieces approximately half a centimeter thick. These potato pieces are then soaked in a mix of thinly sliced ham, flour, and bread crumbs and then roasted in a frying pan together with whipped eggs. This simple dish is one of the most popular breakfast choices in Winnipeg.
The range of vegetable dishes is also very pleasing in local restaurants. Tourists will find many different ragout types. Some local restaurants also offer deliciously baked vegetables. As a dessert, consider trying thick pancakes with maple syrup. This simple and delicious dessert never loses its popularity and local people eat it regularly.

This guide to cuisine and restauraunt in Winnipeg is protected by the copyright law. You can re-publish this content with mandatory attribution: direct and active hyperlink to
www.orangesmile.com
.
City tours, excursions and tickets in Winnipeg and surroundings
Car rental on OrangeSmile.com

Thailand Relaxes Its COVID-19 Policy
New Year events in Thailand are likely to bring more people this year because everyone is tired of lockdowns and craving normal life. Many tourists, who book hotels in Pattaya, Krabi, or Phuket for the holiday season, also want to participate. As champagne has become an essential drink for New Year celebrations, the question regarding alcohol consumption comes to mind. The government allowed serving alcoholic drinks during the New Year countdown but only open-air cafes and restaurants with good ventilation will be permitted to do this until 1 am on 1 January 2022. This rule is nationwide.
Read this
29.09.2023
Winnipeg in photo set
Searching where to eat - restaurants and cafe on Winnipeg map
Cuisine and restaurants in the neighbours of Winnipeg
Travel notes on best cuisine and restaurants of Winnipeg (Canada) on OrangeSmile.com. Famous recipes and traditional dishes and courses in Winnipeg restaurants. Where to eat - our recommendations on popular places in Winnipeg, where you can taste delicious meal and also spend a good time with your friends.