Sightseeing in Calgary - what to see. Complete travel guide
First mentions of Calgary appeared in 1875. Nowadays this is a modern resort, the largest megalopolis of the country and the cultural capital of Canada. The city attracts people who enjoy active rest as on its territory are located numerous sports facilities. Multiple shops, restaurants and museums, shadowy valleys and parks – all these factors are truly good for comfortable rest.
Discovering the architecture of Calgary from bird's eye view! Calgary Tower, Olympic Oval, Talisman Centre, City Hall, Glenbow Museum, SAIT Heritage Hall, Scotia Centre, all those monuments are defining the image of Calgary …
Open
You can view the panoramic looks of the city if you go up to Calgary Tower the height of which estimates 91 m. The construction of the tower is quite unusual and even in small wind it moves a bit, but keeps its balance even in serious hurricanes. The biggest historical museum of Calgary is Heritage Park. It is 27 hectares large and it will get you acquainted with the history of the town, will provide you with possibility to watch unique collections of exhibits of different epochs. Art connoisseurs may enjoy visiting Glenbow Gallery, the walls of which store over 28 thousand of pictures. Travellers with kids should visit Telus Museum. Near this museum is also located a Planetarium. Here every day are organized excursions and performances for kids. By attending such events little visitors will learn new information about peculiarities of our planet and its development.
Tourists, who enjoy walking, can see the beauty of the Canadian nature and spend some very nice time in Galaway Park. This is the second largest park in the country. Calgary has been chosen as the place of conducting the annual rodeo Calgary Stampede and Exhibition that starts in the middle of July and lasts 10 days. The holiday is accompanied by picturesque parades, competitions and performances. Besides this the guests of the city have an opportunity to visit theaters and opera, look at magnificent ancient churches (there are more than 5 hundred of them on the territory of the city), visit modern cinemas and exhibition halls. Calgary can be truly called one of the best modern resorts, because in this city there is simply everything for wonderful rest. Copyright www.orangesmile.com
Scotiabank Saddledome, McMahon Stadium, Telus World of Science, Fort Calgary, Baitun Nur, as well as many others, they all become the world's cultural heritage objects and remain as iconic monuments for Calgary …
Open
One of the largest cultural centers in Canada – the Glenbow Museum, is located in Calgary. Its collection totals more than one million historical exhibits, which are now represented in 20 museum halls with a total area of ​​8,600 square meters. The collection of the museum is very multifaceted; it presents historical items brought from different parts of the world, and one of the world's largest collections of minerals. Several rooms serve as the location of ethnographic exhibits, which are directly related to the indigenous peoples of North America. More than 26,000 exhibits dedicated to military history are still in the museum.
A peculiar symbol of Calgary is the pedestrian street of Stephen Avenue which is located in the heart of the city. On this street, you can see a lot of beautiful historic buildings and preserved houses, which in the early 20th century were built of sandstone. At the moment, in these historical buildings are well-known restaurants and hotels, as well as shops and other entertainment establishments.
Calgary is a big city with a wide choice of entertainment. Travelers with children do not have to be bored here. There are several wonderful amusement parks available for visitor, the most …
Open
In Calgary, there is a unique religious landmark – the Baitunnur Mosque - the largest mosque in Canada. It was built quite recently in 2008, and is in fact, a major cultural center. Several halls of the mosque are given to the public center. Often, interesting events are held here. There are several offices on the territory of the mosque, and an excellent playground for children.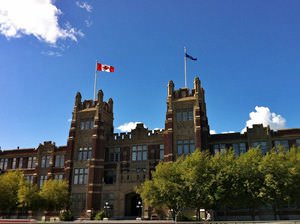 A real city attraction is the picturesque Chinatown district - a place where you can immerse yourself in the atmosphere of the eastern country for a few hours. In this area, there is a huge selection of shops, as well as restaurants that specialize in Chinese cuisine. There are also several interesting theaters here. Numerous interesting festivals are held several times a year in Chinatown.
In Calgary tourists will find more than a thousand of different gastronomic facilities. Local restaurants offer dishes from all cuisines of the world. National cuisine restaurants, bistros …
Open
For outdoor recreation, the Prince's Island Park is perfect. It is an incredibly beautiful and well-equipped park. It is located on the top of a hill, so the territory of the park offers a wonderful panoramic view of the city. On the territory of the park there are special paths for hiking and cycling. There are also many attractions and playgrounds for children. Many inhabitants are also present on the territory of the park. Geese are among the main ones. They are very friendly and gladly accept treats from people.

This guide to iconic landmarks and sights of Calgary is protected by the copyright law. You can re-publish this content with mandatory attribution: direct and active hyperlink to
www.orangesmile.com
.
City tours, excursions and tickets in Calgary and surroundings
Reference information
Shopping streets in Calgary
♥ Shopping area ' Stephen Avenue' Calgary, 4.2 km from the center.
On the map
Photo
National and city parks around Calgary
♥ Provincial Park 'Fish Creek Provincial Park' , 20.5 km from the center.
On the map
Photo
♥ Provincial Park 'Glenbow Ranch Provincial Park' , 23.6 km from the center.
On the map
Photo
♥ Provincial Park 'Big Hill Springs Provincial Park' , 28.3 km from the center.
On the map
Photo
♥ Provincial Park 'Bragg Creek Provincial Park' , 38.6 km from the center.
On the map
Photo
♥ Provincial Park 'Brown-Lowery Provincial Park' , 38.8 km from the center.
On the map
Photo
Sights around Calgary from our guide 'Extreme places on Earth'
Delirium Dive Ski Slope
From the series
"Top 13 Furious Ski Resorts and Pistes"
Check on the map:
Distance from Calgary center - 117.4 km.
The slope is quite large and forms an average of about 50 degrees. The sharp stones under the snow make the situation more difficult and form the main danger in the case of avalanches. It has to be noted that there is no rental point on this health resort, therefore all experienced skiers bring their own ski equipment. Before embarking on one of the most dangerous slopes in Canada, one must necessarily inquire whether there has been an increased avalanche risk. Otherwise, Delirium Dive is closed. …
Read further

Search touristic sites on the map of Calgary
Sightseeing in regions nearby Calgary
All about Calgary, Canada - sightseeings, attractions, touristic spots, architecture, history, culture and cuisine. Prepare your trip together with OrangeSmile.com - find out the 'must see' things in Calgary, which places to visit, which excursions to take, where the breathtaking views are waiting for you. Planning your trip with this travel guide will help your to get the most out of Calgary in few days.