How to spend top weekend in Winnipeg - ideas on extraordinary attractions and sites
Spend Time in Fun Mountain Park
You can relax at Fun Mountain Park in Winnipeg. You will have fun riding the seven water slides here. Two slides are completely closed. You will not go up the stairs but will climb a small hill to get on these slides. You can also relax in the heated pool or in the large bath with hydro-massage at Fun Mountain. There is an artificial lake in the park. You can take a boat ride on this lake or have a picnic on its shore.
Winnipeg will pleasantly surprise vacationers with children with a variety of entertainment. It will be worth starting a family excursion program with a visit to the Assiniboine Park Zoo. It …
Open
Outdoor Activities on Lake Winnipeg
Lake Winnipeg is located 64 kilometers from the city. Its character is unpredictable. A storm can occur quite suddenly. Waves can reach a height of 1 meter. The depth of the lake in the same place can change in a few days. However, if you are a fan of outdoor activities, you will enjoy spending time here. You can go swimming, rowing or sailing, as well as fishing here.
You can catch Canadian walleye, Northern pike, sturgeon or yellow perch. However, if you come to Lake Winnipeg in the early spring and late fall, you will get the opportunity to go windsurfing. It is at this time that the strongest winds blow here. Choose any southern beach, such as Grand Beach, and conquer the waves while standing on a board under a sail! Copyright www.orangesmile.com
Winnipeg is home to hundreds of different dining facilities. Among them you will find modest coffee shops and restaurants with home-made food, and fashionable restaurants that have won many …
Open
Spend Leisure Time in the Birds Hill Provincial Park
If you like to play sports in nature, then spend time in the Birds Hill Provincial Park. It is located in the North-East from Winnipeg. The park has been open since 1967. You can relax at the campsite, admiring the beauty of nature, or swim in a small lake in the summer months here. You can also take a horse ride through a flowery meadow or forest where aspens and oaks grow and take part in a polo tournament or a bicycle marathon. There are also activities for you in the park in winter. You will remember your childhood, building an ice town and participating in the battle of snowballs, as well as skiing.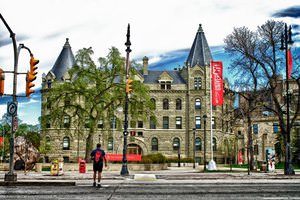 Active Recreation in Riding Mountain National Park
If you visit Riding Mountain National Park, you can see the inhabitants of the Canadian prairies. These are bears, wolves, moose, and bison. You will also choose a suitable option for active leisure. 400 kilometers of trails were laid here. They pass through a gorge, a meadow, and an evergreen forest. You can take a walk along one of them. You can also take a horse or bicycle ride along the picturesque shore of Baldy Lake.
This city is home to various ethnic groups. This is one of the main reasons for diversity of local culture and friendliness of native people. In Winnipeg you will find Chinatown. There is a …
Open
If you like fishing, you can catch perch or walleye in any of the local lakes. You will also have the opportunity to catch trout in a fast-flowing river. However, keep in mind that you will have to get a license to catch fish. The park is also open to the public during the winter months. You will spend the night in an insulated hut and go skiing or snowmobiling.
Parks for Skiing and Snowboarding
You will have the opportunity to go on a ski trip in a field or forest in Winnipeg. However, there are almost no mountains of natural origin in its vicinity, from which you could make a descent on skis or snowboard. However, there are parks equipped for winter sports enthusiasts. They are located outside the city. You will need a car to reach them.
Despite the fact that Winnipeg has the status of a large industrial city, its territory is home to a huge number of interesting attractions, beautiful parks and recreation areas. Tourists …
Open
If you have a strong desire to ride down the mountain, then choose one of them. Stony Mountain Ski Area and Springhill Winter Sports Park are the nearest parks. It will be better to go to the Asessippi Ski Area & Resort for a few days. It is located 375 kilometers from Winnipeg. Please note that you must have a Canadian passport or an American visa to visit the Frost Fire Ski and Snowboard Area.
Get Vivid Impressions during Skating
There are ice rinks in all areas of Winnipeg. Each of them is located at the community center. If you like to skate, then come to any of them. You will leave your things in the storage room and spend time on artificial ice for free here. You can also go skating in Assiniboine Park and on the 9-kilometer-long river when it freezes.

This article about ideas on extraordinary weekend in Winnipeg is protected by the copyright law. You can re-publish this content with mandatory attribution: direct and active hyperlink to
www.orangesmile.com
.
City tours, excursions and tickets in Winnipeg and surroundings
Car rental on OrangeSmile.com

Saudi Arabia to Open 38 Hotels in Diriyah
Diriyah is one of the first mega projects in Saudi Arabia. Hotels and other infrastructure will start opening next year, and all works are expected to end in 2026. The first 18 restaurants in Bujairi Terrace will start operating already in early 2022.
Read this
29.09.2023
Winnipeg by photo artists
Search for interesting places on Winnipeg map
Walk through hidden local streets, sneak to a small cafe, breathe and enjoy Winnipeg from inside. Stay out from the beaten track during your city weekend, discover the soul of Winnipeg as a real travel gourment. Follow our guide, take one of the exclusive services and spend your time in Winnipeg unforgettably and with a full passion!