Cuisine of Side for gourmets. Places for dinner - best restaurants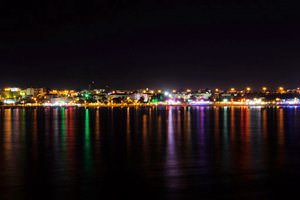 Side is a picturesque town with an abundance of excellent restaurants and cafes. Their menu will impress those who have long wished to try popular dishes of Turkish cuisine and enjoy unique Mediterranean delicacies. The Ocakbasi restaurant specializing on local cuisine serves customers every day. In addition to a cozy room, there is a beautiful terrace available to visitors. The restaurant, which is located in a beautiful historic building, features an abundance of interesting meat treats; all dishes are cooked following classic recipes.
Side is a prosperous resort that is popular among fans of various types of recreation. Various leisure activities are offered to fans of active pastime. Rafting fans should definitely visit …
Open
There are also attractive French restaurants in Side; Conny's is considered to be the most attractive one. Solemnly decorated hall with fine furniture is good for rest. A large choice of meat and fish treats, as well as original vegetable dishes that will certainly please vegetarians, are available at Conny's. One of the main distinguishing features of the restaurant is a large selection of desserts.
Thrifty travelers would like the budget Emir Pansion restaurant. Simple and comfortable, it offers customers an abundance of great treats at most attractive prices. Crisp chicken, fish with mushrooms, hot sandwiches, seafood and delicious fruit desserts - these are just some of those treats that are offered by Emir Pansion. Copyright www.orangesmile.com
1. The vast majority of popular hotels are located in the central area of Side. Budget travelers should pay attention to hotels in a remote part of the city; in this case, the cost of …
Open
An interesting place is the Britannia restaurant, which offers fine English cuisine in addition to popular Turkish dishes. The restaurant is perfect for a family holiday. While kids play on the large playground, parents can enjoy specialty treats and watch sports on a big screen. Those who wish to pamper themselves with exquisite treats are sure to visit the Ottoman restaurant.
There skillful chefs demonstrate their professionalism, serving Turkish, Mexican and European cuisine. Vegetarians have their own menu in Ottoman. All dishes have unique decoration. After the meal visitors can relax in the nearby park. In Tropic you can enjoy excellent pizza and your favorite steaks. It has won the recognition of regular customers because of impeccable quality of food and reasonable prices. The menu at the Tropic restaurant is regularly updated.

This guide to cuisine and restauraunt in Side is protected by the copyright law. You can re-publish this content with mandatory attribution: direct and active hyperlink to
www.orangesmile.com
.
City tours, excursions and tickets in Side and surroundings
Unique sights around Side
Sabanci Congress and Fair Centre
From the series
"Glass Architecture - Impressive Villas and Buildings from Glass"
Check on the map:
Distance from Side center - 65.5 km.
Sabanci Congress and Exhibition Center is 23 meters high. The most unusual thing of this pyramid is a light-blue skylight roof. The two-floor building consists of five halls, the largest "Toros Hall" having a 2 400-seat capacity. Meltem Hall and Düden Hall have 440 and 340-seat capacity. …
Read further

Aspendos Amphitheatre
From the series
"Ancient Amphitheaters and Arenas, That Are Still Operational"
Check on the map:
Distance from Side center - 27.3 km.
Turkey is famous for a variety of beautiful ancient amphitheatres. Nowadays, however, only a few of them are used today for cultural events. One of these amazing ancient theaters is located in the city of Aspendos. Together with the preserved aqueduct, the amphitheater is the main historical attraction of the ancient city. Many beautiful legends are associated with these constructions. According to one of them, two talented architects dreamed of marrying the emperor's daughter, who was famous for her spiritual beauty. …
Read further

Car rental on OrangeSmile.com

Saudi Arabia to Open 38 Hotels in Diriyah
Diriyah is one of the first mega projects in Saudi Arabia. Hotels and other infrastructure will start opening next year, and all works are expected to end in 2026. The first 18 restaurants in Bujairi Terrace will start operating already in early 2022.
Read this
04.12.2023
Side in photo set
Searching where to eat - restaurants and cafe on Side map
Cuisine and restaurants in the neighbours of Side
Travel notes on best cuisine and restaurants of Side (Turkey) on OrangeSmile.com. Famous recipes and traditional dishes and courses in Side restaurants. Where to eat - our recommendations on popular places in Side, where you can taste delicious meal and also spend a good time with your friends.