City break in Oslo. Active leisure ideas for Oslo - attractions, recreation and nightlife
In Oslo you will find more than one hundred of various nightclubs and entertaining facilities. Among them there are romantic and cozy bars, colorful discos and elite nightclubs. Smuget, Waters, Muddy, Rock Bottom, Blaa, Josefine Viseklubb, Gamle Logen, Chateau Neuf, Rockfeller and Belleville nightclubs are considered the most popular entertainment venues.
Travelers will easily find numerous romantic hotels in Oslo. For example, My City Home is an ideal apart hotel for couples. This hotel is open in a classic looking building that dates back …
Open
Galleriet club provides its visitors with various interesting entertainment options. On three floors of the club you will find several dancing zones, each of which plays music of a certain direction and style, so every music fan will choose here a dance floor that fits his or her taste. There is also a cozy bar in which you can relax from music and taste exotic drinks. Club Ophelia is a no less attractive place. Every evening here are organized really enchanting entertainments. There is a bar with the same name just next to the club. The bar offers its visitors to choose from an impressive selection of beverages, cocktails and beer. Besides this, there are four cabarets in the city. Here are regularly organized amazing performances that attract both tourists and locals. Movie fans will also not be bored in Oslo as in this city are built 5 modern cinema complexes, which always showcase the newest movies.
During warm part of a year numerous free concerts and festivals take place in Oslo. The most significant of them is Jazz Festival. Shopping fans are recommended to visit Karl-Johan-Gate Street, in which they will find most fashionable shopping malls and trendy boutiques. Among the shopping malls, which may be of a great interest to travelers we should definitely underline Oslo City, Glasmagasinet, Byporten, Steen & Strøm, Aker Brygge and Paléet. Many interesting souvenir shops and jewelry stores are located in Majorstuen district. Copyright www.orangesmile.com
Stortorvet remains one of the largest and most popular shopping destinations in Oslo. It is possible to find shops of different type there. Stortorvet is the right place to search for …
Open
Norwegians pay special attention to active entertainment and tourism, which means you always can find some interesting pastime to your liking in Oslo. Therefore, this city is perfect for a family holiday; here you will find various attractions (in all senses) for both children and adults. An active holiday in Oslo is skiing, skiing, skiing, snowboarding, rides and skiing again. Norway has always been associated with skiing. Everyone, in this northern country, practices the winter sports and does it very well. So, it is no wonder that for several decades Norwegian skiers, biathlonists, springboard jumpers often take the first place in all major competitions. If you always wanted to learn skiing professionally - Oslo is the perfect place; moreover, here you will use only the best and high-quality facilities.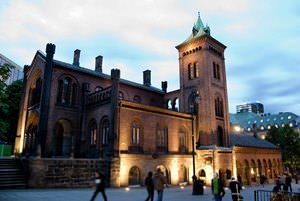 The the first service to visit is the Oslo Ski Center, as well as Linderudkollen, Leirskallen, and Ingierkollen. In Oslo, also operates the toboggan track called "Corkscrew" and hundreds of toboggans in the city park. If you prefer more elegant wintersports as figure skating, then go to the Tryvann Winter Park. The other place where you can find the ice rink is the Jordal Youth Center, Løren, Manglerud, and Grünerhallen. But the most important and famous sports object of the capital is the Holmenkollen arena. On its territory, they built a 115-meter trampoline - a real pride of Norwegians, which hosts the most significant competitions. In 1952, the Olympic Games' participants competed here. In case you got tired from all the activities and need some relaxation - visit one of the spa treatment services. The first place where you can find some spa room is at your hotel. You will be offered to try the following: Japanese massage shiatsu, Chinese healing massage "Ti-Na", the Swedish version of the classic massage with aromatic oils, foot massage. And also - wraps, thermo procedures, cosmetic masks.
Oslo, the capital of Norway, lies deep in the picturesque fjord that has the same name. Although this is a large and a modern city, nature has always played an important role here. Oslo is …
Open
During the summer months, the North Sea is warm, which means that it's a perfect time come here to Oslo for a summer vacation. During Norwegian summertime, you have awesome opportunities for sunbathing and swimming, especially perform diving is specially equipped areas for this purpose. One of the most favorite beaches among locals is the Huk, which is located about ten meters from the Paradisbukta strand beach. On the coastal territory, consisting mainly of sandy and grassy areas, there is a restaurant Hukodden, where you will find the stalls with ice cream and lemonade and around there are trails for hiking and cycling. If you traveled here with children, then take your children to the Ingierstrand beach, which was completely reconstructed in 2013. On its territory, you will find toilets and showers, a special descent to the sea for disabled on wheelchair people, and also a barbecue area. Seekers of vivid impressions can climb the high tower and jump into the water, and those who love the good cuisine, visit a nearby restaurant.

This guide on active recreation and leisure in Oslo is protected by the copyright law. You can re-publish this content with mandatory attribution: direct and active hyperlink to
www.orangesmile.com
.
City tours, excursions and tickets in Oslo and surroundings
Recommended places for active recreation and leisure in Oslo
Bar Boca
Where: Thorvald Meyers gate 30, Oslo;
Café Con Bar
Where: Brugata 11, Oslo;
Dattera til Hagen
Where: Grønland 10, Oslo;
Last Train
Where: Karl Johans gate 45, Oslo;
Smuget
Where: Rosenkrantz gate 22, Oslo;
Reference information
National and city parks around Oslo
♥ National Park 'Færder' , 99.8 km from the center.
On the map
Photo
♥ National Park 'Ytre Hvaler' , 102.2 km from the center.
On the map
Photo
♥ National Park 'Tresticklan' , 114.8 km from the center.
On the map
Photo
♥ National Park 'Kosterhavets nationalpark' , 121.1 km from the center.
On the map
Photo
♥ National Park 'Langsua' , 151.2 km from the center.
On the map
Photo
Amusement parks near Oslo
♥ Amusement park 'TusenFryd' Oslo, 18.8 km from the center.
On the map
Photo
Michelin-starred restaurants in Oslo
♥ Restaurant 'Happolati' Oslo. Type - Asian. 0.6 km from the center.
On the map
Photo
♥ Restaurant 'Brasserie France' Oslo. Type - French. 0.6 km from the center.
On the map
Photo
♥ Restaurant 'restauranteik' Oslo. Type - Modern cuisine. 0.6 km from the center.
On the map
Photo
♥ Restaurant 'Maaemo' Oslo. Type - Modern cuisine. 0.9 km from the center.
On the map
Photo
♥ Restaurant 'Brasserie Hansken' Oslo. Type - Modern cuisine. 0.9 km from the center.
On the map
Photo
Sites around Oslo from our surveys on extreme Earth places
Lier Psykiatriske Sykehus
From the series
"Deserted Places Causing the Feeling of Chill"
Check on the map:
Distance from Oslo center - 30.5 km.
In 1985, the hospital management decided to close four buildings. The reason for this decision is unknown. Today, local youth and curious tourists come to walk along old abandoned hulls. At the first glance it's clearly seen that all buildings were left in hurry. Furniture, medical equipment, and even personal belongings of patients can be found in old buildings. According to official figures, facilities have been closed because of the small number of patients. What was the reason for hospital staff to keep all equipment in buildings - is unclear. …
Read further

Aker Brygge Waterfront
From the series
"The Most Beautiful Waterfronts and Embankments"
Check on the map:
Distance from Oslo center - 1.6 km.
An awesome Aker Brygge Waterfront has placed in Oslo. All fans of walks have to visit it. Earlier there was a large busy seaport where locals didn't have an access. The embankment was built at the end of the 20th century. Nowadays it is a chain of the wonderful squares and promenades. A lot of shops and cafes, the marvelous city beach and popular museum of modern art have also placed there. …
Read further

Photogallery of picturesque Oslo
Search for active leisure and attraction spots on Oslo map
City break ideas for neighbours of Oslo
Guide to your best city break in Oslo - popular places for recreation and leisure. Things to do during the day in Oslo - attractions, parks, beaches, aquaparks, racing tracks, biking trails or waterski. Recommendations (with addresses, phone numbers and links) where to spend your time in the evening (bars, discos, clubs, etc.). We share some good ideas and the question 'What to do in Oslo?' disappears immediately.