City break in Vasteras. Active leisure ideas for Vasteras - attractions, recreation and nightlife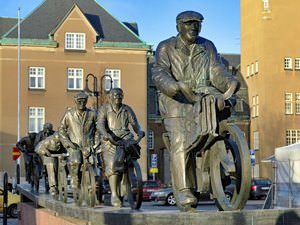 The charming Swedish city is not deprived of interesting places, a visit to which will fascinate even experienced tourists. As a rule, every traveler wants to take memorable pictures of their vacation. In Vasteras, there are several truly spectacular places where visitors can both observe local landmarks and take beautiful photographs. The Apotekarbron Bridge is one of such spots. The bridge is located not far from the famous statue of the cyclists that is also known as Aseaströmmen. This part of the city is the "quintessence" of Vasteras. Visitors will see the traditional old buildings separated by the Svartan River and the City Hall in the background. Follow the river to reach Stadsparken and then Vasaparken. The road will guide you to the harbor where tourists usually like to make rides on the historical Elba ferryboat.
Grocery stores in Vasteras have gained deserved popularity. Saluhallen Slakteriet is the most notorious one. This fairly large trading pavilion has products from various countries of the …
Open
For many Sweden is a winter country but that doesn't mean it is not possible to enjoy water sports and entertainment there. The new water park, Kokpunkten is a modern venue that has prepared some adrenaline-pumping entertainment for its visitors. The indoor water park is open in a gigantic building that can serve up to 1,200 visitors at the same time, and its eight floors offer amusements and fun for everyone. Kokpunkten is a family-friendly place as there are areas for children with safe water slides and mushrooms that squirt water. Adults will be thrilled with extreme rides. On the top floor of the building, there are three saunas, the Green Room with several cafes, and an outdoor swimming pool. The latter features fantastic panoramic views of Lake Malaren.
If you happen to visit the city in winter, enjoy some action and fun on the Vasteras City ice skating rink. The artificial skating rink opens every winter in the heart of the city, on Aseatorget. As a rule, the rink starts working at the end of November and operates till mid-March. Visitors do not need to have their own equipment as there is a rental point nearby. The rink is not big but it is always fun to spend time there. Copyright www.orangesmile.com
Vasteras city is located on the shore of the magnificent lake Mälaren. The city is just one hour away from Stockholm and is considered the largest port city of Scandinavia. Despite the fact …
Open
Vasteras has a range of activities for children, so family travelers will not have hard time thinking how to entertain their kids. Vasteras Cable Park is one of such family-friendly destinations. It is a great place to enjoy active time outdoors and try new challenges. Teenagers are particularly fond of wakeboarding, but the park has much more to offer. Different kinds of water sports, boat rides, wake skates, and kite boards will entertain both adults and children. One doesn't need to be an expert to try these sports as there are professional instructors in the park.
Vallby Open Air Museum has a section with domestic animals. All animals are calm and friendly, and kids are allowed to touch some of them. There are also playgrounds in the open air museum. If your child is fond of skateboarding or BMX, the skate hall is the right place. This is one of the most beloved places of Vasteras teenagers, so it is also a chance to make new friends.
For those traveling to Vasteras with their children, it is worth looking into the Vasteras Historiska Skeppsmuseum. This is an amazing historical museum in which children will be able to see …
Open
Löga Skejtpark is an outdoor skatepark that is located not far from the harbor. The 2,500 square meter area is built right on the shore of Lake Malaren. This summer park is suitable for BMX, kickbikes, and skateboards. The convenient location makes it really enjoyable to visit this park. Even tourists not interested in these sports are still recommended to visit it as they can relax, enjoy the sun, and watch experienced sportsmen. Finally, Kyngsbyn Animal Park and Vastmanland County Museum are also very popular with kids as they offer various entertaining activities and workshops. The museum also provides costumes that children can dress up in and then take memorable photographs.

This guide on active recreation and leisure in Vasteras is protected by the copyright law. You can re-publish this content with mandatory attribution: direct and active hyperlink to
www.orangesmile.com
.
City tours, excursions and tickets in Vasteras and surroundings
Reference information
National and city parks around Vasteras
♥ National Park 'Färnebofjärden' , 66.6 km from the center.
On the map
Photo
Amusement parks near Vasteras
♥ Amusement park 'Parken Zoo' Eskilstuna, 27.4 km from the center.
On the map
Photo
♥ Amusement park 'Kolmården Wildlife Park' Kolmården, 106.3 km from the center.
On the map
Photo
♥ Amusement park 'Furuviksparken' Gävle, 123.2 km from the center.
On the map
Photo
Water attractions around Vasteras
♥ Water park 'Kokpunkten water park' Västerås, 1.5 km from the center.
On the map
Photo
Sites around Vasteras from our surveys on extreme Earth places
Utter Inn Hotel
From the series
"Fancy Houses and Hotels Located on Water or Under Water"
Check on the map:
Distance from Vasteras center - 2.5 km.
The hotel consists of a small platform with a pier, which houses a miniature red cottage. Outwardly, it is very similar to the classical Swedish "stog" cottage, which is often painted red. Guests can go down a special staircase to get to the underwater room. It is designed for two guests and decorated in white and red tones. The main attractive feature of the room are rectangular windows through which you can observe underwater inhabitants. …
Read further

Photogallery of picturesque Vasteras
Search for active leisure and attraction spots on Vasteras map
City break ideas for neighbours of Vasteras
Guide to your best city break in Vasteras - popular places for recreation and leisure. Things to do during the day in Vasteras - attractions, parks, beaches, aquaparks, racing tracks, biking trails or waterski. Recommendations (with addresses, phone numbers and links) where to spend your time in the evening (bars, discos, clubs, etc.). We share some good ideas and the question 'What to do in Vasteras?' disappears immediately.