How to spend top weekend in Oslo - ideas on extraordinary attractions and sites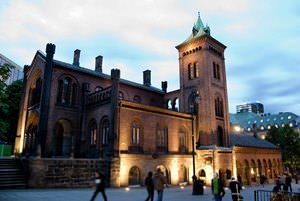 Such actions as shopping or dining in restaurants can become an unforgettable adventure in Oslo because the city is rich in numerous authentic markets and parks that look more like landmarks. The abundance of unusual architecture complexes is a striking peculiarity of today's Oslo, so if you are tired of observing historical buildings and want to admire works of modern architects, head to Dronning-Eufemias Gate. This street is famous because of a complex of eye-catching black-and-white skyscrapers that are mixed, thus, creating a look that is similar to a barcode. The architectural complex looks incredibly stylish and different at various angles. If you look closely at the beautiful buildings, you will find many creative sculptures between them.
At the beginning of 2014, a unique "dual" hotel opened in Oslo. There is no other hotel like that in the country. The modern hospitality complex has united two high-class hotels - …
Open
While walking in the central city park, don't be surprised when you see a big expressive building with the wooden façade and unusual square windows among the trees and landscape decorations. Literally, no one can guess the purpose of that building on the first try. Several years ago, a new kindergarten was launched in the park, and the unusual building was constructed for that purpose. The RRA designer studio was in charge of the project. The building of the kindergarten is very stylish and eye-catching, so it has become a favorite of numerous travelers and people who enjoy taking photos in unusual places.
Do you want to get acquainted with gastronomic traditions of Norway? If so, don't forget to visit Mathallen as this market is the best place to sample the most famous national delicacies. It's important to mention that besides stalls there are several popular restaurants and bars in the territory of the market. The legendary Smelteverket bar is also open in Mathallen – the longest bar counter in whole Norway is installed there. Copyright www.orangesmile.com
One of the most attractive designer hotels in Oslo, Radisson Blu Hotel Nydalen, is open near the bank of the Akerselva River. The elegant design of the hotel is full of bright colors. There …
Open
If the market full of travelers doesn't look impressive, it's time to visit Klosteret. This fabulous restaurant is not well-known to the majority of other tourists. It is open in the cellar of an old monastery that is thoroughly hidden among winding streets of the historical district. The atmosphere of the restaurant is truly inimitable – the long hall with the arched ceiling is lit by numerous candles, there are simply no other sources of light at the restaurant. Not only fans of Norwegian cuisine but also elite wine connoisseurs enjoy visiting Klosteret. The wine list of the restaurant includes more than 800 types of the drink brought from different parts of the world.
When your craving for new gastronomic experiences has vanished, head to one of the flea markets in Oslo in order to buy memorable souvenirs. Do not skip the visit even if your wallet is empty and come to the markets just to admire the items. It's virtually impossible to find such a variety of old tableware, books, paintings and furniture in any other Norwegian city. In total, there are four flea markets in Oslo, and Vestkanttorget is considered the most interesting one. This market is open in the incredibly beautiful neighborhood of Majorstua that is also famous because of its charming cafes. Besides vintage treasures, it is possible to find nice modern clothes on the market. When you feel tired of looking at endless stalls, take some rest in one of the local cafes and don't forget to try signature waffles, the fragrance of which lingers literally everywhere.
A prestigious and high-class hotel in Oslo, Continental, is open not far from the center of the city. The historical hotel has kept its authentic look as much as possible, so even nowadays, …
Open
If you are a discerning and upscale lady who is used to buying clothes in best boutiques, don't forget to visit Monki
. The design of this shop is reminiscent of a modern art gallery because of bright colors and stylish illumination. Under the shade of colorful lamps and among bright partitions, it will be even more interesting to shop new accessories.

This article about ideas on extraordinary weekend in Oslo is protected by the copyright law. You can re-publish this content with mandatory attribution: direct and active hyperlink to
www.orangesmile.com
.
City tours, excursions and tickets in Oslo and surroundings
Notable celebrations and festivals in Norway
Another equally important and massive holiday is Shrove Tuesday. The Norwegian carnival Maslenitsa is similar to ones in other states by the fact that it absorbs not only Christian but also pagan traditions. However, it includes its own customs and traditions. …
Open

Oslo by photo artists
Search for interesting places on Oslo map
Visiting neighbours of Oslo for exclusive entertainment
Walk through hidden local streets, sneak to a small cafe, breathe and enjoy Oslo from inside. Stay out from the beaten track during your city weekend, discover the soul of Oslo as a real travel gourment. Follow our guide, take one of the exclusive services and spend your time in Oslo unforgettably and with a full passion!