Preparing your trip to Izmir: advices & hints - things to do and to obey
1.
A large part of beaches of the resort are municipal. Only some of them belong to hotels. Entrance to public beach is free, and the rental of beach equipment will cost you a small amount of money - about US$1-2.
2. Fixed prices on goods can only be in large supermarkets and department stores. Do not forget to bargain in private shops and markets. If the price of a product seems too high and the seller does not want to give in, you just need to say goodbye politely and leave the store. You can be sure that you will find a similar product at a much more attractive price in one of the nearby shops.
3. Tipping are customary literally everywhere. In restaurants tips are usually around 10%. The same amount of money should be given to guides and taxi drivers. Tourists who expect to attend local baths and beauty salons should not forget that the size of tips here is at least 20%, and you will need to divide it between all the staff.
4. Taxis are better to be taken at special parking or called by phone. The cost of travel is best to clarify in advance, even though the majority of taxis are equipped with counters. During the period from midnight to 6 am taxis usually charge the double rate.
5.
Tourists should keep in mind that many hotels have strict rules. Smoking is prohibited in the territory of some hotel complexes, while other hotels forbid their visitors to bring any food to hotel rooms. All rules should be clarified upon your arrival at a hotel. Copyright www.orangesmile.com
6. Henna tattoos that are very popular among tourists have become a real problem. The reason is that they leave indelible stains on bed linen and towels. Hotels usually charge heavy fines for them.
7. Entering mosques wearing shoes is prohibited. In some cases it can be put in a bag and taken along during an excursion. Tourists may not be allowed to enter the territory of some religious objects if their outfit is too revealing or bright. The legs must be necessarily closed at least until knees, and blouses and shirts must have long sleeves. Women will also need to cover their heads with a handkerchief.
Unlike many popular resorts in Turkey, which offer travelers beach rest only, Izmir is characterized by numerous theme parks and beautiful gardens. Fans of shopping will simply not find a …
Open
8.
Many gastronomic facilities close during the holy month of Ramadan, and others completely exclude alcoholic beverages from their menus.
9.
Power supply voltage is 220 V. Some budget hotels can use their own power generators. In this case electricity outages are quite possible.

Preparing your trip to Izmir: advices & hints - things to do and to obey You can re-publish this content with mandatory attribution: direct and active hyperlink to
www.orangesmile.com
.
What to visit being in Izmir - unique sights
Asansor Elevator
From the series
"Top 16 Most Exotic Elevators and Lifts in the World"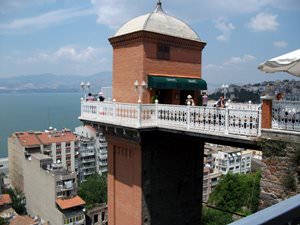 Check on the map:
Distance from Izmir center - 3 km.
There is one of the best viewing platforms in the city, as well as the wonderful restaurant with the panorama on Izmir, where one can taste the popular dishes of Turkish cuisine and delicious sweets. The experienced tourists recommend to visit the restaurant in the evening. At sunset the panorama of the city looks particularly impressive and beautiful. The legendary restaurant, which is located in the upper part of the elevator shaft, can also be recommended to the vegetarians, at their disposal a special menu. …
Read further

City tours, excursions and tickets in Izmir and surroundings
Car rental on OrangeSmile.com

A British Hotel Chain Offers a Paid Christmas Market Tester Job
Applications for the Christmas market tester job are open until November 28, 2021. This may be a dream job for many as Christmas markets are always very popular in Europe, and visiting them for money is even more appealing. Moreover, this is a wonderful opportunity to forget about the pandemic troubles, travel, and enjoy the holiday mood.
Read this
04.12.2021
Photos of Izmir
Services search (pharmacy, police, parking, banks) on Izmir map
Tips for the cities around Izmir
Travelling to Izmir - advices and tips. What should be provisioned in advance, the rules you might want to follow, and the things you better avoid doing in Izmir. We help you to make your trip smooth and easy, with no unexpected surprises.