Cuisine of Plzen for gourmets. Places for dinner - best restaurants
Plzen is home of the worldwide popular Czech beer, today this foam drink under brand name "Pilsner" is popular in different countries of the world. However this foam drink is not the only gastronomical sight of the city. Adequate choice of cafes, restaurants and snack bars are represented for resting people's services; it is not difficult to find the establishments of Mexican, Mediterranean, Indian and Japan cookery in the city.
Plzen is interesting owing to its entertaining establishments. This city is good for family resting; travelers and their children need to visit the local zoo. It is located on the …
Open
The restaurant Slunečnice zdravá výživa s. r. o. is very interesting establishment, it specializes in healthy food cooking. The restaurant is popular not only among the followers of healthy food, but also among people who worry about their body, because here it is possible to taste fantastic and exceptionally health-giving dishes. The most popular restaurant among followers of vegetarian nutrition is Vegetka, the local cooks can make the real masterpieces with vegetables. There are exotic dishes with seafood in the menu too; Vegetka restaurant receives guests every day until the late evening.
Na Spilce is the biggest restaurant of the city, it is possible to dispose more than five hundreds of people in its incredible and spacy hall. The menu's base consists of the dishes of Czech cookery, also the wide row of international cookery's dishes are represented for guests. People who prefer to rest in more unconstrained and secluded atmosphere will appreciate the restaurant of national cookery Plzeňská bašta. Copyright www.orangesmile.com
1. Plzen is connected with big neighbored cities by bus and train systems. So, a travel to Prague will occupy a little more than one and a half hours, the same time is needed to get to …
Open
Here it is possible to regale oneself with the most popular national dishes and also to taste excellent beer and piquant snacks. U Salzmannů is the oldest restaurant of the city, owing to its decoration it reminds of the cozy age-old tavern. Massive wooden furniture, hall decorated by antiquary elements, splendid assortment of the main national drink and excellent dishes – here are main advantages of the restaurant.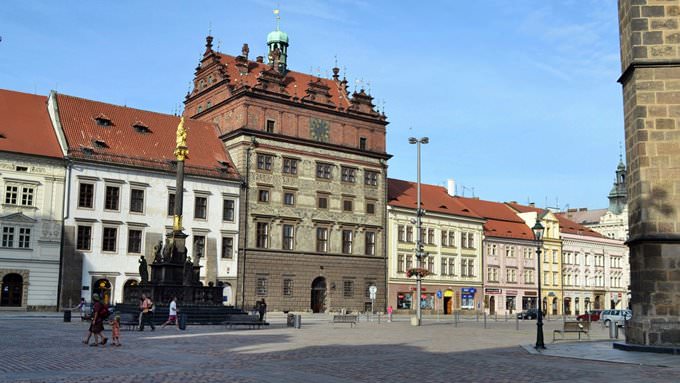 People who will like the national beer need to visit Na Parkane restaurant. It is the one of some establishments, where guests can order special sort of unstrained beer Pilsner Urquell. The most attractive restaurant of Italian cookery is Budino. Among its unique dishes there are the broiled chicken with spinach, pork fillet with vegetable garnish and veal with potato – meat dishes lovers will like to rest here.
This guide to cuisine and restauraunt in Plzen is protected by the copyright law. You can re-publish this content with mandatory attribution: direct and active hyperlink to
www.orangesmile.com
.
City tours, excursions and tickets in Plzen and surroundings
Unique sights around Plzen
Plzen Underground
From the series
"Unbelievable Underground Mini-Cities"
Check on the map:
Distance from Plzen center - 1 km.
Walking around the undergrounds, you can see a lot of saved technique equipment, the sewerage system, dumb wells and even huge wine pipes. It is quite hard to walk alone in the Plzen undergrounds, tunnels are rather twisted and it is easy to get lost. A walk with an organized excursion is much better. With a group of tourists, you will see outstanding places of the underground city and know about the original purpose of different facilities. …
Read further
National cuisine of Czech Republic
When dining at a Czech restaurant, keep in mind that bread standing on the table or served with a soup is rarely free. You'll most likely have to pay for each slice. Sauces and garnishes are normally paid separately. In cafes and restaurants, Czechs often share tables with strangers - sitting down next to someone is normal when there are no free places. After the meal, it wouldn't be superfluous to compliment the chef. It is customary to leave a tip in the amount of 10-15% of the bill. Tips shouldn't be left on the table but given directly to the waiter along with the total amount, informing him/her about it. …
Open
Plzen in photo set
Searching where to eat - restaurants and cafe on Plzen map
Cuisine and restaurants in the neighbours of Plzen
Travel notes on best cuisine and restaurants of Plzen (Czech Republic) on OrangeSmile.com. Famous recipes and traditional dishes and courses in Plzen restaurants. Where to eat - our recommendations on popular places in Plzen, where you can taste delicious meal and also spend a good time with your friends.