Cuisine of Quebec City for gourmets. Places for dinner - best restaurants
Quebec will delight gourmets with plenty of interesting national dishes and a wide selection of restaurants. Locally made cheese remains one of the most popular national treats. By the way, the cheese produced in this region is very popular and is considered the best in North America. Tourists can easily buy local cheese in any food market or supermarket. Local restaurants also offer their guests delicious cheese platters. Québecoise tourtière pie is another typical national dish. The pie is stuffed with meat and is very delicious. Travellers will be surely offered to try fried potatoes with the special poutine cheese sauce.
Notre-Dame de Quebec, Price Building, Museum of Civilization, as well as many others, they all become the world's cultural heritage objects and remain as iconic monuments for Quebec City …
Open
Travelers, who want to try the most popular local food, are recommended to visit Aux Anciens Canadiens. This restaurant will be liked by tourists who cannot live without meat dishes. The menu of the restaurant contains some real delicacies. The restaurant's chefs prepare cook true masterpieces from buffalo and deer meat. The Aux Anciens Canadiens restaurant also serves classic dishes that will please all visitors.
Le Continental is a cozy restaurant that specializes in cooking seafood dishes. Its menu includes traditional dishes from French cuisine and interesting signature treats. Regular customers of the restaurant prefer to order filet mignon, lobsters and shrimps cooked in accordance with an original recipe. Le Continental is also distinguished by a pleasant home-like environment. The restaurant named Le Petit Coin Latin From serves its guests from early in the morning. This is one of the most popular dining institutions of the city in the budget segment. In the morning the restaurant attracts numerous fans of fresh pancakes and coffee, so if you want to find a free table, it's best to come early. Copyright www.orangesmile.com
Quebec is an ancient city located on the top of the mountain. It attracts people by its rich history and unparalleled romantic atmosphere, wonderful nature and rich choice of places of …
Open
Connoisseurs of oriental cuisine are recommended to visit the L'Elysee Mandarin restaurant, which offers its visitors an impressive selection of dishes from Japanese and Chinese cuisine. The hall of the restaurant is decorated in the beautiful oriental style. This is a great place to relax and enjoy leisure talk with your friends. The L'Elysee Mandarin restaurant will please its guests with reasonable prices. The cost of the main course dishes is no more than $ 15. When it's lunch time, visitors can order a great set menu for just $10.
The menu of Monte Cristo consists solely of gourmet food. The restaurant traditionally attracts a lot of fans of fine dining. This prestigious restaurant has its own wine cellar, which stores several hundred sorts of the beverage, including rare and collectible bottles. The Napa restaurant offers a wide choice of dishes cooked on the grill. During warm months of year its tables are served on the spacious terrace surrounded by fragrant flower beds.
Quebec is a great city for a family holiday, as everyone can find entertainment to his liking here. Holidaymakers with children should definitely visit Aquarium du Quebec - an original …
Open
The formation of traditional Quebec cuisine was greatly influenced by the gastronomic traditions of France. Many French dishes became well-loved among locals and today remain important menu items of most local restaurants. Here they cook traditional onion soup, all sorts of meat patties, french fries served with various sauces. A popular dish is potato casserole with cottage cheese.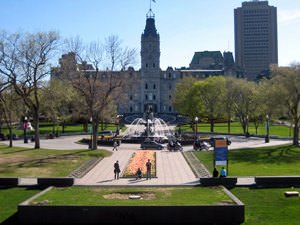 Traditional cuisine cannot be imagined without hearty meat pies, which are typically cooked with chicken. In some restaurants located near the Atlantic coast, you can try much more original types of pies with oysters and other seafood. There is a very unusual thing about making traditional pies: they are often sprinkled with starch-free ground potatoes. Such an unusual ingredient gives the dough a unique taste.
Quebec is a homeland of the largest winter carnival in the world. The festival is held in the beginning of February and attracts hundreds of thousands of curious travelers to the city. In …
Open
A very interesting national dish is "Poutine", it is believed that its recipe was invented in Quebec in the 50s of the last century. The dish began spreading throughout other Canadian provinces only ten years ago. Today, the popular dish is prepared in some European countries. It is prepared from very simple ingredients, so it is quite possible to cook and taste it right at home.
You will need 3 to 4 chicken drumsticks, 6 to 7 medium potatoes, cottage cheese, 500 ml of chicken broth, 2 to 3 tablespoons of flour, sunflower oil, salt, and pepper. Potatoes need to be peeled and cut into strips, add water and refrigerate for 3 - 12 hours. Chicken drumsticks should be seasoned with salt and pepper, and then baked at 200 °C for about 40 minutes.
The Citadel (La Citadelle) is the main symbol of Quebec and the sight of the international importance. The complex was built in the 17th century. Quebec is the only city in North America, …
Open
Ready legs are removed from the baking tin to put it on a slow fire and bring chicken juice to the boil. Flour and chicken broth are added to it, stirring constantly, the sauce should be stewed over low heat for about 10 minutes. Chicken meat should be deboned and chopped, then added to the sauce. Take the potatoes out of the fridge and prepare french fries, put them on top of the dish, and pour sauce over it. Before serving, the dish should be decorated with cottage cheese. In Quebec restaurants, Poutine is usually served to beer, which is one of the most popular drinks among locals.

This guide to cuisine and restauraunt in Quebec City is protected by the copyright law. You can re-publish this content with mandatory attribution: direct and active hyperlink to
www.orangesmile.com
.
City tours, excursions and tickets in Quebec City and surroundings
Quebec City in photo set
Searching where to eat - restaurants and cafe on Quebec City map
Cuisine and restaurants in the neighbours of Quebec City
Travel notes on best cuisine and restaurants of Quebec City (Canada) on OrangeSmile.com. Famous recipes and traditional dishes and courses in Quebec City restaurants. Where to eat - our recommendations on popular places in Quebec City, where you can taste delicious meal and also spend a good time with your friends.