How to spend top weekend in Quebec City - ideas on extraordinary attractions and sites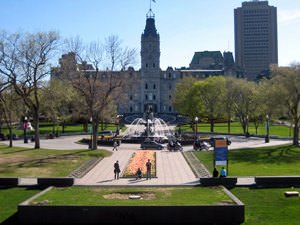 Ride the Old Quebec Cable Car
The upper and lower parts of Quebec are connected by an old cable car. It has been operating since 1879. At first, this funicular worked with water ballast. It was converted to electric traction in 1907. It is used today. The length of the route is 64 meters. The trailers rise 59 meters from the ground at an angle of 45 degrees. You will get into one of the booths at the lower stop of Rue St-Louis and ride to its upper stop, Rue du Petit-Champlain. You will be able to admire Quebec from the height and take great memorable photos during a short trip.
Quebec is a great city for a family holiday, as everyone can find entertainment to his liking here. Holidaymakers with children should definitely visit Aquarium du Quebec - an original …
Open
Active Recreation in Quebec's National Parks
The Jacques-Cartier National Park is located near Quebec. You can ride a bike, take a long walk or go on a boat trip here in the summer months. You will be able to ski in the winter. If you are a fan of the water element, then visit the Parc National du Mont-Tremblant. There are 6 rivers, 400 lakes, and streams on its territory.
If you come here, you will go fishing, kayaking, canoeing or sail a regular boat. You can also observe mammals and walk along one of the many trails. Their total length is 82 kilometers. They have different levels of difficulty. You will also get a thrill at Mont-Tremblant if you climb a well-equipped section of rock. Kayaking, hiking, and mountaineering routes await you in the Montreal Botanical Garden. Copyright www.orangesmile.com
Quebec will delight gourmets with plenty of interesting national dishes and a wide selection of restaurants. Locally made cheese remains one of the most popular national treats. By the way, …
Open
Become a Guest of an Ice Hotel
This unique hotel is open from January to March 5 kilometers north of Quebec. Only snow and ice are used for its construction. It is re-erected every December. You can get here by car from the city center in 10 minutes. You can spend the night in one of the 44 comfortable rooms. You will have to sleep on a special mattress, sheet, and pillow, wrapped in a sleeping bag so that you do not feel cold. You will also have the opportunity to lie in the hot water pool here. It is located in the open air. The pool is open from 9 pm to 9 am. You can also go down an ice slide or ride a dog sled.
Take Part in the Winter Carnival
The winter carnival begins in Quebec every year on the first Friday in January. The project lasts for 17 days. It was held in 1894 for the first time. If you decide to join the general fun holiday, then you will go skiing, snowboarding or sledding. You will also take part in ski competitions and a football tournament on the snow, dance with a snowman, and go ice fishing. If you have enough courage, you can become a participant in an exciting canoe race on the last day of the festival. It runs along the Saint Lawrence River, which is covered with ice. You will have to drag your boat on the ice or push it through the ice floes.
Quebec is a homeland of the largest winter carnival in the world. The festival is held in the beginning of February and attracts hundreds of thousands of curious travelers to the city. In …
Open
Visit the Hell's Gate Canyon
If you like natural attractions, you can visit the canyon called Hell's Gate if you get to the Rimouski River. It is 5 kilometers long and 90 meters high. It begins with the picturesque Sioux waterfall. You will walk along the suspension bridge after viewing the canyon. Its height is 63 meters. The bridge is 90 meters long. You will move on foot between the viewing platforms along the trails. Their total length is 14 kilometers. You will descend to the bottom of the canyon by a staircase with 300 steps. You will climb back up after that and enjoy the view of the waterfall. It has a height of 20 meters.
Mont-Sainte-Anne Ski Resort
You should visit the Mont-Sainte-Anne ski resort to diversify your vacation in Quebec. It is located 40 kilometers from the city. You can ski along 56 trails with amazing views of the St. Lawrence River. You will climb them using 13 lifts. You will also do snowboarding, performing all sorts of tricks in the landscape park with halfpipes.

This article about ideas on extraordinary weekend in Quebec City is protected by the copyright law. You can re-publish this content with mandatory attribution: direct and active hyperlink to
www.orangesmile.com
.
City tours, excursions and tickets in Quebec City and surroundings
Reference information
Survived castles around Quebec City
♥ Castle 'Château Haldimand' , 3.5 km from the center.
On the map
Photo
♥ Castle 'Château Frontenac' , 3.7 km from the center.
On the map
Photo
♥ Castle 'Chateau St. Louis' , 3.8 km from the center.
On the map
Photo
♥ Castle 'Manoir Mauvide-Genest' , 29.2 km from the center.
On the map
Photo
♥ Castle 'Manoir Taschereau' , 42.9 km from the center.
On the map
Photo
Quebec City by photo artists
Search for interesting places on Quebec City map
Visiting neighbours of Quebec City for exclusive entertainment
Walk through hidden local streets, sneak to a small cafe, breathe and enjoy Quebec City from inside. Stay out from the beaten track during your city weekend, discover the soul of Quebec City as a real travel gourment. Follow our guide, take one of the exclusive services and spend your time in Quebec City unforgettably and with a full passion!