Cuisine of Limburg for gourmets. Places for dinner - best restaurants
Limburg is full of attractive dining places, where you can enjoy classic Dutch cuisine. It should be noted that neighboring Belgium had a serious impact on the formation of Limburg culinary traditions, so many local dishes may seem quite unusual to foreign guests.
The fabulously beautiful region of Limburg appeals to fans of various activities. Scenic parks and caves, ultramodern malls and shopping centers, an abundance of attractive bars and …
Open
Seafood occupies a honorable place in local menu. You can enjoy it in the Beluga restaurant situated in Maastricht. All dishes have unique decoration; in addition to a huge selection of fish and shellfish, the restaurant serves delicious desserts. French restaurants are also common in this area; this culinary tradition enjoys continued popularity among locals.
The restaurant Chez Philippe in Venlo can be called the best in town. Every day, this popular restaurant is visited by thousands of guests wishing to taste exquisite French delicacies for a modest fee. Another popular dining place is the Alde Mert restaurant; it is recommended to those who wish to get acquainted with the local cuisine. The menu consists of the most popular dishes of Dutch and Belgian cuisine, but there are also exquisite French delicacies. Copyright www.orangesmile.com
Limburg is situated in the southeastern part of the Netherlands. Several centuries ago, Limburg was an independent county, large industrial and commercial area. Its capital was the city of …
Open
Travelers who visit Gulpen should definitely look into the Atelier restaurant. It specializes in gourmet dishes; its specialty treats represent a unique combination of national traditions and French charm. Besides the vast menu, the restaurant has a rather pleasant decor; in warm months it allows visitors to stay on the spacious terrace.
Among numerous dining places of Roermond the De Gelegenheid restaurant remains a confident leader; its customers are pleased with a great choice of Dutch cuisine. Pleasant interior design of De Gelegenheid ideally complements the quiet and secluded area. Werth has pretty much fancy restaurants and cafes. One of these places is the Mediterranean restaurant Bretelli resembling an art gallery with its design. Limburg has restaurants of different traditions, but a tour to this picturesque province would be incomplete without a visit to the popular local diners.

This guide to cuisine and restauraunt in Limburg is protected by the copyright law. You can re-publish this content with mandatory attribution: direct and active hyperlink to
www.orangesmile.com
.
City tours, excursions and tickets in Limburg and surroundings
Reference information
Michelin-starred restaurants in Limburg
♥ Restaurant 'Valuas' Venlo. Type - Modern cuisine. 9.8 km from the center.
On the map
Photo
♥ Restaurant 'Hostellerie de Hamert' Wellerlooi. Type - Modern cuisine. 10.3 km from the center.
On the map
Photo
♥ Restaurant 'De Beejekurf' Venray. Type - Modern cuisine. 10.7 km from the center.
On the map
Photo
♥ Restaurant 'De Cantharel' Blerick. Type - Modern cuisine. 10.7 km from the center.
On the map
Photo
♥ Restaurant 'Enfin' Venlo. Type - Modern French. 11.2 km from the center.
On the map
Photo
♥ Restaurant 'Brienen aan de Maas' Well. Type - Modern cuisine. 12.1 km from the center.
On the map
Photo
♥ Restaurant 'Aubergine' Tegelen. Type - Modern cuisine. 12.9 km from the center.
On the map
Photo
♥ Restaurant 'Alte Bürgermeisterei' Geldern-Walbeck. Type - Classic French. 13.9 km from the center.
On the map
Photo
♥ Restaurant 'Sonneck' Nettetal-Hinsbeck. Type - Home cooking|International. 19 km from the center.
On the map
Photo
♥ Restaurant 'Zur Brücke' KEVELAER. Type - Traditional cuisine. 20.5 km from the center.
On the map
Photo
Unique sights around Limburg
Crouching Tiger and Turtle
From the series
"Furious Footways Around the World That Make You Dizzy"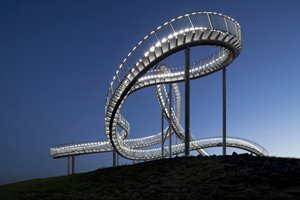 Check on the map:
Distance from Limburg center - 47.5 km.
The length of the staircase is 220 meters. It is open day and night. Admission is free. The original attraction in Duisburg was opened in 2011 and became instantly known worldwide and popular with lovers of unusual entertainments. 'Tiger and Turtle' staircase is located in the picturesque Angerpark. One of the most important secrets of the ladder is the traditional roller coaster dead loop, which is much easier to pass through than it might seem at first glance. …
Read further

Car rental on OrangeSmile.com

Malaysia Shares Its 2020 Tourist Arrivals Data
Malaysia is not the only country that suffered from such a drastic drop in arrivals last year. According to the information published by the World Tourism Organization (UNWTO), the decrease in arrivals in Asia and the Pacific reached 84% in 2020. ASEAN countries had a similar result. The arrivals in Singapore dropped by 85.7%, in Thailand – by 83.2%, in Vietnam and Indonesia - by 78.7% and 75% respectively.
Read this
21.04.2021
Limburg in photo set
Searching where to eat - restaurants and cafe on Limburg map
Cuisine and restaurants in the neighbours of Limburg
Travel notes on best cuisine and restaurants of Limburg (Netherlands) on OrangeSmile.com. Famous recipes and traditional dishes and courses in Limburg restaurants. Where to eat - our recommendations on popular places in Limburg, where you can taste delicious meal and also spend a good time with your friends.