Preparing your trip to Playa del Carmen: advices & hints - things to do and to obey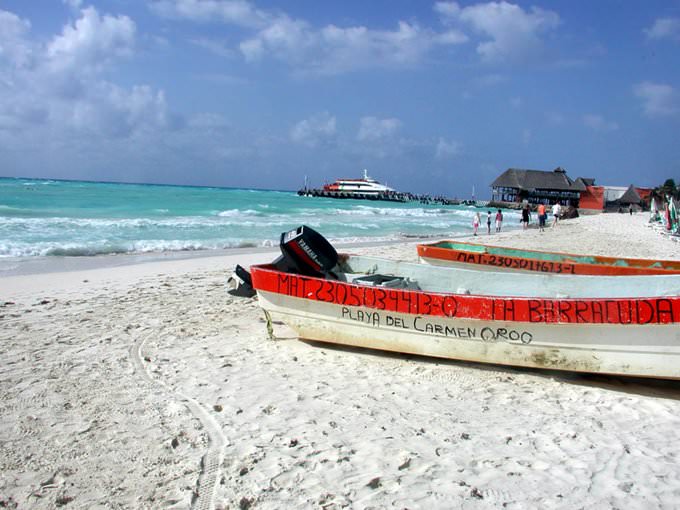 1.
The rainiest season o f the year in Playa del Carmen is considered to be autumn. During the fall months a plan of a vacation may be interrupted with severe rainfalls. Tourists looking for a rich exploration tour over the resort should better visit Playa del Carmen in winter which is not that hot.
2. Planning a visit to the Playa del Carmen resort one should be backed up with sun protecting creams and lotions as getting a sun burn as well as sun stroke is possible even during a common tour through the city. Those tourists looking for visiting of nature reservations should get insect protection as well. Mosquitoes are still the main problem of the resort.
3. The only available type of city transport is a bus running not only to every district of the resort but to the nearest suburbs as well. Prices for trips are fixed and can be specified in any tourist information center or hotel.
4. In the evening the only available type of transport is a taxi. Tourists should not anticipate cheating on the side of drivers who may practice upon unawareness of foreign guests. Taxi rates are controlled by law. Thus taxi drivers are disabled to skyrocket the prices when taking foreign guests aboard as stiff fines are imposed for such kind of violation of law.
5.
The most buzzing and vibrant business street of the city is considered to be the Quinta Avenida street offering original souvenirs and unique crafts for sale. Tourists should not get confused with low prices for offered goods as these goods still feature high quality. Markets and private shops and stores of the resort welcome bargaining however one should not reckon upon high discounts as the initial prices are more than just affordable. Copyright www.orangesmile.com
6. Visiting a market place tourists should be backed up with enough of change as this will simplify the payment. Large shopping centers and boutiques accept international credit cards.
7. Tips are a must in local restaurants and cafes. 10% of the bill added will be quite enough to reward a waiter. Even if the service fee is already included into the bill, a waiter will be waiting for some reward all the same. Taxi drivers and hotel maids are waiting for tips of 1 – 2USD.
Even a few decades ago Playa del Carmen was one of numerous fishing villages – a totally unremarkable and secluded place. The reason for the sudden growth in the number of newcomers was in …
Open
8.
Utility supplied voltage is 110V. Some appliances will need adapters and connectors. These can be bought in any of the specialized stores or can be asked for in a hotel.
Preparing your trip to Playa del Carmen: advices & hints - things to do and to obey You can re-publish this content with mandatory attribution: direct and active hyperlink to
www.orangesmile.com
.
City tours, excursions and tickets in Playa del Carmen and surroundings
Mexico: travelling advices
10. The same can be said about football, which is very popular in Mexico. If possible, one should avoid discussing this sport, especially if the interlocutor is a fan of any club. And if he is, do not criticize his favorite club under any circumstances.
11. In Mexico City, it's better to avoid taking the subway at "Hora Pico" (peak hours) - from 7 to 10 am when people go to work, and from 5 to 9 pm when everyone returns home. In these hours, the subway is really overcrowded, and on hot days it is completely impossible to stay there, which is an ideal time for pickpockets.
12. It is important to apply sunscreen not only on the face but also on all exposed parts of the body before leaving the hotel. The sun in Mexico is often very strong, as it is close to the equator, and a sunburn can ruin your vacation. Be sure to wear a hat during the daytime to avoid sunstroke and getting to a hospital.
13. Drinking alcohol on the streets is prohibited by law and can result in a fine. …
Open
Photos of Playa del Carmen
Services search (pharmacy, police, parking, banks) on Playa del Carmen map
Tips for the cities around Playa del Carmen
Travelling to Playa del Carmen - advices and tips. What should be provisioned in advance, the rules you might want to follow, and the things you better avoid doing in Playa del Carmen. We help you to make your trip smooth and easy, with no unexpected surprises.