City break in Vysoke Tatry. Active leisure ideas for Vysoke Tatry - attractions, recreation and nightlife
Vysoké Tatry is not only a beautiful nature and many opportunities for active recreation. There are a lot of interesting things also for those who want to take a break from sports. You can go to Tricklandia, for example. It is an ideal place for a family holiday. Everyone will be fascinated by the illusion, regardless of gender and age. This place will be interesting as a two-year-old kid, and his parents and grandparents. The only important point is that a place in Tricklandia should be booked in advance. Of course, you can come without an appointment. However, you will have to wait in this case. There are almost no queues here. However, illusory attraction cannot accommodate many visitors at a time.
The resort is so popular due to a wide variety of skiing areas located on its territory. Vysoke Tatry will please both experienced sportsmen who practice their skills on difficult runs and …
Open
Be sure to bring your camera. You will be able to take beautiful photos here. In addition, part of the rooms in Tricklandia created specifically to be the background for beautiful pictures. In addition to backgrounds in the form of surreal portals or open space, there are also classic illusions. They are staying on the ceiling, changing body sizes, disappearing floors or endless stairs. The optical illusions at Tricklandia are ideal for relaxing on a rainy day.
If the weather is bad, but you want to conquer the peaks and overcome obstacles, then go to Stienka. It's a local climbing center. Many routes of varying complexity are located in a fairly small area here. There is also an opportunity to get some advice from the instructor for beginners. You can go on the assault of the easiest climb, and try to improve your skills on technically difficult tracks. In addition, you can stay in the cafe and relax with a cup of coffee, tea or a glass of non-alcoholic beer after climbing. Copyright www.orangesmile.com
Vysoké Tatry is a ski resort. You can easily find equipment that fits any preference, size, and budget here. Outlet Slovakia is the largest local store with things at a good price. This is …
Open
There is Tatrabob for those who do not really like skiing, but loves fast riding. This place is located in the Tatranska Lomnica. This is a local version of the roller coaster in the form of gutters with installed on them mechanical trolley-sled, which are traditional for such mountain entertainment. There are both descents and ascents in Tatrabob, unlike many similar routes. This entertainment is not very extreme. The sled rides at not very high speed. However, there are a few fairly steep turns. The views are very beautiful here.
A lot of interesting things are waiting for fans of cross-country skiing. There are almost two dozen kilometers of trails of different levels near the town. They will appeal to both beginners and experienced athletes. There are also 58 kilometers of trails for skiers and snowboarders here. It is worth climbing to the top of Hrebienok for those who love to overcome difficulties. It is here that the most difficult track in the entire ski area begins. It's called a Horna Luka. Several more difficult "black" routes are also located here. Fans of the Luge and exciting descents on the toboggan run have to visit the district Smokovec. There are three green runs here. They are ideal for beginning skiers.
Vysoké Tatry is a large resort region in Slovakia that is well known among admirers of skiing and other winter entertainments. The resort's area is considerably more than other …
Open
You can go to improve your riding skills on the "blue" tracks. They are located in the Jamy. You can ride without any problems after sunset here thanks to modern lighting. Skalnate Pleso will appeal to more experienced skiers and snowboarders. There are some very difficult runs here. They are designed for professional athletes. In addition, it is here that the famous ski school Ternav-ski is located. You can find several jumps for practicing various tricks and slalom tracks in Mlynitskaya Valley. You can relax in the indoor sports complex with swimming pools, a dozen gyms, and a SPA at any time of the year.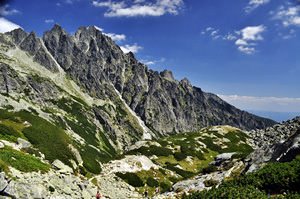 The longest route starts from Lomnicke Sedlo and ends in the village of Tatranská Lomnica. Its length is 4800 meters. The longest toboggan run is 3 km from Hrebienok to the village of Starý Smokovec. You will not have problems with queues at the lifts. The total capacity reaches 20 thousand people per hour. However, it is a mistake to believe that Vysoké Tatry will appeal only to fans of ski holidays. You should come for the sake of visiting the magnificent waterfalls formed due to the activity of glaciers here in the warm season.
Vysoké Tatry is an ideal place for active and curious children who love sports and are ready to try themselves in skiing or snowboarding. It is better to start training with Štrbské …
Open
Kmeťov vodopád is the highest. It consists of many rock cascades with a total height of 90 meters. Kmeťov vodopád is the lowest of a series of three waterfalls. They are located on Nefcerská Dolina and lead from the top to Koprova Dolina. Part of the cascades is easily accessible. Other waterfalls are at the end of routes which are quite difficult for an unprepared person. Most hiking and cycling routes start in Tatranská Lomnica. If you like caves, you can go to Tatranská kotlina. There is karst Belianska jaskyňa here. It is available for visiting both in summer and winter.

This guide on active recreation and leisure in Vysoke Tatry is protected by the copyright law. You can re-publish this content with mandatory attribution: direct and active hyperlink to
www.orangesmile.com
.
City tours, excursions and tickets in Vysoke Tatry and surroundings
Reference information
National and city parks around Vysoke Tatry
♥ National Park 'Tatrzański Park Narodowy' , 22.9 km from the center.
On the map
Photo
♥ National Park 'Pieniński Park Narodowy' , 34.1 km from the center.
On the map
Photo
♥ National Park 'Gorczański Park Narodowy' , 47.8 km from the center.
On the map
Photo
♥ Landscape Park 'Popradzki Park Krajobrazowy' , 56.6 km from the center.
On the map
Photo
♥ National Park 'Babiogórski Park Narodowy' , 71.3 km from the center.
On the map
Photo
Amusement parks near Vysoke Tatry
♥ Amusement park 'Miniature and Amusement Park' Inwald, 100.5 km from the center.
On the map
Photo
♥ Amusement park 'Energylandia' Zator, 112.5 km from the center.
On the map
Photo
♥ Amusement park 'Silesian Amusement Park' Silesia, 154.4 km from the center.
On the map
Photo
Water attractions around Vysoke Tatry
♥ Water park 'Aquacity Poprad' , 10.6 km from the center.
On the map
Photo
♥ Water park 'Termy Bukowina Tatrzańska' , 23.1 km from the center.
On the map
Photo
♥ Water park 'Aquapark Zakopane' , 25.6 km from the center.
On the map
Photo
♥ Water park 'Aquapark Tatralandia' , 47.1 km from the center.
On the map
Photo
♥ Water park 'GinoParadise Bešeňová' , 56.3 km from the center.
On the map
Photo
Car rental on OrangeSmile.com

Hilton builds third luxury hotel in Kyoto
It will welcome its first guests in 2024. 313 rooms of various categories will be available, the interior of rooms and hotel spaces will become one of the main features of the high-class hotel. When decorating the rooms, it is planned to use local textiles, which are famous for their high quality and are considered to be one of the best in the world.
Read this
25.09.2023
Photogallery of picturesque Vysoke Tatry
Search for active leisure and attraction spots on Vysoke Tatry map
City break ideas for neighbours of Vysoke Tatry
Guide to your best city break in Vysoke Tatry - popular places for recreation and leisure. Things to do during the day in Vysoke Tatry - attractions, parks, beaches, aquaparks, racing tracks, biking trails or waterski. Recommendations (with addresses, phone numbers and links) where to spend your time in the evening (bars, discos, clubs, etc.). We share some good ideas and the question 'What to do in Vysoke Tatry?' disappears immediately.