City break in Krakow. Active leisure ideas for Krakow - attractions, recreation and nightlife
The city features a wide selection of entertainment options. This place will be liked by fans of sport, music lovers, and those, who simply cannot imagine rest without night entertainments and dancing. Cocon is the most prestigious night club of Krakow. It will surely please fans of contemporary music. Club Ermitaz waits for its guests every day. Fans of billiards are better to go to Klub Basart. Dance lovers will find all they need in the disco named Epsilon, the spacious halls of which can accommodate up to 500 people at one time. Epsilon is a regular venue for various concerts and presentations.
A family vacation in Krakow can be even more fascinating if you decide to visit interesting museums, various popular entertainment centers, or walk in picturesque parks. Perhaps, Manga …
Open
The nightclub with the intriguing title "66" is another interesting place. Here are played only the most modern songs, and fans of dancing have rest on a huge colorful playground. There are mild sofas in a cozy hall. Here guests can rest from dancing and watch the club's entertainment program. The music in the club Clu does not stop until early in the morning. Every evening various music styles are played here. The club's bar has a great menu with widest choice of drinks, and the virtuoso bartender never ceases to amaze guests with original cocktails. Faust is one of the biggest entertaining clubs of the city. It has everything you need for relaxation- a spacious dance floor, a beautiful bar with large selection of cocktails, a cozy café, and even a terrace.
Within last several years Krakow Aqua Park has become one of favorite places for family holidays. Huge pools, slides, play areas for children and a well-equipped garden – this is a paradise for fans of water sports and hot sun. Shoppers will enjoy visiting local shops, where they can buy designer clothes, perfumes and trendy jewelry. In MediaMarkt supermarket you can buy various appliances, and Geant shopping complex offers visitors widest choice of different products, from clothes and shoes to souvenirs. Copyright www.orangesmile.com
Krakow offers to its guests numerous excellent restaurants, many of which have remained a favorite place for eating for townspeople and visitors for decades. Arka Noegro is considered the …
Open
As every European city, Krakow provides a wide range of services, where every active tourist can rent the bike, or purchase a biking tour. But the Krakow city management went even further: since 2008, public city bike rental is operating in Krakow. Here it is a system of automated rolling points located in the downtown. With a relatively developed bicycle infrastructure, such a service is very convenient for both city dwellers and visitors. After all, you can ride a bicycle to the desired point, enjoy the sights, stroll, enjoying the beauty of the parks and the architecture.
In Krakow, the tourists can enjoy the unique attraction in whole Poland - the balloon excursions. Montgolfier - is a balloon of huge diameter, reliably connected to the ground by a strong cable. The balloon can be found a romantic and picturesque place by the river near the Grunwald Bridge. If you are the lover of picturesque panoramas and thrill - you will be impressed by the stunning view of a small but very cozy city of Krakow. The approximate height of the rise in quiet, sunny weather is 180 meters. The flight time is 15 minutes. The safety of this attraction is checked regularly by UK specialists, where the balloon is sent for maintenance.
Local people are very sensitive to the customs of their ancestors. It's hard to find such a large number of interesting traditions and national holidays in any other city in Poland. …
Open
The third way to learn Krakow is by means of the cruise boat. From the pier under the Wawel Hill, river trams leave for the hour-long mini-cruises along the Vistula. During the trip, the ships manage to swim to the Kosciuszko mounds, swim under a pair of bridges, past two monasteries and the futuristic building of the Center for Japanese Culture. But, naturally, the special attraction of the whole boat excursion is the opportunity to glance at the Wawel Castle from the water.

This guide on active recreation and leisure in Krakow is protected by the copyright law. You can re-publish this content with mandatory attribution: direct and active hyperlink to
www.orangesmile.com
.
City tours, excursions and tickets in Krakow and surroundings
Recommended places for active recreation and leisure in Krakow
Dym
Where: ul. Tomasza 13, Krakow;
The Irish Arms
Where: Poselska 18, Krakow;
Lokator
Where: Krakowska 27, Krakow; More info: Entrance via meiselsa square;
Swieta Krowa
Where: Florianska 16, Krakow;
Aloha Café
Where: Ul. Miodowa 28a, Krakow;
Amadeus
Where: ul. Mikolajska 20, Krakow;
C.K. Browar
Where: Ulica Podwale 6-7, Krakow;
Club Fusion
Where: Florianska 15, Krakow;
Harris Piano Jazz Bar
Where: Rynek Gowny 28, Krakow;
Caryca
Where: ul. Wielopole 15/1, Krakow;
Budda Bar
Where: 6 Rynek Glowny, Krakow;
Paparazzi
Where: ul. Mikolajska 9, Krakow;
Sites around Krakow from our surveys on extreme Earth places
Wiezienie Montelupich Prison
From the series
"Famous prisons of the world"
Check on the map:
Distance from Krakow center - 1.2 km.
Montelupich prison became famous in the post-war years also for the reason that death sentences were carried out in it for many years. The most recent death penalty was carried out in 1988. It was the last not only for the prison but for the whole of Poland. The investigation department is located in the historic building today. Therefore, you will not be able to visit it. Tourists are offered to admire only the appearance of the prison. …
Read further

Wieliczka Salt Mine
From the series
"The Scariest Mines in the World"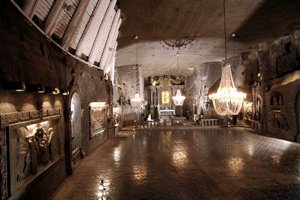 Check on the map:
Distance from Krakow center - 12.2 km.
Despite the fact that empty corridors of the mines have been arranged and became places of storage of priceless historical artifacts, a walk through the tunnels doesn't cease to be a frightening and exciting event. Even silence seems frightening there; the atmosphere is complemented by dim lighting and an abundance of shadows casted by antique furniture, huge chandeliers and sculptures represented in some of the halls. …
Read further

Photogallery of picturesque Krakow
Search for active leisure and attraction spots on Krakow map
City break ideas for neighbours of Krakow
Guide to your best city break in Krakow - popular places for recreation and leisure. Things to do during the day in Krakow - attractions, parks, beaches, aquaparks, racing tracks, biking trails or waterski. Recommendations (with addresses, phone numbers and links) where to spend your time in the evening (bars, discos, clubs, etc.). We share some good ideas and the question 'What to do in Krakow?' disappears immediately.