Colors of Vysoke Tatry - traditions, festivals, mentality and lifestyle
A wide variety of events take place in Vysoké Tatry. Many of them are associated with outdoor activities. However, there are numerous events that are not related to active recreation. For example, the Quantorium traditionally takes place here. It's an incredibly beautiful performance using the latest technology in led lighting. Games with light and shadow, bright colors and fascinating plastic actors-participants of the presentation will appeal even to people indifferent to art. The Quantorium will also appeal to children. You can take children under the age of five to the performance absolutely free of charge.
Each district of the resort has its own remarkable historical symbols. All guests without exception should evaluate a diversity of attractions here. The historical center of the resort area …
Open
The small festival Venetian night traditionally takes place in the middle of summer. This event evokes thoughts of theater, Venice, and mystery. You can get to the show for free. If you do not want to admire the action from the shore, but want to ride a boat and take part in the performance, it is worth buying a ticket. Symphony night is traditionally held in the town at the end of July. Both citizens and visiting fans of classical music attend this event. This is the perfect opportunity to relax after a day filled with movement and new experiences.
Bright colorful festival "Bear days" is traditionally held in Vysoké Tatry in early August. Of course, do not expect to see a real bear on the holiday. However, there are several animators dressed in life-size fairy-tale bear costumes at the festival. The event is famous for its rich game program. It captivates both children and many of the parents. The child will be able to fight almost a real sword, ride a fabulous train, and participate in dozens of quizzes and competitions in agility, strength, and ingenuity. In addition, you can taste traditional Slovak delicacies at the festival. Copyright www.orangesmile.com
Vysoké Tatry is not only a beautiful nature and many opportunities for active recreation. There are a lot of interesting things also for those who want to take a break from sports. You can …
Open
Another traditional event for children takes place in August. It is Svište na Plese. It's a big one-day festival. It is dedicated to the basics of tourism and orienteering. You should find out in advance whether you will be able to combine a summer vacation in Vysoké Tatry with one of the weekends when will be held the "Dinner under the stars". This incredible experience is worth the money and time spent. The event includes an introduction to the main Slovak delicacies and photos against the sunset. You will also be able to hear a detailed story about the history of the message, the starry sky above it and Vysoké Tatry.
You will be able to visit the festival-fair "Flowers of Tatry" in September. Everyone who is interested in Slovak flora and gardening and floristry should get to it. You will be able to visit the exhibition and sale of local plants as part of the festival program. You will also be able to learn the history of their armorial and everyday use and see master classes from famous florists of the country.
A lot of resort hotels welcome guests for more than 10 years. One of them, the popular hotel Grandhotel Starý Smokovec, is located in the beautiful old building. It is one of the most …
Open
Do you prefer animals to plants? Then it is worth visiting the February dog show. It is devoted mainly to sled dogs. You can find out all about the breed you are interested in here. You will also have the opportunity to play with friendly animals, and try to ride on your own a dog sled.
"Snowdogs" also includes traditional winter entertainment for children or for the whole family. These are the creation of an ice castle, shooting snowballs or master classes in the construction of an ice sculpture. You can assemble puzzles with images of dogs, participate in fun and simple family relay races and watch the competitions of professional trainers. Of course, spectacular dog sledding races take place during the event! The ice sculpture festival takes place in Vysoké Tatry in January. You can admire the skill of the participants here. There is also an opportunity to try yourself in this interesting craft.
The resort is so popular due to a wide variety of skiing areas located on its territory. Vysoke Tatry will please both experienced sportsmen who practice their skills on difficult runs and …
Open
Bright carnival of skiers traditionally takes place on the first of April. Snow still lies in the mountains at this time. Locals consider it their duty to go out on the slope even in a fairly simple suit at this time. In addition to the parade of costumes, comic competitions for speed, accuracy, and coordination are held on this day. They are the usual races and performances of the most ridiculous tricks. Quite serious competitions are also held here. It is the National Downhill Championship and other Alpine disciplines.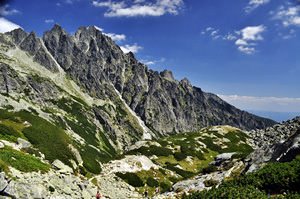 You can take part in the evening skating at the end of February. It traditionally ends with a grand party. Fans of both ski holidays and cool discos should visit the large-scale opening and closing of the season. They are accompanied by many attractions. Also, theatrical performances and concerts of Slovak and European musicians take place at this time. Sports enthusiasts can watch professional tennis players and golfers compete on summer days.

This guide to traditions and festivals in Vysoke Tatry is protected by the copyright law. You can re-publish this content with mandatory attribution: direct and active hyperlink to
www.orangesmile.com
.
City tours, excursions and tickets in Vysoke Tatry and surroundings
Reference information
Cathedrals and basilicas near Vysoke Tatry
♥ Konkatedrála Sedembolestnej Panny Márie, Poprad, 10.4 km from the center.
On the map
Photo
♥ Kościół św. Michała Archanioła, Dębno, 37 km from the center.
On the map
Photo
♥ Bazylika Matki Bożej, Ludźmierz, 40.6 km from the center.
On the map
Photo
♥ Katedrála sv. Martina z Tours, Spiš, 40.9 km from the center.
On the map
Photo
♥ Katedrála Nanebovzatia Panny Márie, Rožňava, 57.1 km from the center.
On the map
Photo
♥ Bazylika Kolegiacka św. Małgorzaty, Nowy Sącz, 64.7 km from the center.
On the map
Photo
♥ Bazylika Matki Boskiej Bolesnej, Limanowa, 65.4 km from the center.
On the map
Photo
Survived castles around Vysoke Tatry
♥ Castle 'Kežmarok Castle' , 15.8 km from the center.
On the map
Photo
♥ Castle 'Liptovský Hrádok Castle' , 36.6 km from the center.
On the map
Photo
♥ Castle 'Markušovce Castle' , 38.3 km from the center.
On the map
Photo
♥ Castle 'Ľubovňa Castle' , 40.5 km from the center.
On the map
Photo
♥ Castle 'Spiš Castle' , 42.8 km from the center.
On the map
Photo
♥ Castle 'Muráň Castle' , 43 km from the center.
On the map
Photo
♥ Castle 'Betliar Mansion' , 52.1 km from the center.
On the map
Photo
Car rental on OrangeSmile.com

Preferred to Open 9 New Hotels in 2022
In September 2022, the Sommerro hotel in Oslo will start operating in a carefully restored 1930s Art Deco building. This building is a true landmark of Frogner, a historic neighborhood of the Norwegian capital. A multi-million-dollar renovation carefully turned the largest preservation project in Norway into a modern hotel with 231 rooms, including 56 residences. Preferred will open five more hotels in 2022, namely, The Wall Street Hotel in New York, Amrit Ocean Resort & Residences on Singer Island (Florida, the US), TOA Hotel & Spa in Zanzibar, Pendry hotel in Washington, and Pendry Park City hotel in Utah.
Read this
29.09.2023
Colors of Vysoke Tatry in photos
Search for popular touristic sites on Vysoke Tatry map
Traditions and festivals in cities around Vysoke Tatry
Cityguide on traditions, mentality and lifestyle of people in Vysoke Tatry. Learn the best periods to visit Vysoke Tatry to discover its soul - authentic festivals, events and celebrations. We will also reveal the interesting habits, attitude towards the world and to tourists in Vysoke Tatry.