Sightseeing in Vysoke Tatry - what to see. Complete travel guide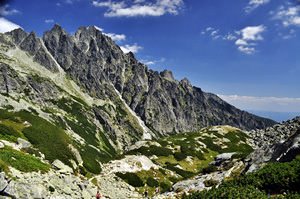 Vysoké Tatry is a large resort region in Slovakia that is well known among admirers of skiing and other winter entertainments. The resort's area is considerably more than other localities of the country. It was formed after the amalgamation of several tiny mountain settlements in 1947. At present, the resort is divided into three main districts: Strbske Pleso
, Stary Smokovec
and Tatranska Lomnica
. Each of them is divided into several subdistricts in turn. The resort area is located at the foothill of the namesake mountain range, on which slopes these contemporary ski resorts were created.
Vysoké Tatry is a ski resort. You can easily find equipment that fits any preference, size, and budget here. Outlet Slovakia is the largest local store with things at a good price. This is …
Open
Catchy ski routes and modern hotels are not the only peculiarities of the resort. Vysoké Tatry is known as a location of healing mineral springs. Each resort area of the region has its attractive features. Both fans of sports entertainments and admirers of the health tourism like spending time there. The youngest guests will also be delighted by this picturesque resort with many entertainments.
Nowadays, almost 5 000 locals reside in the territory of the resort, and they are all engaged in the tourism sector. The first travelers started visiting these picturesque mountainous districts at the turn of the 19th to 20th century. The first upscale hotels, most of which still welcome guests, appeared more than a hundred years ago. The resort is popular all year round. While in winter, more than ever, it is suitable for ski trips, in summer, admirers of nature and recreation far from noisy cities have interesting time there. Copyright www.orangesmile.com
Vysoké Tatry is an ideal place for active and curious children who love sports and are ready to try themselves in skiing or snowboarding. It is better to start training with Štrbské …
Open
As for other spectacular peculiarities of the resort area of Vysoké Tatry, a wide range of accommodation prices should be noted. Even the thriftiest tourists, as well as high-level recreation admirers, can choose a suitable hotel here. The flexible price policy relates not only to the local hospitality venues, but also to restaurants and entertainments. Now, at the resort, there are several modern balneological centers. Many upscale hotels with a spa center offer their guests exclusive wellness programs. Vysoké Tatry is a universal resort where everyone can spend a fun and interesting time in any season. Enthusiasts of active pastime will definitely enjoy a worthy choice of sports entertainments, a variety of hiking routes and amazing excursion objects. The sightseeing will also certainly allow to diversify recreation with pleasure.
A vacation in the popular mountain resort of Vysoke Tatry can be even more exciting if you decide to attend different excursions. There are several gorgeous caves in Vysoke Tatry region. Belianska Cave is a popular excursion destination. Many visit it to admire gorgeous stalactites and stalagmites. Demanovska Cave also attracts numerous visitors.
Do not miss the opportunity to join the national Slovak cuisine if you arrived in Vysoké Tatry. There are no products and dishes exotic for a European here. So you can not worry about the …
Open
Travelers in search of excursions to important historic areas will find it very interesting to attend Bojnice Castle that is located nearby. Built yet during the Middle Ages, the castle has survived until our days in great condition. There are many mysterious legends about the beautiful castle. Local people believe that ghosts live there.
History fans should not forget to explore the medieval town of Spis located nearby. It is easy to spend a whole day exploring fabulous landmarks of this settlement. There are unique buildings, the age of which is more than 500 years. Even ordinary stone houses of local people are of a great historical value. Moreover, there are several old churches and fragments of ancient protective facilities built during the Middle Ages.
A wide variety of events take place in Vysoké Tatry. Many of them are associated with outdoor activities. However, there are numerous events that are not related to active recreation. For …
Open
Fans of water-based entertainment and tourists with children will genuinely enjoy a visit to Aquapark Tatralandia that is located in the resort's neighborhood. As the aquapark is an indoor one, it works all year round. It is not big, but has optimal conditions for a comfortable stay. There are rides, slides, and playgrounds for small children. Adults will also like this place.
In warm months, guests of Vysoke Tatry will have an opportunity to see unforgettable natural landmarks that are not available in winter. Štrbské pleso Lake is one of these landmarks. It is located at a height of 1350 meters above the sea level. The lake is incredibly beautiful. As it is supplied with water from the nearby glaciers, water in the lake remains crystal clear. The lake got its name because of an old village located nearby. Vacationers can explore the charming settlement during an excursion in the area.

This guide to iconic landmarks and sights of Vysoke Tatry is protected by the copyright law. You can re-publish this content with mandatory attribution: direct and active hyperlink to
www.orangesmile.com
.
City tours, excursions and tickets in Vysoke Tatry and surroundings
Reference information
Survived castles around Vysoke Tatry
♥ Castle 'Kežmarok Castle' , 15.8 km from the center.
On the map
Photo
♥ Castle 'Liptovský Hrádok Castle' , 36.6 km from the center.
On the map
Photo
♥ Castle 'Markušovce Castle' , 38.3 km from the center.
On the map
Photo
♥ Castle 'Ľubovňa Castle' , 40.5 km from the center.
On the map
Photo
♥ Castle 'Spiš Castle' , 42.8 km from the center.
On the map
Photo
National and city parks around Vysoke Tatry
♥ National Park 'Tatrzański Park Narodowy' , 22.9 km from the center.
On the map
Photo
♥ National Park 'Pieniński Park Narodowy' , 34.1 km from the center.
On the map
Photo
♥ National Park 'Gorczański Park Narodowy' , 47.8 km from the center.
On the map
Photo
♥ Landscape Park 'Popradzki Park Krajobrazowy' , 56.6 km from the center.
On the map
Photo
♥ National Park 'Babiogórski Park Narodowy' , 71.3 km from the center.
On the map
Photo
Sights around Vysoke Tatry from our guide 'Extreme places on Earth'
Tatra National Park
From the series
"Largest Nature Reserves on Earth"
Check on the map:
Distance from Vysoke Tatry center - 23 km.
These amazing animals, a little bit like huge marmots inhabited our planet during Pleistocene period, today they are on the verge of extinction. Those who prefer to enjoy the natural beauty, have an opportunity to see the Kmet's waterfall or stroll through the miraculously beautiful alpine meadows and climb the mountain peaks. There are also many caves in the park, the most interesting of which is Wielka Sniezna cave located on the territory of Poland. …
Read further

Car rental on OrangeSmile.com

Thailand Relaxes Its COVID-19 Policy
New Year events in Thailand are likely to bring more people this year because everyone is tired of lockdowns and craving normal life. Many tourists, who book hotels in Pattaya, Krabi, or Phuket for the holiday season, also want to participate. As champagne has become an essential drink for New Year celebrations, the question regarding alcohol consumption comes to mind. The government allowed serving alcoholic drinks during the New Year countdown but only open-air cafes and restaurants with good ventilation will be permitted to do this until 1 am on 1 January 2022. This rule is nationwide.
Read this
01.04.2023
Search touristic sites on the map of Vysoke Tatry
Sightseeing in regions nearby Vysoke Tatry
All about Vysoke Tatry, Slovakia - sightseeings, attractions, touristic spots, architecture, history, culture and cuisine. Prepare your trip together with OrangeSmile.com - find out the 'must see' things in Vysoke Tatry, which places to visit, which excursions to take, where the breathtaking views are waiting for you. Planning your trip with this travel guide will help your to get the most out of Vysoke Tatry in few days.