Colors of Monastir - traditions, festivals, mentality and lifestyle
Monastir is a Muslim city whose religious traditions are one of the integral parts of everyday culture for local citizens. Residents celebrate important religious holidays and go on pilgrimage to remarkable Muslim holy places every year as well as pray every day. Such commitment to religious traditions had an impact on different spheres of local life. It's not common to wear bright and open clothes here, so foreign tourists should pay attention to the important rule too. You should choose what to wear especially thoroughly before visiting religious landmarks. Before entering a mosque, you should take off your shoes. The fair sex and adherents of other religions should remember that they can't visit some mosques and religious landmarks.
Monastir is one of the quietest and picturesque cities of Tunisia. To the whole world, it is famous for its unique historical sites among which is the ancient fortress of Ribat. However, …
Open
Monastir is a fairly modern tourist city so local citizens are quite tolerant of foreign guests. Foreigners can wear light clothes they're used to when walking around central streets and going to the beach, but it's best to choose more closed and neutral types of clothes for walks in the historic district and tours.
The prayer ritual is observed by citizens several times a day at a certain time, and it can be done even on the street. If, during your walk, you see a person kneeling, you should walk around them well at a distance. It's not polite to stare at those praying. Local women's everyday clothing is burqa. It's also impolite to stare at local citizens in traditional clothing. Copyright www.orangesmile.com
Monastir is a real paradise for gourmands—the coastal city offers myriads of interesting seafood delicacies, unique bakery, and traditional local dishes. The most popular tourist …
Open
There are also special rules of conduct in public places: you shouldn't speak and express your emotions too loudly. Entering a small restaurant or shop, you should say hello to the host even if you don't speak the local language; a greeting will be understood in any language. The residents of Monastir pay a lot of attention to making their city more beautiful. Walking around the city, you can see lots of flower compositions and fruit trees. It's forbidden to pick the fruits; all the trees planted within the city are under guard. If there's a keeper near the park or fruit garden, you can ask them politely for permission to pick a couple of fruits. They usually allow it to tourists.
Those who like walking around the city with a camera should also keep a couple of rules in mind. Religious traditions don't allow local citizens to appear in photographs, so you shouldn't take photos or videos of them without their consent. Under no circumstances should you let women in burkas appear in your photos or videos.
Monastir is rich in historic and architectural landmarks. The fortification called the Ribat of Monastir is one of the main historical symbols of the city. Centuries ago, lots of fortresses …
Open
One of the special features of national culture is colourful markets where local people like walking. Markets are still one of the favourite places for recreation: between colourful rows of stalls, they meet friends and relatives, discuss the latest pieces of news, and do shopping. Visiting the markets, tourists should remember that they can and should haggle with local sellers. Bargaining is an important part of their culture, so if a buyer acquires goods at a price set without bargaining, a seller may take offence, as this way of doing business is dull to them.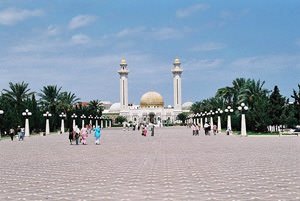 The travellers who want to explore interesting features of national culture will be offered a lot of entertaining activities. They can visit farms located in the vicinity of the city, where the best breeds of Arab racehorses are bred. Lots of exhibitions and competitions are held there throughout the year. Nowadays, many farms are popular tourist sites.
Monastir is the perfect place for beach recreation. There are great thalassotherapy centres as well as modern sports centres. One of the most popular city beaches is located by the old …
Open
Another interesting part of local culture is falconry. The practice started in the area over a thousand years ago. Today, some local hunters officially continue using birds of prey for hunting. There are reserves near Monastir where falcons are bred and trained. Since Monastir is a coastal city, a lot of marine-themed holidays are celebrated there. They are usually held in summer—local citizens organize gastronomic parties and demonstrate their special ways of catching sea creatures to foreign guests. One of the most interesting rituals is an old way of catching octopuses. To catch them, local fishermen use clay jars.

This guide to traditions and festivals in Monastir is protected by the copyright law. You can re-publish this content with mandatory attribution: direct and active hyperlink to
www.orangesmile.com
.
City tours, excursions and tickets in Monastir and surroundings
Car rental on OrangeSmile.com

Thailand Relaxes Its COVID-19 Policy
New Year events in Thailand are likely to bring more people this year because everyone is tired of lockdowns and craving normal life. Many tourists, who book hotels in Pattaya, Krabi, or Phuket for the holiday season, also want to participate. As champagne has become an essential drink for New Year celebrations, the question regarding alcohol consumption comes to mind. The government allowed serving alcoholic drinks during the New Year countdown but only open-air cafes and restaurants with good ventilation will be permitted to do this until 1 am on 1 January 2022. This rule is nationwide.
Read this
23.09.2023
Colors of Monastir in photos
Search for popular touristic sites on Monastir map
Traditions and festivals in cities around Monastir
Cityguide on traditions, mentality and lifestyle of people in Monastir. Learn the best periods to visit Monastir to discover its soul - authentic festivals, events and celebrations. We will also reveal the interesting habits, attitude towards the world and to tourists in Monastir.