City break in Monastir. Active leisure ideas for Monastir - attractions, recreation and nightlife
Monastir is the perfect place for beach recreation. There are great thalassotherapy centres as well as modern sports centres. One of the most popular city beaches is located by the old fortress. In high season, it's always overcrowded with tourists, so you should go to the beach as early as possible to get yourself a spot. A gorgeous view of the old fortress opening from the coast fully makes up for large crowds of people. Divers will also enjoy spending time in Monastir, as there are a few small desert islands near the coast. There are the most interesting diving spots around them: you can admire beautiful coral reefs and grottos and watch the colonies of sea urchins and colourful fish. It's worth mentioning that there are also comfortable diving spots for newbies near Monastir. These areas are up to 5 metres deep.
Monastir is rich in historic and architectural landmarks. The fortification called the Ribat of Monastir is one of the main historical symbols of the city. Centuries ago, lots of fortresses …
Open
The city's suburbs are famous for the top-notch golf centres, two of which are international: Golf Club Palm Links and Flamingo Golf Course. These golf centres offer visitors professional 18-hole courses and are situated in an area with incredibly beautiful scenery. Visitors can admire splendid palm groves and olive groves. Besides, the centres neighbour on beautiful deserted areas and famous natural landmarks—salt lakes. Both golf centres are well-equipped and have special 9-hole practice greens. Newbies can use the services of the golf academy and learn the basics of the game taught by professional coaches.
It will be interesting to visit local ranches where you can learn to ride a horse or order a horse ride around picturesque places. One of the most popular ranches among tourists is Skanes located near Monastir. It's a great place for family recreation. The ranch has a riding school and organizes horse rides along the coast every day. The Skanes area is also attractive because of its sandy beach that is 6 km long. This part of the coast is a real open-air entertainment centre: lots of cafes, hookah lounges, nightclubs, and discos work here. The resort area is especially popular with youngsters. One can have fun here round the clock. Copyright www.orangesmile.com
1. There's a large international airport in the district of Skanes situated near Monastir. It's conveniently located close to tourist areas, and you can reach most popular hotels …
Open
Those who like walking enjoy spending time in the Marina port district. Some people come here to admire beautiful yachts and fishing vessels, while others get interested in the variety of fish restaurants found here. Tourists can choose from lots of entertainments here: they can go on a captivating sea tour or go fishing. Another interesting thing about the coastal area is that the city's best tattoo studios are situated here.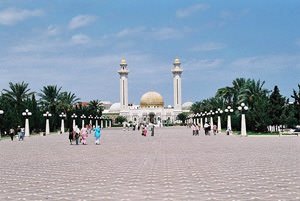 The island of Kuriat is popular with those who love spending their holiday in picturesque natural places. Some interesting hiking trails, going through local natural landmarks, are laid here, so you can admire them while walking. The island has a few wonderful wild beaches, near which popular diving sites can be found. Over the last years, a lot of effort has been put into the development of the city. For example, there are special zones for picnics and barbeque.
When it's hot, it's nice to visit the SPONGEBOB water park. It's very small but is conveniently arranged and has a variety of water rides. There are special shallow pools with safe slides for little visitors, and some rides are designed specially for those who love extreme sports. There's a beautiful Falez park in the city which is one of tourists' favourite places on a hot day. A lot of evergreen trees grow in the park, and it's decorated with new landscape compositions every year. The park is equipped with comfortable footpaths and recreation areas with benches, and a wonderful view of the coast opens from here.

This guide on active recreation and leisure in Monastir is protected by the copyright law. You can re-publish this content with mandatory attribution: direct and active hyperlink to
www.orangesmile.com
.
City tours, excursions and tickets in Monastir and surroundings
Reference information
National and city parks around Monastir
♥ National Park 'Boukornine' , 106 km from the center.
On the map
Photo
Car rental on OrangeSmile.com

Saudi Arabia to Open 38 Hotels in Diriyah
Diriyah is one of the first mega projects in Saudi Arabia. Hotels and other infrastructure will start opening next year, and all works are expected to end in 2026. The first 18 restaurants in Bujairi Terrace will start operating already in early 2022.
Read this
10.06.2023
Photogallery of picturesque Monastir
Search for active leisure and attraction spots on Monastir map
City break ideas for neighbours of Monastir
Guide to your best city break in Monastir - popular places for recreation and leisure. Things to do during the day in Monastir - attractions, parks, beaches, aquaparks, racing tracks, biking trails or waterski. Recommendations (with addresses, phone numbers and links) where to spend your time in the evening (bars, discos, clubs, etc.). We share some good ideas and the question 'What to do in Monastir?' disappears immediately.