Cuisine of Marrakech for gourmets. Places for dinner - best restaurants
Moroccan cuisine is one of the most popular in the world. It features plenty of fresh fruit and vegetables, inimitable spice and herbs as well as sea foods specialities and meat delicacies. One of the most popular ethnic treats is still couscous and each culinary expert cooks the dish following variant recipe. Traditionally couscous is eaten without flatware – commonly one uses three fingers of the right hand to eat the dish.
The most common sort of dessert is the marshmallow. The sweet treat is made in hundreds of varieties. The almond marshmallow is considered to be typical of Marrakesh. The sweet nut treat features specific and original taste. Considering traditional local treats of Marrakesh, tajin is most worth noticing. The treat has got its name from a crock as this is exactly the crockery the local people prefer to cook beef in. Copyright www.orangesmile.com
Shoppers associate Marrakech with large beautiful bazaars, craft shops, and jewelry stores. The large shopping center Marrakech Plaza is located in the new part of the city. It will be …
Open
Before cooking the meat is pickled then the beef is stuffed in crocks and long stewed in the oven. Tajin is one of those treats which are richly added with herbs and spices during cooking as these give the meat inimitable shades of flavors. Marrakesh folks enjoy an ethnic drink being sweet mint tea. Local people can drink up to 10 cups of this refreshing and recharging drink per day. Remarkably as it is, but a hot mint tea is the best means to cope with extreme heat.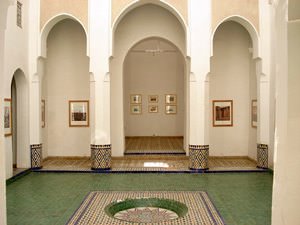 Vegetarian and healthy diet fans will esteem the local cuisine as well as each ethnic cuisine restaurant offers a rich selection of vegetable stews and fresh vegetable salads. Moroccan cuisine is also famous for various fruit desserts. The desserts will turn the greatest gastronomy discovery of the Marrakesh tour for tourists keeping to a diet. To hunt some culinary masterpieces one should set off not only to upscale restaurants but to local markets as well. The market stands are sinking in sweets, home cooked pastry and other delicacies. Many tourists give preference to open markets as consider them to be exactly the places to find some genuine ethnic treats.
Discovering the architecture of Marrakech from bird's eye view! Marrakech railways station, Koutoubia Mosque, Bab Agnaou, Marrakesh Menara Airport, all those monuments are defining the image of Marrakech …
Open
Dar Moha is the most famous restaurant in Marrakech that specializes in regional cuisine. It is located in a luxurious historical palace, which is one of the city's main attractions. The most delicious local dishes are served in the restaurant's menu. You can taste rare delicacies and popular Moroccan wines here. You will also have the opportunity to enjoy special Eastern-style desserts. They are cooked according to the authors' recipes.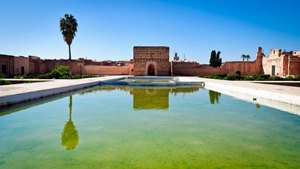 The historic Dar Essalam restaurant is located in the heart of the city. It was opened more than a hundred years ago. It is the most prestigious restaurant in Marrakech since its opening. Winston Churchill, Alfred Hitchcock, and other prominent figures in politics and culture visited it at various periods. The restaurant has a luxurious design. Beautiful antique furniture and works of art created by local craftsmen are preserved in it. You can taste not only the best dishes in Moroccan cuisine but also enjoy a very interesting entertainment program in this restaurant.
Marrakech is a city located in the heart of Morocco. This is one of its most important cultural centers. It was founded in 1062 by Yusuf ibn Tashfin, who was the representative of the …
Open
Chez Ali Restaurant is notable for its spacious outdoor terrace. It is considered one of the best places for a romantic holiday in the city. The menu of this restaurant is also based on classic regional dishes. Popular international dishes are also served in this restaurant. Interesting music and dance shows are held for visitors in the evenings.
The Grand Terrace Restaurant specializes in international cuisine. It has a more relaxed atmosphere and affordable prices. The restaurant is located near the Central square of Marrakech. Tourists are a significant part of its visitors. There are no rare delicacies in this restaurant. However, you can taste traditional Moroccan dishes cooked according to the classic recipes here.
Marrakez is famous for its historical and religious attractions yet tourists with children will not be bored here. The city has numerous beautiful amusement parks and water parks. A standout …
Open
Vita Nova is considered one of the best Italian restaurants in the city. It offers visitors a large selection of pasta, interesting salads, fish dishes, and traditional lasagna. There is a rich selection of Italian wines in the restaurant. They make the meal truly special. Marrakech Henna Art Cafe is very popular with tourists. It attracts attention with a rich selection of international dishes and reasonable prices. Traditional Moroccan dishes are also cooked in this cafe. Many of them can be purchased on takeaway.

This guide to cuisine and restauraunt in Marrakech is protected by the copyright law. You can re-publish this content with mandatory attribution: direct and active hyperlink to
www.orangesmile.com
.
City tours, excursions and tickets in Marrakech and surroundings
Where to go for dinner in Marrakech: recommended cafe and restaurants
Dar Marjana
Where: 15 Derb Sidi Ali Tair, Medina, Marrakech; Telephone: +212 (0)524 38 51 10;
Ksar El Hamra
Where: 28 Riad Zitoun el-Qadim, Marrakech; Telephone: +212 (0)524 42 76 07;
AlFassia
Where: 55 Boulevard Zerktouni, Gueliz, Marrakech; Telephone: +212 (0)524 43 40 60;
Le Pavillon
Where: 47 Derb Zaouia, Bab Doukkala, Medina, Marrakech; Telephone: +212 (0)524 38 70 40;
Casa Lalla
Where: Riad Zitoune Lakdime, 16 Derb Jamaa, Medina, Marrakech; Telephone: +212 (0)524 42 97 57;
Dar Moha
Where: 81 Dar el Bacha, Medina, Marrakech; Telephone: +212 (0)524 38 64 00;
Le Foundouk
Where: 55 Souk Hal Fassi, Kaât Bennahid, Marrakech; Telephone: +212 (0)524 37 81 90;
Djemaa El-fna
Where: Djemaa El-fna, Marrakech;
Marrakech in photo set
Searching where to eat - restaurants and cafe on Marrakech map
Cuisine and restaurants in the neighbours of Marrakech
Travel notes on best cuisine and restaurants of Marrakech (Morocco) on OrangeSmile.com. Famous recipes and traditional dishes and courses in Marrakech restaurants. Where to eat - our recommendations on popular places in Marrakech, where you can taste delicious meal and also spend a good time with your friends.