How to spend top weekend in Marrakech - ideas on extraordinary attractions and sites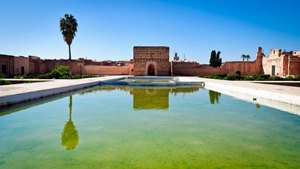 Tour of the Moroccan Desert
If you are a fan of outdoor activities and adventures then any of the travel companies in Marrakech will be happy to offer a tour of the Sahara to you. For example, you should contact Dunes & Desert Exploration or Atlas &Sahara Tours. You can choose how many days the trip will last and how you will move along the dunes: by camel, quad bike or jeep.
Picturesque palaces and squares, the historical district Medina which is of ultimate beauty, magnificent religious buildings and complexes as well as numerous museums of Marrakesh are the …
Open
If you prefer a one-day tour you will get a chance to admire the picturesque landscape of the hot desert and spend the night in a hotel. It is located near the Sahara. If you prefer a multi-day tour you can visit a Bedouin village, taste food cooked over a fire, and spend the night in a tent. The staff of the tour company can arrange not only a tour but also a transfer from the hotel.
Ski Joys at Oukaimeden Resort
Do you want to go skiing while relaxing in the sultry Marrakech? Your dream is quite possible. Oukaimeden resort is located 75 kilometers south of the city. It is located at an altitude of 2600 meters in the Atlas Mountains. It is open to the public from the last days of November until the beginning of April. You can get here by taxi. You will be able to rent equipment and use one of the 7 ski lifts once you are in the resort. You will enjoy skiing or snowboarding on the slopes. Their length is 600-1000 meters, and the slope is 40 degrees. Copyright www.orangesmile.com
Marrakesh is a perfect entertaining destination offering attractions and leisure facilities for every taste and fancy. The city features magnificent gardens and modern entertaining complexes …
Open
Extreme Rides of Oasiria Water Park
If you want to relax from the heat and have fun at the same time you should go to the Oasiria water park. It is open from 9:30 to 18:00 every day. You will buy an entrance ticket that is valid all day. You will have the opportunity to have fun in the heated pool. It is 300 meters long. You can also swim on the lazy river and ride on water slides. But you can get the most thrills by making a descent from the 17-meter Kamikaze slide or using the Cobra attraction. It is a 20-meter swirling slide. You can roll down at a speed of 20 kilometers per hour from it.
Excursion to Ouzoud Falls
There are Ouzoud Falls 150 kilometers from Marrakech. It is located among olive trees, watermills, and small factories where olive oil is made. It has 3 picturesque cascades falling from a height of 110 meters. You will have the opportunity to go here on a tour. You will approach the attraction so that you can admire the water flow from above. If you decide to visit the waterfall at sunset you will get a chance to see how the monkeys come here to drink water.
1. Tourists should keep in mind that during the Ramadan being a holy month in Marrakesh alcohol is strictly forbidden even for the city guests. Spirits are not sold during this period in …
Open
Go Trekking, Hiking, and Rafting in Marrakech
You can go to the Atlas Mountains during your vacation in Marrakech. You can go rafting or trekking there. For example, you can go rafting on the mountain river of Ahansal. You will be able to feel the unity with nature during your trip. There will be no access to the Internet or telephone service. Only the delightful landscape and thresholds of a stormy river will surround you. If you prefer trekking and hiking you will get the opportunity to climb Mount Toubkal. It has a height of 4165 meters. You can also take a trip along the picturesque serpentine to the valley of Ourika.
Flight on the Balloon and Introduction to the Berbers
You can watch the sunrise from the sky above Marrakech. You will also be able to communicate with Berbers. You should go on a balloon ride to do this. A professional guide will arrange a transfer from the hotel to the starting point of the air tour at 5:30. You can enjoy the beautiful panoramic view and take photos for half an hour. The journey will end with a landing near the village where the Berbers live. You will get the opportunity to visit this tribe, relax, and have a meal in the tent. You can also ride a camel through a grove of palm trees.

This article about ideas on extraordinary weekend in Marrakech is protected by the copyright law. You can re-publish this content with mandatory attribution: direct and active hyperlink to
www.orangesmile.com
.
City tours, excursions and tickets in Marrakech and surroundings
Marrakech by photo artists
Search for interesting places on Marrakech map
Visiting neighbours of Marrakech for exclusive entertainment
Walk through hidden local streets, sneak to a small cafe, breathe and enjoy Marrakech from inside. Stay out from the beaten track during your city weekend, discover the soul of Marrakech as a real travel gourment. Follow our guide, take one of the exclusive services and spend your time in Marrakech unforgettably and with a full passion!