Cuisine of Java for gourmets. Places for dinner - best restaurants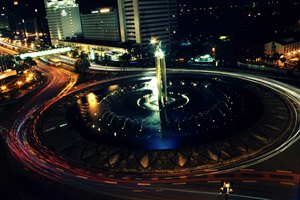 The island of Java has always been associated with spectacular scenery, grand volcanoes, ancient temples and amazing culinary traditions. Ethnic cuisine is very distinctive and unique; it is widespread throughout the world and attracts thousands of gourmets to this picturesque island. Those accustomed to the classical European cuisine won't take local food as overly exotic and original. Culinary traditions of the island are close to European ones, that's not to be said about some other regions of Indonesia.
The picturesque island of Java has more than 1500 accommodation places. Fans of upscale vacations are sure to be impressed with a decent selection of luxury hotels. Some of the most famous …
Open
Restaurants of local cuisine offer guests a decent selection of vegetable dishes that will surely appeal to adherents of vegetarian food. Beans are common components of numerous dishes; meal is considered incomplete without rice that is widely popular in Indonesia. As for meats, the vast part of dishes is cooked of chicken, but attractive treats of beef can be also found in restaurants.
We should mention exotic desserts made of a variety of fruits. Many of them are able to surprise visitors from distant countries with a mere appearance, not to mention the excellent taste. It won't be easy to find sweet desserts and pastries on the island, as fruit goodies dominate at local dining places. Copyright www.orangesmile.com
The island of Java is more than a thousand kilometers long; it is the most populous island in the Indonesian archipelago and a famous tourist destination. Almost a third of its territory is …
Open
Travelers who want to explore culinary traditions of local people are recommended to visit small restaurants and cafes; they serve authentic local food. Indigenous inhabitants are main clients of such diners, whereas fashionable restaurants are oriented primarily toward tourists.
However, don't assume that all national dishes are very simple and uninteresting. Fans of exotic delicacies have to visit the village of Tuban located in the eastern part of the island. It is where you can try one of the most exotic Indonesian delicacies, soil pies, cooked following old recipes. Locals use soil from rice fields for this particular dish; natives claim that the dish is very healthy and nutritious.
Java strikes with an abundance of contrasts that can be traced in everything. Here there is a large modern city striking with scenic skyscrapers and small villages, where the atmosphere has …
Open
As for drinks, fruit juices and refreshing ginger tea can be called the most common. TSAC Beer is very popular among local residents and visitors of the island; the drink is produced from palm flowers. Those preferring stronger drinks are recommended to taste local arak.

This guide to cuisine and restauraunt in Java is protected by the copyright law. You can re-publish this content with mandatory attribution: direct and active hyperlink to
www.orangesmile.com
.
City tours, excursions and tickets in Java and surroundings
Unique sights around Java
Java
From the series
"The Most Extreme Settlements on the Planet"
Check on the map:
Distance from Java center - 62 km.
The island of Java is about 132 000 square km, the number of the island's population exceeds 140 million people. The place is very popular among tourists; they are attracted with picturesque rainforests, unique historical sites, magnificent beaches, and resort hotels. It is difficult to imagine that near this picturesque region that is full of life stands on extremely dangerous lands where people are exposed to the mortal danger literally every day. …
Read further

Merapi Volcano
From the series
"Sleeping Super-Volcanoes Capable of Destroying Whole Regions"
Check on the map:
Distance from Java center - 30.5 km.
However, the researchers say that regular eruptions are quite a good estimate for the planet. That means that Merapi Volcano lowers its power and saves the Earth from the great disaster. One of the most tragedy eruptions was in 2010. It was foreseen by scientists, that's why 350 000 people were evacuated from this area beforehand. Nevertheless, all these in time actions that were taken didn't save all people lives, 353 were dead. …
Read further

Java in photo set
Searching where to eat - restaurants and cafe on Java map
Cuisine and restaurants in the neighbours of Java
Travel notes on best cuisine and restaurants of Java (Indonesia) on OrangeSmile.com. Famous recipes and traditional dishes and courses in Java restaurants. Where to eat - our recommendations on popular places in Java, where you can taste delicious meal and also spend a good time with your friends.