Best hotels for short vacation or business trip to Java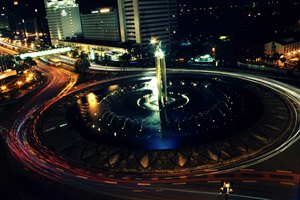 The picturesque island of Java has more than 1500 accommodation places. Fans of upscale vacations are sure to be impressed with a decent selection of luxury hotels. Some of the most famous among them are located in Yogyakarta; the popular hotel Phoenix Yogyakarta-MGallery Collection can be found at the heart of the city. The hotel occupies a very beautiful building built in 1918; exquisite decor, amazing abundance of antiques and artwork are among its distinguishing features. The picturesque courtyard of the hotel has an outdoor swimming pool surrounded by very unusual landscape decoration. The fully equipped fitness center is available to active tourists and even an on-site gift shop is very interesting.
Very unusual facility is Jakarta hotel Gran Melia Jakarta. It was resettled in a very spectacular and futuristic building located in beautiful landscaped gardens. More than 400 luxury rooms decorated in a contemporary style are available; the hotel has one of the best spa in town. Connoisseurs of fine dining would like hotel's restaurants, as each of them specializes in a specific culinary tradition. There are tennis courts for outdoor activities and an exotic garden for walks. Copyright www.orangesmile.com
Ciputra Semarang
Active travelers resting in Semarang like to stay in the popular modern hotel
Ciputra Semarang
. It's located in a busy area of Simpang Lima and forms a complex with a popular restaurant and entertainment center, so guests won't get bored of it. There are famous shopping streets and attractions close to this luxury hotel, so customers may spend every day of their stay in a different way. Wellness Centre Arena invites guests to relax after a busy day of entertainment.
Puri Asri
Tourists preferring to spend their vacation in a beautiful landscape are recommended to go to Magelang, where luxury
Puri Asri
hotel offers its services for travelers. It's located in an incredibly beautiful mountain area, on the river banks. Hotel grounds are literally immersed in an abundance of exotic plants. Puri Asri Hotel is perfect for families with children, as it has a great pool with slides and a large playground with a variety of rides.
Surabaya can boast the world-renowned hotel Sheraton Surabaya Towers that has won several prestigious awards for its environmental programs. Located in the central area of the city, it has direct access to Tunjungan Plaza shopping complex. The hotel offers spacious rooms with panoramic windows from floor to ceiling decorated in a modern style with a share of national traditions. The hotel has a lovely tour desk, and its guests have an opportunity to participate in interesting environmental events.
1. The most popular souvenirs are made of gold and silver; it's recommended to buy them only at large shopping malls and specialty stores. It's better to visit jewelry markets …
Open
It Bandung you may pay attention to the upscale hotel GH Bandung occupying one of the most beautiful historic buildings in the town. The territory of the hotel is a true masterpiece of architecture with incredibly beautiful sculptures and pavilions everywhere. The richly decorated interior also deserves the highest praise; its contemporary style is complemented by exquisite decorations. There is a cozy cafe and an outdoor terrace on the roof for refined leisure, and there is always live music in evenings.

This guide to top hotels of Java is protected by the copyright law. You can re-publish this content with mandatory attribution: direct and active hyperlink to
www.orangesmile.com
.
City tours, excursions and tickets in Java and surroundings
Top places of Java - photostream
Search for top quality hotels on the map of Java
Top hotels in neighbouring cities to Java