How to spend top weekend in Calgary - ideas on extraordinary attractions and sites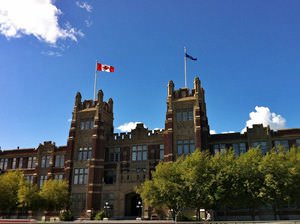 Skateboarding in Millennium Park
Millennium Park was opened in the west part of Calgary in 2000. You can visit it at any time of the day on any day of the week. Moreover, you do not have to buy an entrance ticket. You will have fun and get an adrenaline rush by roller skating or skateboarding here. The total area is 75,000 square meters. There are numerous concrete trampolines and rides here. You can perform various tricks, including difficult and even dangerous ones. You do not need to worry about the quality of skate-park structures. They meet all security requirements.
Calgary is an amazing city of contrasts. Here tourists will find modern skyscrapers next to unique historical monuments, museums and galleries. Visitors of the city will be surely interested …
Open
Spend Time in a Bike Park
If you can't imagine your life without extreme sports, then the bike park will appeal to you. It is located in the north part of the Waskasoo Park. You will get the opportunity to experience the thrill of riding a mountain bike here. You will get thrill from the slalom, dizzying ascents, descents, and sharp turns. Tracks with different levels of difficulty are waiting for you. Even if you are still a beginner, you can easily choose a route that matches your physical fitness. You can also ride a bike on paths equipped for regular riding, go on a trip on horseback, and go hiking in the bike park.
Do Sports in the Olympic Park
Do you want to feel like an athlete taking part in competitions at the XV Winter Olympics? Then you should spend time in the Olympic Park. It is located in the western part of Calgary. It was opened in 1988. You can go skiing or snowboarding on one of the 4 trails here during the winter months. You will get here by cable car. You will also get the opportunity to participate in a ski race. You can ride a bike on the paths here in the summer. Their total length is 25 kilometers. Copyright www.orangesmile.com
Calgary is an ideal city for active holidays. Numerous parks and sports centers, night clubs and shops, family entertainment centers and shopping complexes will make your stay in the city …
Open
Entertainment at William A. Schwitzer Provincial Park
William A. Schwitzer Provincial Park is located off the Bighorn Highway near the Canadian Rockies mountain range. Its total area is 93 square kilometers. 4 lakes are located on its territory. It was founded in late 1958. You will spend the night in a tent set up on the bank here. You can also choose the entertainment that you like. For example, you will walk along numerous paths, observe the inhabitants of the park or swim. You can also go fishing, boating, cycling, surfing or sailing. If you come here during the winter months, you can ride a sleigh or snowmobile.
See the City from a High Tower
You must climb the Calgary Tower to see all of Calgary. It was built in 1967. Its height is 191 meters. Once on its observation deck, you will admire the magnificent views of the city and the Rocky Mountains. You will experience the thrill because of the building swaying due to strong wind. You can also stand on a section of the floor made of transparent glass. You will watch what is happening on the streets of Calgary. You can also enjoy the panorama of the city by visiting the SKY 360 restaurant. It is located at an altitude of 150 meters. The restaurant rotates on its axis.
1. Tourists should stock up with the national currency for shopping because foreign currencies, including U.S. dollars, are not very trusted here. Some sellers in open air markets and …
Open
Activities in Banff National Park
Banff National Park is located in the Rocky Mountains. It was founded in 1885. If you come here, you will admire the beauty of glaciers, waterfalls, and pointed peaks. You will also do rock climbing, swim in a hot thermal spring, sit with a fishing rod on the shore of an icy lake, walk through a coniferous forest, look at the deer, and feed the birds. But if you prefer more extreme types of entertainment, then a real ski resort is waiting for you here. You can go skiing, cross-country skiing or snowboarding on snow-covered slopes there.

This article about ideas on extraordinary weekend in Calgary is protected by the copyright law. You can re-publish this content with mandatory attribution: direct and active hyperlink to
www.orangesmile.com
.
City tours, excursions and tickets in Calgary and surroundings
Notable celebrations and festivals in Canada

In Ottawa, every year winterlude is held - a winter festival that attracts hundreds of thousands of tourists to the city. Winterlude is a real winter holiday. The whole city becomes an exhibition platform for ice sculptures, skating rinks for figure skating, and ice hockey. Numerous snow slides are created. On Lake Doe - the main ice rink, thousands of people can gather at the same time. Another famous Canadian holiday is the Calgary Stampede cowboy festival in Calgary. For 10 days in the city there are rodeo competitions. In addition to them, visitors of the holiday can go to exciting wagon races in the style of the Wild West, and also visit the agricultural fair. In the framework of the festival, there are dances of Indian tribes, attractions are set, and a parade is held. …
Open

Calgary by photo artists
Search for interesting places on Calgary map
Walk through hidden local streets, sneak to a small cafe, breathe and enjoy Calgary from inside. Stay out from the beaten track during your city weekend, discover the soul of Calgary as a real travel gourment. Follow our guide, take one of the exclusive services and spend your time in Calgary unforgettably and with a full passion!