City break in Calgary. Active leisure ideas for Calgary - attractions, recreation and nightlife
Calgary is an ideal city for active holidays. Numerous parks and sports centers, night clubs and shops, family entertainment centers and shopping complexes will make your stay in the city truly enjoyable and unforgettable. Prince's Island Park is often called the favorite place of relaxation for both locals and visitors. This place has many comfortable areas for hiking and biking, special lawns for picnics and play areas for children. The park is located in the center of the city on a small hill, from which visitors can enjoy panoramic views of the downtown.
Calgary Tower remains one of the favorite attractions for travelers. The tower is also the highest building in the city. The top of the tower is the location of a famous restaurant. The restaurant is very popular with gourmet visitors, but travelers are attracted not only by the food served there, but also by the fact that this is the highest observation deck in Calgary. An opportunity to enjoy the look of the city from above and stand on a transparent glass platform attracts hundreds of people every day. Copyright www.orangesmile.com
Savvy tourists will definitely like shopping in Calgary. There are several Winners shops open in the city. They offer quality items by famous brands at a fraction of their original price. As …
Open
Families with children should definitely not forget to visit the local zoo. Every day visitors are welcome to attend various interesting lectures and entertainment programs, and the main inhabitant of the zoo – a giant anteater - never ceases to win hearts of all the guests. The suburbs of Calgary also have a lot of attractive places to stay. Tourists who enjoy trying original rides in action rides should definitely not forget to visit Calaway Park. You will simply not find such a wide choice of carousels and attractions in any other park of the city. Both adults and young visitors will find here entertainment for their taste. The majority of popular shopping centers and nightlife facilities are located in the heart of the city. Many shopping centers serve visitors until late in the evening.
Ride a horse or pony in picturesque neighborhoods of Calgary and its suburbs – isn't this a dream of every guest of this wonderful city? Perhaps, this is one of the mandatory activities in the city. Travelers can always do this in The Trail Riders of the Canadian Rockies, popular local horse club. A visit to Village Square Leisure Centre will be no less exciting. Not only children but also adults genuinely love attractions in this park. There are suitable rides and slides for any age, including some very thrilling variants. It is easy to spend a whole day at Village Square Leisure Centre and then return to the hotel, tired but pleased. Besides wonderful, swimming pools and water slides, tourists can spend some quality time at the gym. In the Olympic Oval, they can always try ice skating or relax in a spa salon in order to relax after a day full of activities.
Discovering the architecture of Calgary from bird's eye view! Calgary Tower, Olympic Oval, Talisman Centre, City Hall, Glenbow Museum, SAIT Heritage Hall, Scotia Centre, all those monuments are defining the image of Calgary …
Open
Shaganappi Point Golf Course and Heritage Pointe Golf Course are the most popular golf clubs in the region. It is always pleasant to visit these clubs not only because of quality golf courses but also because of picturesque landscapes that are easy to admire for hours. Gamblers will be super pleased with local casinos, with Grey Eagle Casino and Cowboys Casino being the most popular ones. Here visitors can play roulette and poker or choose one of the numerous slot machines. A visit to Westside Recreation Centre will also not leave anyone indifferent. Numerous tourists and locals enjoy visiting this center as they can feel like true alpinists there.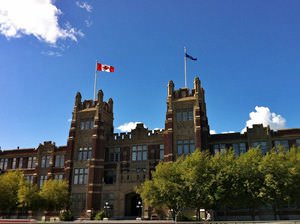 Escape Hour remains one of the most popular clubs specializing in escape quests. This club has several quest rooms where visitors can feel like treasure hunters, people who have discovered a magic lamp, or brave astronauts that need to save the world. Escape Capers YYC also offers very interesting quests. You can become a detective who investigates a mystical case of missing people or try to uncover the hidden secrets of a circus. These are just some rooms that are available to visitors – it is important to mention that the choice of escape quests is truly fantastic. Fans of bowling will find it pleasant to visit Let's Bowl center where they can always enjoy their favorite pastime.
Scotiabank Saddledome, McMahon Stadium, Telus World of Science, Fort Calgary, Baitun Nur, as well as many others, they all become the world's cultural heritage objects and remain as iconic monuments for Calgary …
Open
Together with friends, tourists can play the game that is very popular in the United States and Canada – axe throwing. BATL (The Backyard Axe Throwing League) is one of the best places to enjoy this exciting activity. Archery Games is one more interesting place to visit in the city. It is a wonderful choice for everyone who wants to boost their dexterity and learn how to do archery. The Race Room is a fantastic place where friends can compete with each other and enjoy car racing. A visit to Cobb's Adventure Park & Corn Maze will remain in the hearts of all tourists who decide to do this. A corn maze, small farm, mini-golf – these are some of the attractions available at this place.
Moreover, there are amazing bars and pubs in Calgary that work until early in the morning. For example, everyone who wants to have fun is always welcome at The Laugh Shop. This club specializes in performances of talented standup actors. Cowboys Dance Hall is an excellent place for everyone who wants to dance all night long and forget about all troubles. If your primary aim is to relax in a pleasant atmosphere, drink alcoholic beverages, and listen to live music performances, such bars as Ranchman's Cookhouse and Dancehall or The Blues Can are a must. The Kilkenny Irish Pub is one more popular place to relax in a group of friends.

This guide on active recreation and leisure in Calgary is protected by the copyright law. You can re-publish this content with mandatory attribution: direct and active hyperlink to
www.orangesmile.com
.
City tours, excursions and tickets in Calgary and surroundings
Reference information
National and city parks around Calgary
♥ Provincial Park 'Fish Creek Provincial Park' , 20.5 km from the center.
On the map
Photo
♥ Provincial Park 'Glenbow Ranch Provincial Park' , 23.6 km from the center.
On the map
Photo
♥ Provincial Park 'Big Hill Springs Provincial Park' , 28.3 km from the center.
On the map
Photo
♥ Provincial Park 'Bragg Creek Provincial Park' , 38.6 km from the center.
On the map
Photo
♥ Provincial Park 'Brown-Lowery Provincial Park' , 38.8 km from the center.
On the map
Photo
Amusement parks near Calgary
♥ Amusement park 'Heritage Park' Calgary, 11.2 km from the center.
On the map
Photo
♥ Amusement park 'Calaway Park' Calgary, 19.1 km from the center.
On the map
Photo
Water attractions around Calgary
♥ Water park 'Wild Rapids Waterslides' Sylvan Lake, 136.5 km from the center.
On the map
Photo
Photogallery of picturesque Calgary
Search for active leisure and attraction spots on Calgary map
City break ideas for neighbours of Calgary
Guide to your best city break in Calgary - popular places for recreation and leisure. Things to do during the day in Calgary - attractions, parks, beaches, aquaparks, racing tracks, biking trails or waterski. Recommendations (with addresses, phone numbers and links) where to spend your time in the evening (bars, discos, clubs, etc.). We share some good ideas and the question 'What to do in Calgary?' disappears immediately.