Colors of Buenos Aires - traditions, festivals, mentality and lifestyle
Residents of Buenos Aires are characterized by temperamental and fiery temper. However, they are also distinguished by politeness and courtesy, which is manifested in everything. At a meeting with close friends and relatives, local residents often exchange kisses to a cheek, and just friends greet each other by traditional European handshaking. Football and politics remain the main topics for conversations for many years. This is one of few cities, where visitors and citizens can calmly discuss the political situation in the country. "Empty rhetoric' is another characteristic feature of local residents. People here are quite responsible and reliable when it comes to work and other close issues, but in ordinary life they are quite unreliable.
1. Leather and Fur purchased in Buenos Aires, can be exported only if they have receipts from stores. Cheques should by also kept after the purchase of art objects and antiques. 2. When …
Open
Offending local people is not complicated, but they do not know how to keep offence for a long time, and calm down and forget about problems quite quickly. Most often you can resolve any dispute within just a couple of minutes, but you should not show excessive persistence in communicating. The locals have very late breakfasts, so they have their dinner only after 21.00. This is the reason why there are so many restaurants and bars that are opened only in the evening and at night. The majority of the city's residents speak exclusively in Spanish, so it is not necessary to study Argentine before your trip to Buenos Aires.
Tango remains one of the main features of Buenos Aires. In this city are opened numerous dancing schools. Each week here are organized amazing evenings devoted to tango, they are always visited by numerous guests. Beautiful costumes and skills of dancers captivate the attention of the audience. Travelers are ready to spend hours watching performances of dancers. It is also worth noting that Buenos Aires is one of few cities in the country where the popularity of tango is still great. In other cities this national peculiarity was defeated by modern music styles. Copyright www.orangesmile.com
In Buenos Aires, there are many interesting places that are little known to travelers because they are not mentioned in official tour guides. Interesting graffiti are a great example. On …
Open
A wide range of festivals and celebration attracts millions of tourists to Buenos Aires annually. Within a year, you will have the greatest opportunity to celebrate both old medieval and religious holidays, as well as various fiestas. Buenos Aires is one of the largest cities in the world, and at the same time very elegant and business city of South America. Be sure that this city will astonish you with its passionate atmosphere and a wide choice of entertainment. When planning a trip, don't forget to explore the calendar of festivals of Buenos Aires that we have prepared for you! Together with local people, you will be able to try traditional food, to drink national beverages, fine Argentina wine, to dance and, also, to feel a passionate rush of the Argentina Tango and enjoy traditional music of Argentina.
Here in Buenos Aires, residents celebrate nationwide dates and various Catholic holidays. The holiday of Christmas is one of the favorites. This is a time when you stay with your relatives and family. The festive table is traditionally decorated with the main course - beef or a pig, which can be fried or grilled. The main dish is complemented by different sweets including nuts, dried fruits, and chocolate. Here is and traditional champagne and presents. The only difference is the Christmas tree, which is not growing in this part of the world. At night, the sky shines with fires of fireworks, and the youth hangs out in bars and discos where has fun until the morning. If you are a great fan of live music, then you must arrive in Buenos Aires during the International Guitar Festival. It is held in October every year. Since 1995, this event is gaining the glory and popularity in the world of music. International Guitar Festival attracts to the capital of Argentina not only grateful listeners but also the world famous guitarists of Latin America and Europe. Every year the cinematography lovers are attracted to Buenos Aires when the International Film Festival (Festival Internacional de Cine Independiente) takes place. The independent directors present their interesting modern works.
Esplendor Hotel is a very popular hotel with an unusual design that can hardly be found anywhere else. Its designers, the Argentinian art group called Mondongo, created a whole picture …
Open
The most lively, sexual, passionate and mysterious dance was born here, in South America, and is inseparably connected with Argentina and Buenos Aires. If you desire to feel the passion of tango and be the part of it, then you should book a ticket to Buenos Aires in order to join this dance movement. During the festival, you will be able to join various tango masterclasses, where the best dancers and musicians will show their talents. Believe us, you will feel all the magic and attractiveness of tango to its fullest. Annually this festival gathers together the fans of tango and the best professional dancers in the world. The highly topical program of the Festival includes free concerts with live music, conferences, various thematic exhibitions, dancing-parties, milongas, the presentations of books, film exhibitions, various lessons and seminars devoted to tango. Within the festival, you will have the chance to purchase interesting goods connected to the world of tango.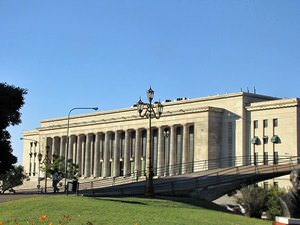 Have you ever heard the legends about free equestrians of the Argentina prairies? They come to life during the Feria de Mataderos. This is the traditional market for the cattle in Buenos Aires. It takes place every Sunday, in the suburb of Mataderos. The Argentina Cowboys called Gaucho organize traditional exciting competitions. Standardly, they begin in the afternoon. National music and crafts, folklore dances and musical performances collect a huge number of the foreigners studying the Argentina culture here. Here you will find up to 700 stands, where can find various unique goods and craft products from different regions of the country.

This guide to traditions and festivals in Buenos Aires is protected by the copyright law. You can re-publish this content with mandatory attribution: direct and active hyperlink to
www.orangesmile.com
.
City tours, excursions and tickets in Buenos Aires and surroundings
Reference information
Cathedrals and basilicas near Buenos Aires
♥ Basílica de San José de Flores, Buenos Aires, 4.1 km from the center.
On the map
Photo
♥ Basílica del Sagrado Corazón de Jesús, Buenos Aires, 5.6 km from the center.
On the map
Photo
♥ Basílica de Nuestra Señora de Buenos Aires, Buenos Aires, 5.9 km from the center.
On the map
Photo
♥ Basílica de San Carlos Borromeo y María Auxiliadora, Buenos Aires, 6 km from the center.
On the map
Photo
♥ Basílica de Santa Rosa de Lima, Buenos Aires, 7.2 km from the center.
On the map
Photo
♥ Catedral Nuestra Señora de la Asunción, Avellaneda, 7.5 km from the center.
On the map
Photo
♥ Basílica de Nuestra Señora de la Piedad, Buenos Aires, 8.3 km from the center.
On the map
Photo
National traditions of Argentina
Sexual harassment and discrimination are rare in Argentina. Females, who plan to see the country independently, no need to worry about that. There are still some traditions and beliefs from the past, but the young generation seems to abandon the idea of gender differences. Only in some very distant corners of the country, solitary female tourists may attract the attention of local men. However, this attention is almost never abusive or dangerous – it is rare to see active attempts to hit on someone. …
Open

Colors of Buenos Aires in photos
Search for popular touristic sites on Buenos Aires map
Traditions and festivals in cities around Buenos Aires
Cityguide on traditions, mentality and lifestyle of people in Buenos Aires. Learn the best periods to visit Buenos Aires to discover its soul - authentic festivals, events and celebrations. We will also reveal the interesting habits, attitude towards the world and to tourists in Buenos Aires.