Shopping in Buenos Aires - authentic goods, best outlets, malls and boutiques
In Buenos Aires, there are lots of interesting markets, large shopping centers and specialized shops. Abasto is the largest and most beautiful city's shopping center. It is located in a spectacular historic building. Many tourists visit it not for purchasing, but for admiring its spectacular interior design. Here, there are dozens of shops of various specializations, where you can find clothes, perfumes and souvenirs for every taste. In the center there is a large food court and many interesting attractions are equipped for kids. There is even a small Ferris wheel inside.
Since 1932 Alvear Palace has been amazing its visitors with everlasting luxury and elegance. This is one of the most famous hotels in Argentina. The hotel's desire to be the best in …
Open
Galerias Pacifico is the second most popular shopping center in the city. It is located on the main pedestrian street and occupies a building with a century-long history. You should definitely visit it to purchase stylish designer clothing and accessories. It presents a huge choice of fashion boutiques. Yet, some of the most popular city's restaurants are situated here. On the top floor there are art galleries, which you can enjoy free of charge. At night, fans of tango are gathering in the galleries, so, you can relax until late at night here.
La Boca pedestrian street is any shoppers paradise. This is where experienced tourists go to find souvenirs. Dozens of sellers offer their goods directly on the open shelves. Here, you can buy the bulk of incredible items and handmade crafts, including one of the most popular national souvenirs - mate cups. This street is full of artists who are pleased to paint a portrait. And, of course, there are a lot of popular restaurants and cafes. Copyright www.orangesmile.com
Boutique hotel Mine Hotel is a great place for couples. Owners of the hotel do everything possible to make travelers feel like home and to enjoy the stylish design of the hotel. The romantic …
Open
Those who are accustomed to visiting the most exquisite and expensive shops, should go to Palermo Viejo district. Here, you will find chic salons, that offer fashionable designer clothes, as well as the most prestigious lingerie stores. In this area there is a large choice of jewelry stores where you can buy articles from ready sketches to individual designs.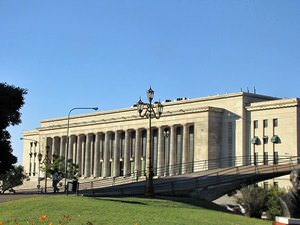 Las Canitas area is an ideal place for gastronomic shopping. In local stores, customers are offered the most popular locally produced food and drinks. Gourmets from all over the world flock here. This area is extremely popular for its street food. Even frugal tourists will be interested in doing a little shopping.
Discovering the architecture of Buenos Aires from bird's eye view! Argentine National Congress, Metropolitan Cathedral, Teatro Colon, Museo Nacional de Bellas Artes, Obelisco, Museum of Decorative Arts, King Fahd Mosque, all those monuments are defining the image of Buenos Aires …
Open
On one of the days off you should definitely go for a walk around the antique market, which is in San Telmo neighbourhood. Here, in addition to antiques and works of art, they sell original jewelry and costume jewelery, as well as the most famous national souvenirs. In the central square fun fairs and entertainment events are often held. It is especially interesting to visit these places on the eve of one of the national holidays.
Travellers who want to bring truly exclusive souvenirs from Buenos Aires should go to the Sheraton Hotel. This fashionable hotel houses one of the most famous jewelry stores in the city - Cousiño. Absolutely everyone can visit it. This store specializes in the production of jewelry and crafts made of rare mineral rhodochrosite, which is mined in Argentina. Deposits of this mineral are very few, but it looks so effective that it conquered the hearts of thousands of fashionistas long time ago. Men will also be able to choose something appropriate for themselves. And still you can buy smart souvenirs here.

This guide to shopping in Buenos Aires is protected by the copyright law. You can re-publish this content with mandatory attribution: direct and active hyperlink to
www.orangesmile.com
.
City tours, excursions and tickets in Buenos Aires and surroundings
Reference information
Shopping streets in Buenos Aires
♥ Shopping area ' Córdoba Avenue' Buenos Aires, 8.1 km from the center.
On the map
Photo
♥ Shopping area ' Avenida Santa Fe' Buenos Aires, 9 km from the center.
On the map
Photo
♥ Shopping area ' Puerto Madero' Buenos Aires, 9.4 km from the center.
On the map
Photo
♥ Shopping area ' Recoleta' Buenos Aires, 9.5 km from the center.
On the map
Photo
♥ Shopping area ' Avenida Alvear' Buenos Aires, 10.1 km from the center.
On the map
Photo
♥ Shopping area ' Palermo' Buenos Aires, 10.6 km from the center.
On the map
Photo
Shopping in Argentina
The Abasto Shopping, which is open in the neighborhood of Balvanera, is one more large shopping center in the capital of Argentina. In the past, there was a market on the site of this shopping center. Nowadays, it is a large and very beautiful building. It is very interesting to visit this shopping center with children because of numerous attractions that include a real Ferris wheel. In Abasto Shopping, visitors can see a small but very precise copy of the city, and children are welcome to try different professions. Needless to say, it is also a wonderful place to shop, eat, and simply have fun. …
Open

Photogallery of Buenos Aires best places
Search for shopping areas, streets, boutiques and supermarkeets on Buenos Aires map
Shopping advices for the whole region around Buenos Aires
Shopping advices for Buenos Aires. The best spots for buying designer clothes and local delicacies from Argentina - shops, galleries, boutiques and outlets. We provide you with the shopping streets map, so you can plan your efficient shopping routes, while hunting for authentic souvenirs, goods, drinks, shoes and clothes in Buenos Aires.