City break in Buenos Aires. Active leisure ideas for Buenos Aires - attractions, recreation and nightlife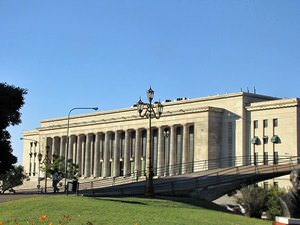 Buenos Aires offers many interesting attractions to its guests. The city is famous for its nightlife. On its territory you can find most diverse clubs and bars. Lovers of dancing will be able to find a disco matching their style without any problem. Many night clubs organize enchanting tango shows and theme parties. Alsina club is opened in a beautiful historic building. Here you will find two cozy bars, a large dance floor and a stage with original laser lightning. The club is famous not only by a large choice of cultural programs, but also by its unique design. Elegant iron staircases, marble floors and shape of interior rooms - each element of decor here recalls the style of past centuries.
The capital of Argentina has the full right to be called the liveliest city in South America. Life here does not stop even for a second. Corrientes Avenue is the place where tourists will …
Open
Music lovers should definitely visit the club named Plazma, which often hosts performances of popular music groups. On evenings in the club are conducted performances of novice disc jockeys, who show off their talents. Theme nights and special parties are also not rare here. Fans of hip-hop culture will surely prefer Fugees 99 club more than all others. Besides exciting dancing and music shows, here are often organized exhibitions of contemporary artists. La Trastienda club has become a permanent place of rest of world stars. Here you can have fun and enjoy wonderful music until morning. Guests will surely value great selection of drinks in the bar, large assortment of cocktails which is updated regularly. Special snacks and dishes of this club deserve the highest praise. Those visitors, who prefer more relaxing rest, will surely enjoy visiting Irish pubs, the most popular of which is Kilkenny's.
Fans of shopping should visit the largest shopping center of the city - Galerias Pacifico. Here you can literally buy absolutely everything - from children's toys and souvenirs to luxury cosmetics and branded jewelry. Small shops, as well as antique and souvenir shops can be found on Florida Street, which will be also loved by fans of walking. Items made of leather remain among most popular souvenirs that tourists prefer to buy as a memory of the trip. Local atelier studio will gladly accept your order concerning the tailoring of any clothes or accessories. As for sports entertainments, the choice of them is also really huge here. The city has excellent tennis courts, sports complexes and swimming pools. If you want to, you can even learn how to shoot from a bow. Copyright www.orangesmile.com
In Buenos Aires, there are so many entertainments for travelers with kids that one would need to spend many days there to visit all most notable places. There is a wonderful museum for …
Open
Buenos Aires has an amazing nature, one of the best in the whole world, and if you are not scared of height, then you must try skydiving tours. There are plenty of dropzones and skydive centers here, where you can try and live this amazing experience. One of the most popular is Argentina Flight Tours. They offer the lowest price in the city, while at the same time you are getting full safety and guarantees. Let's start from the beginning. To feel the adrenaline rushing all over your body, you will need to pay only $239. The instructors own the certificate, which allows them to assist you with skydiving and tandem jump. Before taking off, you will have the small introduction regarding safe behavior in the air. What is the most exciting thing about this? You will see and feel Buenos Aires in a whole new way from 3,000 meters altitude. This dropzone is located in 120 km from Buenos Aires, in Lobos. There are 2 ways to get there, by local transport, or you can book the transfer from your destination to the drop zone. If you will drive by car, it will take you only 2 hours and on your way, you will enjoy the great and most beautiful landscapes.
If you love ground activities more than air ones, then take a bike and go explore the city! In Buenos Aires, you will also find various biking services and tours, and we highly advise you to try the BA Bikes. First of all, they offer amazing tours that will show you the best places this city is hiding. You will find the BA Bikes on the street, called San Jose 525. Here you can rent the bike and necessary gear, and take the tour. Now more detailed about tours. To explore the Recoleta and San Telmo Markets by bike with the guide will cost you only $30. To have the Buenos Aires South Circuit Bike Tour Including Caminito will take from your pocket $45. And finally, to explore, take photos and just admire the most popular landmark of the city - Recoleta Cemetery will also cost you up to $45. BA Bikes working hours are 9:00 AM - 7:00 PM.
Besides traditional restaurants devoted to Argentine cuisine, you will find widest choice of dining facilities featuring all types of cuisine in Buenos Aires. La Esquinita restaurant was …
Open
Here in Buenos Aires, you will also find the express-tours, which will help you to discover the city fast and with benefits. And the first type of fast excursions is the excursion on the run. You will literally run, or sprint over various fashionable boutiques, museums and even can visit the famous grave of Eva Peron. The tour takes one hour and a half, but note that a good physical condition is a must for such sprints. The guides, who conduct this excursion, are speaking various languages. As a rule, these tours are organized for one-two people. The cost makes about $12.

This guide on active recreation and leisure in Buenos Aires is protected by the copyright law. You can re-publish this content with mandatory attribution: direct and active hyperlink to
www.orangesmile.com
.
City tours, excursions and tickets in Buenos Aires and surroundings
Reference information
National and city parks around Buenos Aires
♥ Provincial Park 'La Florida' , 4.5 km from the center.
On the map
Photo
♥ Nature Park 'Pampa del Indio' , 8.1 km from the center.
On the map
Photo
♥ Provincial Park 'Esmeralda' , 9.6 km from the center.
On the map
Photo
♥ National Park 'Ibera' , 11.8 km from the center.
On the map
Photo
♥ Provincial Park 'Presidente Sarmiento' , 13 km from the center.
On the map
Photo
Amusement parks near Buenos Aires
♥ Amusement park 'Parque de la Ciudad' Buenos Aires, 0.6 km from the center.
On the map
Photo
♥ Amusement park 'Parque de la Costa' Tigre, 29.8 km from the center.
On the map
Photo
Water attractions around Buenos Aires
♥ Water park 'Aquafun' Tigre, Buenos Aires, 29.9 km from the center.
On the map
Photo
Sites around Buenos Aires from our surveys on extreme Earth places
Burger King in Buenos Aires
From the series
"The Most Unusual Restaurants of Fast Food Chains"
Check on the map:
Distance from Buenos Aires center - 10 km.
One of the main features of the building is the finish of the ceiling, where the constructors have kept the beautiful stained-glass windows. Burger King in Buenos Aires does not look like fast food restaurants that you can visit in other cities, it has a special festive atmosphere. Even more attractive point is that the restaurant offers the usual menu with affordable prices, in which you can find your favorite hamburgers, salads for adherents of dietary food, specialties from potatoes, as well as a lot of wonderful desserts. …
Read further

Buenos Aires
From the series
"Permanently Sinking Cities and Regions"
Check on the map:
Distance from Buenos Aires center - 8.3 km.
Locals note that the flood had happened unexpectedly, that's why many residents couldn't save their things. For last years, serious flooding takes place on a regular base in Buenos Aires. This natural disaster posed a major setback to the city in 2013. As a result, the disaster caused eight deaths. One of them was the subway's worker. He was under the ground when the disaster has happened, he died from the short-circuit currents. At that day flooding in Buenos Aires fell 180 mm rainfalls that aren't usual for the middle of the spring. …
Read further

Attractions and entertainment in Argentina
If you think that New York is a city that never sleeps so it is very popular with fans of nightlife, it is obvious that you have never visited Buenos Aires. While people hurry up home closer to 2 am in some countries, it is the time when joda (party) only starts in Buenos Aires. Argentinians enjoy dancing until dawn, so locals put on their best outfits and hurry to numerous nightclubs of the capital. Famous nightclubs in Buenos Aires are among the most exclusive venues in the city. There is a strict face control, so the only chance to get inside is to dress up really well. …
Open

Photogallery of picturesque Buenos Aires
Search for active leisure and attraction spots on Buenos Aires map
City break ideas for neighbours of Buenos Aires
Guide to your best city break in Buenos Aires - popular places for recreation and leisure. Things to do during the day in Buenos Aires - attractions, parks, beaches, aquaparks, racing tracks, biking trails or waterski. Recommendations (with addresses, phone numbers and links) where to spend your time in the evening (bars, discos, clubs, etc.). We share some good ideas and the question 'What to do in Buenos Aires?' disappears immediately.