Colors of Brno - traditions, festivals, mentality and lifestyle
Local residents are very hospitable and friendly people. They have already got accustomed to a large number of travelers who visit Brno virtually all year round. Any citizen of the city will be surely happy to tell visitors a lot of interesting legends. Sometimes it's even hard to understand where the real history ends and begins pure fiction. The local people are practical. They try to put things in order everywhere and in everything.
A lot of entertainment centers operate in Brno. Only three zoos for vacationers with children are available, so there will definitely not be a lack of choice of entertainment here. The …
Open
While walking on the streets of the city, tourists will certainly notice how clean they are. Visitors are also asked to follow the local rules and maintain order. Please keep in mind that debris thrown in the wrong place may lead you to heavy fines. During year Brno becomes home to numerous interesting events. Each of them has its own unique traditions and customs, but there are also many similarities in these national celebrations. For example, simply no celebration is possible without a huge amount of various delicious foods and the favorite national drink - beer.
A prominent national holiday called Masopust is celebrated a week before the start of Lent. The name of the holiday is literally translated as "rejection from meat". During a week all local restaurants and cafes offer their guests an incredible amount of meat dishes. It is believed that people should eat a lot of meat in order to prepare themselves to fasting. Donuts are another symbol of the holiday. Delicious pastries can be purchased almost in all outdoor cafes. Masopust is usually accompanied with interesting fairs and carnivals, folk festivals and colorful performances. Absolutely everyone is welcome to participate in these festive activities. Copyright www.orangesmile.com
Brno offers its guests to visit a great number of restaurants and cafes. They will surprise visitors not only by the largest choice of food and versatility of culinary directions, but also …
Open
Many festivals are devoted to important historical events. For example, on May 9 is celebrated the Day of Liberation from Fascism. On this day in 1945 Nazi Germany officially surrendered. This holiday is always accompanied by solemn processions and parades. The locals praise heroes of the war and lay flowers to their graves. There are several monuments in the city, which are dedicated to the memory of the people who died during the war years. Various celebrations are also held near these monuments.
St. Barbara's Day is known as one of the most popular holidays among children. It is celebrated on December 4. Saint Barbara is also known as the patroness of artisans. All medieval masters prayed to her asking for a blessing. Nowadays these old customs have disappeared, but there are still many new and exciting traditions. For example, in this day children traditionally receive candies and toys. When darkness falls to the city, older girls tell fortune and make interesting rituals, asking St. Barbara to help them to make their cherished desires come true.
Brno offers its guests to visit numerous attractions of the city. Here you will find many interesting and exciting excursion routes. Spielberg Castle is, without a doubt, an important …
Open
Other festivals held in the city are equally attractive for tourists due to being quite original and interesting. Thus, in the middle of February, you can witness such an event as STYL-KABO - BVV Trade Fairs Brno. At the event, many fashion designers and brands present their fashion concepts. Participation in the fair is considered honorable - this means that the fashion industry allows participants to enter the fashion world. This is also a great place to conclude a profitable deal and get an opportunity to enter the European market. But for visitors, this is a unique opportunity to open new facets in fashion and buy some fresh novelties.
Fans of electronic music gather in Brno at the end of November. The thing is that this time is marked by Apokalypsa Judgment Night. The most eminent DJs gather all clubbers in one place (the city of Brno). To be more precious, the festival takes place in the city's best clubs. The event is one of the largest festivals of this kind in the whole of the Czech Republic, not least due to the fact that DJs to whose music you can dance a lot here are always popular and talented. And, of course, are able to entertain the audience. That is why every year the event attracts thousands of fans of all related music genres. You can hear here completely different subgenres of Techno Rave - house, hard or classic techno.
After a busy day full of sightseeing travelers can have some very nice time in one of the local clubs. In Brno you will find suitable places for rest of tired travelers and experienced …
Open
Another interesting event attracting hundreds of tourists is held at the end of May. We are talking about a festival associated with Brno, which is a calling card of the city. This is Ignis Brunensis Fireworks Festival. The whole city is transformed, fire shows taking place at this time make the heart of everyone who knows how to admire the aesthetic beauty beat faster from the sight of such a spectacle - festively decorated streets and attractions of the city are sure to impress all guests of Brno. It is recommended to visit Špilberk Castle, Denis Gardens, the embankment of the Svratka River's waterfront - this is where the most colorful firework shows take place.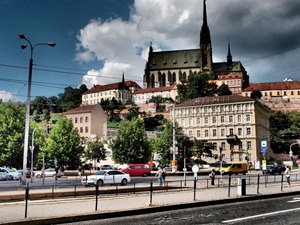 Arriving in the capital of South Moravia in early June, it's worth to witness such an event as Baloon Jam - the festival of balloons. Needless to say, this is another colorful spectacle, which is worth seeing at least once in a lifetime. And that's exactly what thousands of tourists who come to Brno for the sake of Baloon Jam do. The festival's organizers try to surprise visitors every year, and therefore the last year's program will not be similar to the present one.
1. leaving tips in restaurants and bars is not obligatory, but you can thank an obliging waiter by leaving a cash reward of $ 5 - 10% of the total bill. Do not forget to leave tips to taxi …
Open
For as many as four months, every weekend pleases jazz fans at various locations in the capital of South Moravia (mainly clubs, theaters, and bars) where concerts dedicated to this music are held (and, of course, to related genres like soul, funk, blues). And at night, visitors can enjoy a jam session, which is sure to please all fans of jazz music since it is the most "piquant" and charming thing in jazz. Needless to say, jazzmen who attend the festival as participants are always eminent and talented, and it could not be otherwise: organizers want to surprise everyone who've decided to attend their event.
Fans who prefer another kind of classics - namely, symphonic music - will not be disappointed if they visit Brno during a certain period. Brno International Music starts in early September and ends in mid-October. The festival is divided into 3 parts - the first one involves the performance of classical works, the second part is devoted to Orthodox spiritual music (here you can hear mostly cantatas and oratorios), and the third part will surprise those who think that classical music is boring - performers present their experimental works. The event is held at various locations in Brno - concert halls, churches, theaters.
If you have long explored all the most popular city tours and iconic sights in Brno, it's time to begin an independent acquaintance with the city. Some of its places tend to change radically …
Open
Another interesting festival is dedicated to culinary arts. It's about Špilberk Food Festival taking place in Špilberk Castle, as you might guess from the name. Here you can taste traditional local dishes of Moravian cuisine - dumplings, soups in bread, and, of course, beer, without which no holiday in the Czech Republic is complete. You can also sample wines, as well as watch how bartenders demonstrate their flaring skills.

This guide to traditions and festivals in Brno is protected by the copyright law. You can re-publish this content with mandatory attribution: direct and active hyperlink to
www.orangesmile.com
.
City tours, excursions and tickets in Brno and surroundings
Reference information
Cathedrals and basilicas near Brno
♥ Katedrála sv. Petra a Pavla, Brno, 2.1 km from the center.
On the map
Photo
♥ Bazilika Nanebevzetí Panny Marie, Brno, 3 km from the center.
On the map
Photo
♥ Katedrála sv. Václava, Olomouc, 63.5 km from the center.
On the map
Photo
♥ Poutní kostel svatého Jana Nepomuckého, Žďár nad Sázavou, 65.5 km from the center.
On the map
Photo
♥ Bazilika Nanebevzetí Panny Marie a svatého Mikuláše, Žďár nad Sázavou, 65.9 km from the center.
On the map
Photo
♥ Kostel sv. Kříže, Litomyšl, 78.2 km from the center.
On the map
Photo
Survived castles around Brno
♥ Castle 'Burgruine Falkenstein' , 53.4 km from the center.
On the map
Photo
Colors of Brno in photos
Search for popular touristic sites on Brno map
Traditions and festivals in cities around Brno
Cityguide on traditions, mentality and lifestyle of people in Brno. Learn the best periods to visit Brno to discover its soul - authentic festivals, events and celebrations. We will also reveal the interesting habits, attitude towards the world and to tourists in Brno.