Shopping in Alkmaar - authentic goods, best outlets, malls and boutiques
The Alkmaar cheese market is, without a doubt, one of the main city's shopping attractions, which is best to attend from April to September. It runs on Friday mornings and has long become a favorite tourist destination. Early in the morning they gather in the square watching the unloading process. Dozens of kinds of cheeses can be purchased on the market. Before buying, you can surely taste it. You can also purchase a lot of interesting souvenirs here.
The city of Alkmaar will satisfy the desires and tastes of tourists of all the ages. Besides attractions and shopping facilities, you will be able to indulge in an immense world of …
Open
Many charming shops can be found in the historic city streets. Be sure to look into Het Schoenmakertje store. It is quite small, but offers a lot of necessities at attractive prices. They sell very nice locks for suitcases, which many tourists buy as souvenirs, as well as sun glasses, beautiful headdresses and traditional souvenir products.
Bierwinkel Alkmaar specialized store is extremely popular with fans of a foam drink. Here they sell dozens of sorts of beer. The store itself is very beautiful. Miniature bottles are neatly placed on high wooden shelves. Each bottle is attached a special tag with the sort description. Many tourists buy local brew as a souvenir. Copyright www.orangesmile.com
1. The historic city center is easily accessible by public transport. Those who're planning to visit the suburban areas of Alkmaar and travel by train are advised to buy tickets in special …
Open
In Alkmaar there are a few large shopping complexes, but the choice of small shops with different types of goods is more than worthy. A very popular one is Van Haren. It offers customers high-quality brand bags at the most attractive prices. The average cost of handbags from the latest collections is only 20 euros. In this store, both women and men can choose new bags.
The city has some excellent bookstores. Firma Frodo is well-known to tourists. They sell books and periodicals popular in the country. Tourists are attracted by a huge choice of postcards with pictures of famous attractions in Alkmaar and other cities, they cost only 0.55 euros.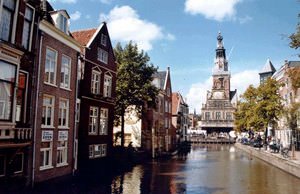 There are quite unusual shops in the city. Men prefer Frits Postma en Zonen C.V. pavillion. It specializes in selling knives and other sharp-force accoutrements. You can pick up multifunctional openers and even axes. Ladies who are fond of cooking, will also be interested in visiting the store, since they sell high-quality kitchen knives.
Alkmaar has several unique hotels, and there won't be equal in any other city in the world. One of these hotels is Bed & Breakfast Prins Hendrik occupying an old cheese farm built in …
Open
For modern fashionable clothes you can go to The Sting three-story shopping complex. Boutiques of only women's clothes are presented here. The complex is sure to please fans of Cotton Club brand. Within its walls is a large Bien Bleu retailer. Moreover, sales often take place in the center. In general, price level is below average, so even budget tourists like to visit it.
Domus remains one of the most popular shopping centers for tourists. It is located in an unusual building with a narrow facade, so initially it seems that the shopping complex is quite small. In fact, it hides dozens of shopping pavilions with clothes, shoes, cosmetics and perfumes. Here, you can find lovely souvenirs as well as lots of other useful things for tourists. Local residents appreciate this shopping complex for a large choice of clothing and footwear stores and attractive prices. Several popular jewelry stores are also located here.

This guide to shopping in Alkmaar is protected by the copyright law. You can re-publish this content with mandatory attribution: direct and active hyperlink to
www.orangesmile.com
.
City tours, excursions and tickets in Alkmaar and surroundings
Reference information
Designer outlets in Alkmaar and nearby
♥ Outlet 'Rosada Fashion Outlet' Rosada 70, Roosendaal, 4703, Netherlands, 124.4 km from Alkmaar.
On the map
♥ Outlet 'Designer Outlet Roermond' Stadsweide 2, Roermond, 6041, Netherlands, 180.6 km from Alkmaar.
On the map
♥ Outlet 'Maasmechelen Village' Zetellaan 100, Maasmechelen, 3630, Belgium, 192.9 km from Alkmaar.
On the map
♥ Outlet 'McARTHURGLEN ROUBAIX' 44 mail de Lannoy, Roubaix, 59100, France, 241.6 km from Alkmaar.
On the map
Photogallery of Alkmaar best places
Search for shopping areas, streets, boutiques and supermarkeets on Alkmaar map
Shopping advices for the whole region around Alkmaar
Shopping advices for Alkmaar. The best spots for buying designer clothes and local delicacies from Netherlands - shops, galleries, boutiques and outlets. We provide you with the shopping streets map, so you can plan your efficient shopping routes, while hunting for authentic souvenirs, goods, drinks, shoes and clothes in Alkmaar.