How to spend top weekend in Yerevan - ideas on extraordinary attractions and sites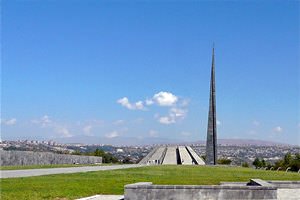 Rock Climbing in the Vicinity of Yerevan
If you are a fan of rock climbing, you can do it in the vicinity of Yerevan. There are several places where you can take your favorite sports here. For example, the Noravank Gorge with limestone cliffs and routes for climbers, equipped with everything necessary, is located 80 kilometers south-east of the city. You can also go to Garni Gorge. It is located 30 kilometers from Yerevan. It has rocky walls formed by basalt stones. Their length is 80 kilometers. The gorge has a depth of 400 meters. You will be charged with adrenaline and get an unforgettable experience no matter which of these places you choose.
An old city with a rich history, Yerevan never ceases to conquer the hearts of travelers. A great number of architectural and historical landmarks, museums, and exhibition centers make …
Open
Extreme Winter Entertainment
If you drive 60 kilometers from the capital of Armenia, you will reach the resort of Tsaghkadzor. There is a 3-step funicular here. Mount Tegenis is located here. The track is equipped on its slope. Its total length is 7200 meters. You will go skiing or snowboarding on it. You can also rent a snowmobile and go for a walk. You will be able to make the descent from the highest point of the resort. It has a height of 2819 meters. You will admire the view of Mount Ararat. Jermuk Resort is located 180 kilometers from Yerevan. A 2-chair cable car is available here. 2 tracks are also equipped here. Their height is 1300 and 1,400 meters.
Viewing of Natural Attractions
If you contact Sky Club Company, its employee can arrange a paragliding trip for you. You will see the Armenian mountains, valleys, and gorges from the height during this extreme entertainment. You will also enjoy the view of the picturesque Lake Sevan. If you are a novice paraglider, mount Atis will be the best place to start. It is located 25 kilometers from Yerevan. You will start your flight from an altitude of 1890 meters here. There is a plain next to it. You will land on one of them. Copyright www.orangesmile.com
In Yerevan, there are nightclubs, entertainment centers, shops, and restaurants for any taste. The city will please its guests with an abundance of attractive trading centers, beautiful …
Open
The Aparan mountain range is located 60 kilometers from the capital of Armenia. You'll get here in a rented SUV. The smooth runway is located at an altitude of 2450 meters. However, a strong wind is blowing here. You can also cover 75 kilometers from the city. You will teach the village of Tsovagyukh near Lake Sevan. This area is suitable for you if you want to soar in the sky for a long time.
Voyage on the Lake on an Old Sailboat
You have the opportunity to admire the beauty of Lake Sevan and its shores, being on a sailboat called "Cilicia" in the summer days. It looks like a medieval ship. Members of the Ajax club have been creating it for 11 years. You will spend an unforgettable time on its deck. You will breathe fresh air and enjoy the picturesque landscape.
1. It is recommended to explore the center of the city on foot as that is the most comfortable way to see all important landmarks. Pedestrians should not forget about all traffic …
Open
Have Fun at the Water Park
The Water Park operates in the Aquatec sports and recreation complex in Yerevan. You will pay $12 for the entrance ticket. You will have fun in the sport pool with warm water. It has a length of 25 meters. If you do not know how to swim, then you will take a few lessons from a professional instructor. You will also take up water aerobics. You will also make a descent from various slopes, for example, "Family" and "Scoop". If you do not have enough thrills, you will get them by rolling down the slope "Kamikaze".
Voyage on a Hot Air Balloon
You will only walk around the city but also make a trip on a hot air balloon in Yerevan. You'll pay $190 for this. Professionals will be close to you. They will arrange a trip for you. You will choose the tour option on your own. This can be a group or individual tour. You will arrive at the starting point. You can take part in the preparation of the balloon for flight here. It will take half an hour. After that, you will be introduced to the conditions of travel. You will rise into the sky. The voyage will last 60 minutes. You will be given a disc with a video recording of your aerial walk after your landing.

This article about ideas on extraordinary weekend in Yerevan is protected by the copyright law. You can re-publish this content with mandatory attribution: direct and active hyperlink to
www.orangesmile.com
.
City tours, excursions and tickets in Yerevan and surroundings
Reference information
Survived castles around Yerevan
♥ Castle 'Tsitsernakaberd' , 2.3 km from the center.
On the map
Photo
♥ Castle 'Erebuni Fortress' , 5.1 km from the center.
On the map
Photo
♥ Castle 'Teishebaini' , 6.5 km from the center.
On the map
Photo
♥ Castle 'Arin Berd' , 6.6 km from the center.
On the map
Photo
♥ Castle 'Kakavaberd' , 32.6 km from the center.
On the map
Photo
Art galleries in Yerevan and around
♥ Art museum 'Cafesjian Museum of Art' Yerevan, 0.8 km from the center.
On the map
Photo
Notable celebrations and festivals in Armenia
Armenia was the first country in the world that adopted Christianity as the main religion. According to the calendar of the Armenian Apostolic Church, Christmas is celebrated on January 5-6. Christmas is a family holiday. On this day, a large family gathers at a festive table. Locals invite relatives and friends. On the morning of January 6, a consecration ceremony takes place in the church. After the service, the Armenians bring some consecrated water home. Easter in Armenia is one of the key religious holidays. Locals call it Surb Zatik, which means "holy liberation." This holiday symbolizes liberation from evil and suffering. In the Holy Week, children tell their most hidden secrets, and adults confess their sins. On Sunday, it is common to share eggs. People exchange three-fold kisses while greeting each other. …
Open

Yerevan by photo artists
Search for interesting places on Yerevan map
Visiting neighbours of Yerevan for exclusive entertainment
Walk through hidden local streets, sneak to a small cafe, breathe and enjoy Yerevan from inside. Stay out from the beaten track during your city weekend, discover the soul of Yerevan as a real travel gourment. Follow our guide, take one of the exclusive services and spend your time in Yerevan unforgettably and with a full passion!