Shopping in Yerevan - authentic goods, best outlets, malls and boutiques
In Yerevan, you have a huge choice of excellent places for shopping. Tashir is one of the most famous in the city. Numerous clothing stores, children's goods shops, pavilions with accessories for home, perfumery, cosmetics and souvenir shops occupy an area of 22000 sq. m. Here, is a large Puma sports shop and Rouge and Giani commercial pavilions. This shopping and entertainment complex will be interesting for a family visit. It is equipped with great attractions and playgrounds for children.
An old city with a rich history, Yerevan never ceases to conquer the hearts of travelers. A great number of architectural and historical landmarks, museums, and exhibition centers make …
Open
You can continue to explore the shining shop windows of Dalma Garden Mall. It has not only a variety of shops but an original design, as well. This two-storeyed shopping center includes clothing and footwear shops of well-known brands, excellent shops with goods for children and sports products. On the ground floor, is an excellent grocery store, which will surely please with affordable prices.
While walking down the shopping streets of Yerevan, you'll find a lot of interesting stores. Ladies who spare no money on clothes can visit Reya multi-brand store. They sell outfits and accessories from the best Italian manufacturers. Here, one can buy novelties of Gizia and 4G brands. Luxurious costume jewelry with Swarovski crystals, wonderful handbags and elite underwear, beautiful evening dresses and designer shoes - this is a luxury store for real queens. Copyright www.orangesmile.com
In Yerevan, there are nightclubs, entertainment centers, shops, and restaurants for any taste. The city will please its guests with an abundance of attractive trading centers, beautiful …
Open
Men will appreciate Brandroom store, which presents a worthy choice of quality modern clothes and accessories. Most of the presented goods are made in the UAE. They sell clothes and footwear for all seasons. The store is mainly focused on a wide range of customers. It has wear on real price and chic goods for the most wealthy buyers.
Brandroom women store is located nearby. It occupies a beautiful historic building. Ladies, as well, can afford chic clothes and accessories made in the Emirates. Belts, shoes, wallets, and handbags made of genuine leather are available to women. There is even a large cosmetic department of Victoria's secret.
1. It is recommended to explore the center of the city on foot as that is the most comfortable way to see all important landmarks. Pedestrians should not forget about all traffic …
Open
Travelers who're going to visit Yerevan with their children, should definitely come by Baby City store. It is one of the largest and most prestigious children's shops in the city. It represents quality goods from the United States, England, France, Spain and other countries. You can purchase literally everything here from modern clothes and shoes to cute accessories and popular children's toys. The store belongs to an average price category. Several times a year, large sales run here, during which quality items and toys can be purchased at a discount of up to 50%.
The city has many excellent jewelry salons. A huge choice of accessories for men and women is presented in Vollmond store. Here, you can buy jewelry from famous German Merii and Cai Jewels manufacturers, which will surely appeal to lovers of classics. Amateurs of avant-garde jewelry will like the jewelry of FreeStyle brand more.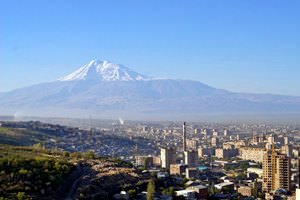 Tashir market is a great place for gastronomic shopping. It is located in the very heart of the city, next to the Blue Mosque. In this market, you can buy the most popular national products, including wonderful goodies, spices and meat delicacies. It is here that you should go to try the Churchhell and the pastille.

This guide to shopping in Yerevan is protected by the copyright law. You can re-publish this content with mandatory attribution: direct and active hyperlink to
www.orangesmile.com
.
City tours, excursions and tickets in Yerevan and surroundings
Shopping in Armenia
Another famous Armenian product is honey. It is very popular among local housewives. Honey is often added to pastries. The world-famous Armenian baklava is cooked on its basis. You can buy exclusive honey, which features the saturated taste and high quality, in Barev Honey and Honey.am stores. Honey is also offered by many beekeepers in the markets. After bargaining, you can buy this product for a very nice price. Armenian markets are the main trade artery of the country. Everything is sold there, from clothes to food. One of the main markets of Yerevan is the Vernissage, located in the central part of the city on a pedestrian street. You can buy mainly various souvenirs, including ceramics, carpets, figurines, paintings, and Armenian duduks. Most of the goods are handmade, which gives them a special flavor. …
Open

Photogallery of Yerevan best places
Search for shopping areas, streets, boutiques and supermarkeets on Yerevan map
Shopping advices for the whole region around Yerevan
Shopping advices for Yerevan. The best spots for buying designer clothes and local delicacies from Armenia - shops, galleries, boutiques and outlets. We provide you with the shopping streets map, so you can plan your efficient shopping routes, while hunting for authentic souvenirs, goods, drinks, shoes and clothes in Yerevan.