City break in Yerevan. Active leisure ideas for Yerevan - attractions, recreation and nightlife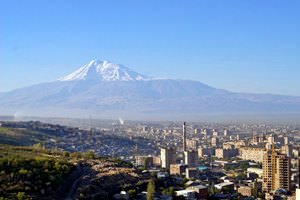 In Yerevan, there are nightclubs, entertainment centers, shops, and restaurants for any taste. The city will please its guests with an abundance of attractive trading centers, beautiful parks, and colorful markets. The latter have already become a true landmark of the capital. Every weekend, Vernissage market opens on Republic Square. It is a great place to purchase interesting souvenirs, antiquities, and crafts. Close to the opera theater, there is an interesting arts market that mostly specializes in works of local painters. Many tourists visit this market as a museum and admire picturesque and colorful paintings. However, it is virtually impossible to leave this incredible place without a purchase.
You will never find so many places of interest and entertainments in any other city of Armenia. Yerevan is a truly unique cultural center and a charmingly hospitable city. You should start …
Open
Homemade carpets remain a popular memorable gift that tourists often buy in Yerevan. Experienced travelers suggest buying carpets at Mergerian Carpet Factory. There is a large shop near the factory, in which tourists will easily find carpets of different shapes and sizes. To purchase exclusive carpets, consider visiting Tufenkian Carpets. That said, the price of carpets in this shop will be somewhat higher. This shop offers a unique service – visitors can bring their own drafts, and skilled masters will make a carpet in accordance with it.
Yerevan is rich in numerous antiquity shops, but travelers are equally interested in them and wine shops. Quality Armenian cognacs are available for sale in all specialized shops, but supermarkets usually also sell a broad range of local alcoholic drinks. Copyright www.orangesmile.com
In Yerevan, travelers with children will not be bored. They should definitely look into the local Lunapark. The choice of attractions here is just fine, the youngest visitors will be able to …
Open
Active recreation fans will be delighted to visit local entertainment centers, each of which has much to offer to their visitors. For instance, Arena Entertainment Complex is a great destination for all fans of bowling. There is also a charming billiards hall. Children will be excited to try different arcade machines and visit a café with various desserts. Sunny Land is one more popular shopping and entertainment center. It attracts its numerous guests with a broad range of shops, restaurants, and entertainment venues. There is a modern cinema, a bar, and even a special recreational area for children.
Omega is one of the most popular nightclubs in the city. It hosts fancy shows several times a week. At the club, guests can always enjoy their favorite music and eat delicious food in the club's restaurant. Fans of dancing until dawn will be in love with Opera Club. This club also has a stylish bar with numerous appetizers and exotic drinks. It is a perfect place to relax after energetic dancing.
Of course, it is better to start describing the national cuisine of Yerevan from its most famous and honored food – Lavash. This special bread type is made in accordance with an old recipe …
Open
The city at the foot of Mount Ararat is an amazing choice for all fans of active recreation. Parachute jumping, paragliding, and hang-gliding are very popular among fans of extreme. The region is perfectly suitable for activities of this kind. In order to try something unusual and burst the adrenaline level, consider contacting such companies as Paragliding in Armenia, Sky Club or AVIS Small Aviation Club. If the idea of parachute jumping or paragliding doesn't sound too appealing but you still want to see the area from a bird's eye view, hot air balloon is the right choice. Skyball specializes in this entertainment in Yerevan.
The capital of Armenia is rich in all kinds of entertaining tours. It would be a mistake not to mention Adventure Armenia. This tour offers to explore fabulous mountains that surround Yerevan from all sides. Yerevan Travel organizes trips to the most important and fascinating landmarks of Armenia's capital and its suburbs. Zipline is also quite popular in the country. Without a doubt, Yerevan Zipline Airlines is the best place to enjoy this spectacular activity. It is a magnificent destination for everyone who wants to enjoy this mesmerizing activity. Besides that, zipline is universal and suitable for people of different ages and with different likes.
Residents of Yerevan cherish their cultural heritage. Just like many centuries ago, they carefully follow the traditions of their ancestors and believe in omens. Keeping ancient national …
Open
It should be mentioned that motorbike is the most popular vehicle for rent in the region. The bicycle is also very popular. There are many rental offices in the capital, so travelers will have no problem finding one. Hovik Hayrapetyan Equestrian Center is an excellent choice for all romantic travelers who want to make a memorable horse ride in the mountain region of Armenia. The equestrian center regularly hosts interesting shows that will please everyone, even visitors who are not big fans of the gracious animals. That said, Yerevan Zoo is a place where no one will ever feel bored. Among animals that live there, there are ducks, bears, hippos, turtles, boars, chameleons, and peacocks. Don't forget to visit the zoo's aquarium with marvelous fish.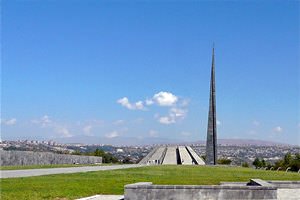 A visit to the theme park named Luna Park is a fantastic gift for every child. At Luna Park, there are many colorful and interesting attractions that will surely appeal to kids of all ages and will make adults regret that they have grown up. Waterworld Aqua Park is one more "must-visit" destination for travelers with children. Various water-based attractions, slides, a swimming pool, and a relaxation area with lounge chairs – the aqua park's visitors will find all these and even more. YES Republic is another wonderful destination for families with children. Kids will be very excited to draw, play with Lego, and enjoy other activities. Everyone who has ever wanted to try pottery can master the basics of this art in Art Studio. Finally, Children's Railway will also leave many pleasant memories.
An old city with a rich history, Yerevan never ceases to conquer the hearts of travelers. A great number of architectural and historical landmarks, museums, and exhibition centers make …
Open
Play City is a popular entertainment complex that also deserves a visit. It offers rich choice entertaining activities for both children and adults. Travelers who like puzzles and mysteries simply cannot fail to visit Questomania – the best escape room in the capital of Armenia. People in Yerevan and Armenia in general like taking photographs, and so Photo Atelier Marashlyan is very popular among different categories of people. Visit this studio to find out why it has so many devotees. In order not to gain extra kilograms when eating delicious local food, don't forget about workouts, and Gold's Gym is one of the best destinations for that. It offers fitness, modern gym, and a swimming pool.
Travelers wishing to watch latest movies will find what they need at the best cinemas of the country, namely, Moscow Cinema and Cinema Star. Shangri La casino is the best destination for people who like tasting their luck. At the casino, there are different tables with card games and exciting slot machines. The luxurious design of Shangri La attracts even non-gamblers. As one would expect from such a venue, there is a dress code to enter the casino. Security doesn't let people in denim pants and shirts go inside. Travelers interested in watching theatrical performances or opera in Yerevan will be pleased with a selection of theatres and concert halls. Chamber Theatre and Yerevan Opera Theatre are among the best venues in the city. Performances by the State Youth Orchestra of Armenia SYOA are also very popular.
1. It is recommended to explore the center of the city on foot as that is the most comfortable way to see all important landmarks. Pedestrians should not forget about all traffic …
Open
The city's anti-cafés also deserve the attention of travelers. AEON is a great place to relax and chat with friends. The décor of the venue and its home-like atmosphere are perfect for relaxing. One more anti-café, BŪRO Work'n'Roll, attracts visitors with its industrial style. It is a friendly and charming place that will make you want to stay there longer. This café has a kitchen where visitors can cook their own food, a room with play stations, and a room with games. The home-like atmosphere of the venue is very comfortable and welcoming. Cityzen is one more interesting venue that deserves a visit. It is a city where everyone can try different professions, such as firefighter, teacher, or a policeman. Naturally, kids are particularly fascinated to visit this center.

This guide on active recreation and leisure in Yerevan is protected by the copyright law. You can re-publish this content with mandatory attribution: direct and active hyperlink to
www.orangesmile.com
.
City tours, excursions and tickets in Yerevan and surroundings
Reference information
National and city parks around Yerevan
♥ National Park 'Sevan' , 72.3 km from the center.
On the map
Photo
♥ National Park 'Dilijan' , 76.4 km from the center.
On the map
Photo
♥ National Park 'Lake Arpi' , 123.8 km from the center.
On the map
Photo
Water attractions around Yerevan
♥ Water park 'Water World' Yerevan, 4.3 km from the center.
On the map
Photo
♥ Water park 'Aquatek' Yerevan, 4.4 km from the center.
On the map
Photo
♥ Water park 'Aquapark Harsnaqar' Sevan, 57.5 km from the center.
On the map
Photo
Attractions and entertainment in Armenia
In the warm season, tourists can ride catamarans on Lake Sevan. You can participate in various tours to the sights located on the shores. Fans of driving off-road cars can go on a trip around the lake. Rock climbers will be able to try their hand at Mount Ararat. One of the most popular places for tourists is the cave of Archeri. Its length is more than 3 kilometers; the depth is about 700 meters. A huge space with stalactites, corals, stalagmites, a cave river and a lake is waiting there. At the bottom of the cave, scientists found the skeleton of an ancient bear that fell here many centuries ago. Yenokavan features the cave settlement of Lastiver Anapat, founded in the Middle Ages. …
Open

Photogallery of picturesque Yerevan
Search for active leisure and attraction spots on Yerevan map
City break ideas for neighbours of Yerevan
Guide to your best city break in Yerevan - popular places for recreation and leisure. Things to do during the day in Yerevan - attractions, parks, beaches, aquaparks, racing tracks, biking trails or waterski. Recommendations (with addresses, phone numbers and links) where to spend your time in the evening (bars, discos, clubs, etc.). We share some good ideas and the question 'What to do in Yerevan?' disappears immediately.