Metro map of Toronto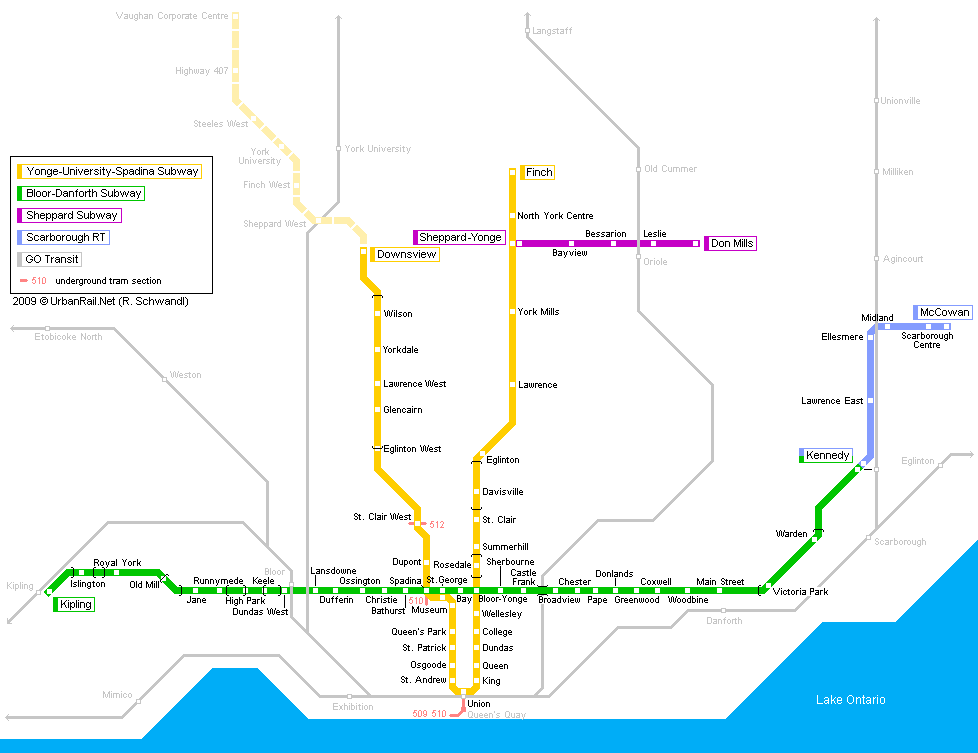 The actual dimensions of the Toronto map are 978 X 753 pixels, file size (in bytes) - 24037. You can open, download and print this detailed map of Toronto by clicking on the map itself or via this link:
Open the map
.
City tours, excursions and tickets in Toronto and surroundings
Travelling inside Canada - transportation means

Unusual terrain, changeable climate, and the presence of remote areas in the country, played an important role in the development of air transport. The largest and most famous are airports such as Air Canada in Vancouver, which is considered the largest airport in British Columbia. The greatest advantage of this airport includes comfortable conditions for people with disabilities, as well as fast and high-quality service. On the territory of the terminal you can meet volunteers dressed in green uniform. They can advise each traveler on any particular issue. Another equally great airport in terms of size is Canada's Pierre Elliott Trudeau Airport, which is located in Montreal. You can get to the terminals from the city by buses that work round-the-clock. Their route passes by many metro stations, and also captures the territory of the central station in Montreal. You can also reach the surroundings of Canada through Frankfurt and Paris. …
Open

Car rental on OrangeSmile.com

Cambodia Opens Its Borders for Tourists in November
Cambodia plans to remove its 14-day quarantine requirement for fully vaccinated travelers and replace it with a negative COVID test made within 72 hours before the arrival and one more negative COVID test made at Phnom Penh International Airport. Cambodia is quite a safe place for international guests – the country has vaccinated more than 60% of its 16.5-million population. This makes Cambodia the second most vaccinated country in Southeast Asia with only Singapore ahead. Cambodia plans to vaccinate three-fourths of its population by October. It also now vaccinates children over the age of 12.
Read this
24.10.2021
Metro, airports, railway and bus stations on Toronto map
Toronto in photostream
Our travel guides to Toronto
Metro maps of cities around Toronto