City break in Phu Quoc Island. Active leisure ideas for Phu Quoc Island - attractions, recreation and nightlife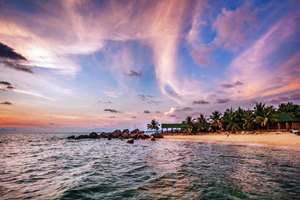 Diving in Phu Quoc will please you with low prices and a diversity of underwater flora and fauna. All who want to join should go to the dive-center, which has been giving international certificates for 15 years now. The beginners should dive in the North of the island – it is not that deep there, but the landscape is picturesque with a big amount of corals. In the South part, many places are more suitable for the experienced divers, and the depth can reach up to 40 meters.
If you decided to go shopping, remember: unlike on other territories of Vietnam, in Phu Quoc, it is not common to bargain. They rarely change the price and it is easier and faster to buy the …
Open
Diving and snorkeling fans should go to the Turtle Island and have an opportunity to see the representatives of about a hundred species of tropical fish. Do you like animals? Then go to Vinpearl Safari. This place has its own personality. Vinpearl Safari gives its visitors an opportunity to have a ride across the places, where wild animals live and watch them in spacious aviaries in the zoo. There is one ticket for safari and the zoo, you don't have to pay extra. Near Vinpearl Safari there is an amusement park Vinperl Land, where you can go to the traditional rides and visit an aqua park, and watch the dolphins in the dolphinarium. By the way, here you can also find oceanarium, and bowling, and skating rink. You see, there is something to any taste.
Wakeboarding is becoming quite popular in Phu Quoc lately. The equipment you can rent in big settlements on the island. The weather is also good for wake surfing and water-skiing. If you want, you can rent a catamaran, jet ski or a speedboat. The letter will be of a great help if you decide to go fishing in the open sea. However, you can get a good haul of local fish from the shore as well. Copyright www.orangesmile.com
The largest island in Vietnam situated in the Gulf of Siam is widely known as popular beach recreation and eco-tourism spot. Main features of Phu Quoc are nature landmarks and amazing …
Open
The "Robinson excursion", a two-day tour across the islands of the South spit, is very popular among the travelers. A night's sleep under the stars in a totally deserted place is also included in the program. However, if you are not ready to spend the night outside the civilization, you can spend less time, visiting the neighboring islands, spending there not more than 4-6 hours. Certainly, visit Phu Quoc National Park. More than a hundred species of animals and almost fifteen hundred of pants live and grow there. There are not many tracking routes here, but you can go to the jungles by yourself. Those, who like walking tours, can climb Chua Mountain and enjoy the great view from its top, or visit the Suoi Tranh Waterfall. Just don't forget to take the repellents with you, there is a lot of bloodsucking insects.
You can also watch the nature of the island, riding the local country roads. A motorbike or a bicycle is best for this. Just remember, the traffic rules are not more than just a recommendation for the locals. Don't be surprised, when you see a van, which is signaling and goes ahead at great speed. If you want, you can also rent a car. You will need an international driving license for that. Though you will need it for renting a motorbike as well, the police don't usually stop foreigners.
If your child is not scared of the long way to Phu Quoc, you can be sure, he will like this island. A unique peculiarity of this place is purely clean beaches, beautiful nature, significant …
Open
Nightlife in Phu Quoc is quite active, though, there are no nightclubs per se. instead of them, there are bars, where they regularly have different parties. The most famous one is Ahoy Club, which among all, is more like a real nightclub, when Eden Bar, Pho Bo Café, Rainbow Bar, Coco Bar and others are typical bars. However, it doesn't stop their guests from talking, listening to the music, dancing, and drinking cocktails all night long.

This guide on active recreation and leisure in Phu Quoc Island is protected by the copyright law. You can re-publish this content with mandatory attribution: direct and active hyperlink to
www.orangesmile.com
.
City tours, excursions and tickets in Phu Quoc Island and surroundings
Reference information
National and city parks around Phu Quoc Island
♥ National Park 'Phu Quoc' , 13.9 km from the center.
On the map
Photo
♥ National Park 'Ream' , 44.4 km from the center.
On the map
Photo
♥ National Park 'Kep' , 47.5 km from the center.
On the map
Photo
♥ National Park 'Kirirom' , 121.9 km from the center.
On the map
Photo
♥ National Park 'Botum Sakor' , 125.5 km from the center.
On the map
Photo
Amusement parks near Phu Quoc Island
♥ Amusement park 'Vinpearl land' Phu Quoc, 16.2 km from the center.
On the map
Photo
♥ Amusement park 'Koh Kong water land' Koh Kong International Resort Club, 124.4 km from the center.
On the map
Photo
Sites around Phu Quoc Island from our surveys on extreme Earth places
Tuolsburg Prison
From the series
"Famous prisons of the world"
Check on the map:
Distance from Phu Quoc Island center - 180.4 km.
Special signs are attached to all the buildings of the museum. They remind visitors to refrain from smiling during the tour. Stands with photos of people who died in prison are installed in some of its halls. There are large glass containers in one of the halls. The Khmer Rouge and former prisoners' clothing is kept in them. The children's school was located in these buildings before the prison was opened in them. It was called Tuol Svay Prey. The prison was named S-21 with the beginning of the Khmer Rouge regime. …
Read further

Photogallery of picturesque Phu Quoc Island
Search for active leisure and attraction spots on Phu Quoc Island map
City break ideas for neighbours of Phu Quoc Island
Guide to your best city break in Phu Quoc Island - popular places for recreation and leisure. Things to do during the day in Phu Quoc Island - attractions, parks, beaches, aquaparks, racing tracks, biking trails or waterski. Recommendations (with addresses, phone numbers and links) where to spend your time in the evening (bars, discos, clubs, etc.). We share some good ideas and the question 'What to do in Phu Quoc Island?' disappears immediately.