Cuisine of Phu Quoc Island for gourmets. Places for dinner - best restaurants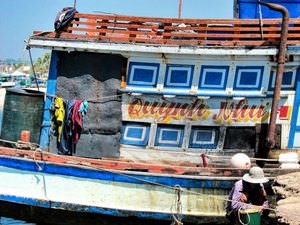 Vietnamese cuisine is diverse and quite exotic. Though unlike in other Asian countries, they do not serve here really spicy food, it is still better not to eat any strange food during your first days there. For those, who does not like it, there are restaurants with European dishes in Phu Quoc. You should consider several aspects while visiting any café. First of all, chairs and tables in most places are low, as the local people are not tall. You just have to get used to it. Second – always pay attention to your check. As in many other resorts, you may find there dishes, which you didn't order, or the price will differ from the one in the menu. And finally, almost everywhere they will cook the fish you bring or the one from the aquarium.
In Phu Quoc, you can visit two farms, where the pearls are cultivated. One farm belongs to the Americans, another one – to the Japanese. On each of them, you can see how the pearls are …
Open
The base of most Vietnamese courses is rice. In a menu, you will find it under "Com". It is served boiled or fried with meat, poultry or seafood. A more original way of serving rice is Bahn Cuon, rice rolls with cucumber, beans, shrimp, sausage, onion, and beef. They also serve crushed crispy rice Com Tam and rice soup with noodles Chao. An original local dish is a Hot pot. It is simply soup in a pot, except for one thing – you cook it yourself. They will bring you a burner and the ingredients: noodles, meat, chicken or fish, vegetables, and spices and that's it. Though, it is not as hard as you think. The one thing you should remember is that the portion size is for 3-4 people.
However, if you don't want to cook yourself, you can have a first course anyway. For example, you can try soup pho from meat, fish or chicken, whichever you choose, with beef bouillon, greenery, and spices. It is usually served with rice pasta in a separate bowl. Though, soups in Vietnam are quite diverse – with crab meat, shrimp, chicken, and with fish. Be careful with Bun Bo Hue with beef and noodles – it is very spicy. Try Canh Chua soup with tamarind. Ca Kho To in its classic variant is also a soup, from fish, where they add caramel. Copyright www.orangesmile.com
Diving in Phu Quoc will please you with low prices and a diversity of underwater flora and fauna. All who want to join should go to the dive-center, which has been giving international …
Open
You can also try Vietnamese dumplings Ban Cuon and Thit Kho, pork in caramel sauce. In Phu Quoc they make great Ca Ran Chua Ngot, a dish from fish with sweet-and-sour sauce and onion. Ban Chang Cho has an interesting taste, some kind of mix of mango, greenery, quail eggs, rice paper, peanuts, and shrimp. It is sold on the street, where they will make it right in front of you in a couple of minutes. If it is steamed, they call it Bah Bao. The stuffing can be different, the most popular ones are fish and seafood, though rolls can be with vegetables or meat. Dim Sum, crispbreads with a stuffing, are quite popular now.
The variety of desserts in Phu Quoc is astonishing. Here you can find traditional pastry, and a French baguette, and sandwiches with meat stuffing called Banh Mi, and coconut dessert from jelly and mousse, and caramel pudding Banh Flan, and much much more. In Phu Quoc, you can certainly find exotic Vietnamese courses from snakes, frog legs, dogs or duck embryos, which hasn't hatched yet, but all this is not the base of the Vietnamese cuisine.
Long Beach is the largest and the most popular beach of Phu Quoc. It's equally popular among both tourists and islanders. A number of popular hotels are situated next to the …
Open
Among soft drinks you can try different shakes and juices, made from all the fruits, which grow on the island. Out of curiosity, try a sugar cane fresh, which you can buy from a street vendor. He will make it right in front of you. In any café, you can order tea, including a local one. They make coffee their own way. They pour water into ground coffee and then add condensed milk, sugar or regular milk. There is a wide range of lemonades, including the ones made with local herbs, fruit, and vegetables. Local beer and wine have good taste, though, if you want, you can buy those drinks from the European brands.

This guide to cuisine and restauraunt in Phu Quoc Island is protected by the copyright law. You can re-publish this content with mandatory attribution: direct and active hyperlink to
www.orangesmile.com
.
City tours, excursions and tickets in Phu Quoc Island and surroundings
Unique sights around Phu Quoc Island
Tuolsburg Prison
From the series
"Famous prisons of the world"
Check on the map:
Distance from Phu Quoc Island center - 180.4 km.
The museum was opened here. It is considered one of the scariest and most impressive in the world. It is strongly not recommended to visit it for people with the weak mind. Information stands with posters are placed throughout the museum. They illustrate the terrible torture of prisoners. The skulls of the people who died within the walls of Tuol Sleng prison recently are carefully placed in glass cabinets in some rooms. Watching a documentary is a mandatory part of the tour. It is dedicated to the history of the prison. …
Read further

Phu Quoc Island in photo set
Searching where to eat - restaurants and cafe on Phu Quoc Island map
Cuisine and restaurants in the neighbours of Phu Quoc Island
Travel notes on best cuisine and restaurants of Phu Quoc Island (Vietnam) on OrangeSmile.com. Famous recipes and traditional dishes and courses in Phu Quoc Island restaurants. Where to eat - our recommendations on popular places in Phu Quoc Island, where you can taste delicious meal and also spend a good time with your friends.