Sightseeing in Phu Quoc Island - what to see. Complete travel guide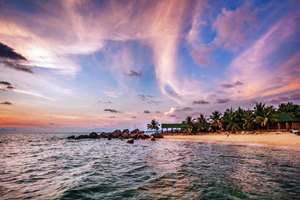 The largest island in Vietnam situated in the Gulf of Siam is widely known as popular beach recreation and eco-tourism spot. Main features of Phu Quoc are nature landmarks and amazing coastline, which attract thousands of travelers. Despite its popularity and well-developed infrastructure, Phu Quoc has fairly quiet and harmonious atmosphere.
If you decided to go shopping, remember: unlike on other territories of Vietnam, in Phu Quoc, it is not common to bargain. They rarely change the price and it is easier and faster to buy the …
Open
The island is an excellent choice for fans of diving and beach leisure, as well as for those who like to explore and experience extreme tourism. As was said before, most of Phu Quoc excursion sights are nature landmarks. There are 99 mountains on the island and Chua
is the biggest of them. It's only 603 meters high and fairly easy to access, so climbing Chua is very popular activity among tourists.
Phu Quoc National Park located in the northern part of the island is another popular hiking destination. It was founded in 1986; there are over 150 animal species and thousands of various plants in it. Exciting and educational excursions run in park on daily basis, though in rainy season it's closed for public access. Copyright www.orangesmile.com
If your child is not scared of the long way to Phu Quoc, you can be sure, he will like this island. A unique peculiarity of this place is purely clean beaches, beautiful nature, significant …
Open
Along with beautiful mountains and thick tropical forests, the island is known for its waterfalls, including impressive Suoi Tranh
. This waterfall is located in the picturesque area and tourists often take tour to nearby Duong Dong Lake along the way. This fresh-water lake is the largest on the island; there's also a colorful settlement of the same name located nearby.
Phu Quoc is unofficially calledPearl Island" because of two farms specializing in pearl work. It is widely regarded as the best pearl factory in Vietnam and attracts a lot of customers despite its high prices. Both farms are open for public and offer both luxurious jewelry shops and interesting museums.
Vietnamese cuisine is diverse and quite exotic. Though unlike in other Asian countries, they do not serve here really spicy food, it is still better not to eat any strange food during your …
Open
Another point of interest is the famous Nouc Mam fish sauce factory. This unusual place is very popular among tourists, while its production is famous across the globe and highly valued by professional cooks. Another culinary object is the black pepper plant that also hosts tourist excursions. Everyone can learn popular spice manufacturing technology and taste it as well.
The most popular and interesting cultural object of Phu Quoc is the Coi Nguon Museum
. It occupies a large six-story building and hosts an impressive collection dedicated to history and culture of the island. Priceless archeological findings, old photos, collections of ceramics, historical documents and remnants of ancient sea creatures are only few of museum exhibits. It will take days to visit all landmarks of Phu Quoc.
Remember that not everyone in Phu Quoc speaks English and that the Vietnamese don't really like the tourists, who look like Americans. This is the effect of their political …
Open
Gorgeous beaches of Phú Quốc Island have won love and recognition as one of the most beautiful beaches in the world. Besides that, beaches of this island own several prestigious awards for their outstanding ecological indexes. Long Beach remains the most famous coastal area of the island. This beach is well-kept and cleaned all year round. As the infrastructure of Long Beach develops every season, it now has absolutely everything needed for a comfortable stay. There are several popular hotels and restaurants nearby, but tourists need to remember that this place is quite crowded during the peak season.
Steep bottom is one of the main disadvantages of Long Beach. The depth of water is already 2 meters just ten meters away from the shore, so this beach is not the best choice for tourists with small children. As a rule, families like Ong Lang Beach more. The water is shallow near the coast and it is transparent and clear. There are numerous palm trees not far from the water, so Ong Lang remains comfortable even in the midst of a hot day as vacationers can always sit under the shade of trees. Bai Dai Beach is widely recognized as one of the most beautiful beaches in the world. Despite such a prestigious title and popularity, it is an incredibly peaceful and calm place.

This guide to iconic landmarks and sights of Phu Quoc Island is protected by the copyright law. You can re-publish this content with mandatory attribution: direct and active hyperlink to
www.orangesmile.com
.
City tours, excursions and tickets in Phu Quoc Island and surroundings
Reference information
National and city parks around Phu Quoc Island
♥ National Park 'Phu Quoc' , 13.9 km from the center.
On the map
Photo
♥ National Park 'Ream' , 44.4 km from the center.
On the map
Photo
♥ National Park 'Kep' , 47.5 km from the center.
On the map
Photo
♥ National Park 'Kirirom' , 121.9 km from the center.
On the map
Photo
♥ National Park 'Botum Sakor' , 125.5 km from the center.
On the map
Photo
Sights around Phu Quoc Island from our guide 'Extreme places on Earth'
Fried Tarantulas in Phnom Penh Restaurants
From the series
"The Most Disgusting Dishes in the World"
Check on the map:
Distance from Phu Quoc Island center - 182.3 km.
Ping, which is the local name of fried spiders, reached a huge popularity in 60s of the last century, when Cambodia suffered from a mass starvation. Local residents could do nothing, but catch spiders crawling all over the place, fry them, and eat. Today, tarantulas are cooked in a more complex way. Beforehands, they are soaked in the marinade of salt and sugar. Before frying, a little garlic is added to oil. These simple seasonings gives the dish juicy shades, as tarantulas cooked without spices are completely tasteless. …
Read further

Sightseeing in Vietnam: things to see
During your stay in Vietnam, don't forget to include Hoi An in your "must-visit" list. This old city is sometimes compared with Venice because of its long canals. The city of Hue, which once was the imperial town, is rich in architectural landmarks, among which travelers are particularly recommended to visit the Tombs of Emperors and the Citadel. After observing grandiose buildings, enjoy some walk along the bank of the Perfume River. …
Open

Search touristic sites on the map of Phu Quoc Island
Sightseeing in regions nearby Phu Quoc Island
All about Phu Quoc Island, Vietnam - sightseeings, attractions, touristic spots, architecture, history, culture and cuisine. Prepare your trip together with OrangeSmile.com - find out the 'must see' things in Phu Quoc Island, which places to visit, which excursions to take, where the breathtaking views are waiting for you. Planning your trip with this travel guide will help your to get the most out of Phu Quoc Island in few days.