Family trip to Phu Quoc Island with children. Ideas on where to go with your child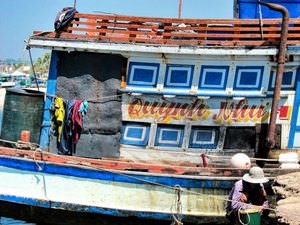 If your child is not scared of the long way to Phu Quoc, you can be sure, he will like this island. A unique peculiarity of this place is purely clean beaches, beautiful nature, significant cult buildings, and children amusement parks, where not only kids of any age will have fun but their parents as well. Just be prepared for acclimatization and not typical weather on the island.
Phu Quoc offers excellent choice of hotels from simple family villas to modern beach hotels and charming designer's inns. Eden is one of the best among resort hotels of the island. The lodge …
Open
You should definitely take your child to Vinperl Land amusement park. You will probably come back again, as there are not just different rides in Vinperl Land. There are also an aqua park, a dolphinarium, a fountains' show, which will amaze your child. If you are hungry, there are cafes and stores on the territory of the park. You and your children should also visit Vinpearl Safari Phu Quoc, a big 380he natural park, located close to the airport. Lions, tigers, antelopes, giraffes, and zebras – all those animals, and not only them, will you be able to see really close from a car window during an excursion. There is also a familiar zoo with big aviaries nearby.
If your child likes animals or at least he is not afraid of dogs, you can take him to the kennel of Ridgeback dogs. The peculiar feature of those dogs is that they have a smooth coat on the back, which grows in the opposite direction from the rest of the body. During the excursion, you will not only find out a lot about the history of this breed and the conditions of breeding but also communicate with those friendly animals. On the East of the island, there is a beautiful Cau Castle, a cult building for the local people. It combines the functions of a temple and a lighthouse. You should go there with the whole family, as the child will probably also be interested in another culture. Copyright www.orangesmile.com
If you decided to go shopping, remember: unlike on other territories of Vietnam, in Phu Quoc, it is not common to bargain. They rarely change the price and it is easier and faster to buy the …
Open
Go to the local history museum. A kid will like the items in the collection and a beautiful view from the window from the six floor. Visit Tranh Waterfall and a Buddist temple, and if your child is old enough, you can take him to the "coconut" prison, where political prisoners were kept. Not every country has such places. You can take children of all age, except maybe infants, to the anglers' village in the North of Phu Quoc, where the locals kept the traditions and rituals from the past.
Certainly take your child to the pearl farm. Where else will he see the pearl-hunting process? Rubber plantation and black pepper farms will definitely be interesting for curious children. But if your child prefers nature to any production site, take him for a walking tour across the North part of the National park. A teenager can practice diving, snorkeling or fishing, especially since you can catch not only fish but calamari and crabs as well.
The largest island in Vietnam situated in the Gulf of Siam is widely known as popular beach recreation and eco-tourism spot. Main features of Phu Quoc are nature landmarks and amazing …
Open
A child will remember a trip to the neighboring islands. A two-day "Robinson-tour" will be a perfect variant for trained and patient children. Besides visiting islands of the South spit, a camp out on a deserted island is also included. Is there anything more exciting for a child to sleep under the stars in a faraway country, where there is no one around, except a small group of tourists? Probably no. You should also leave at least one evening to watch a sunset on Long Beach with your child. It is truly beautiful. Older children will probably like the idea of visiting the night market.

This guide to family holidays in Phu Quoc Island is protected by the copyright law. You can re-publish this content with mandatory attribution: direct and active hyperlink to
www.orangesmile.com
.
City tours, excursions and tickets in Phu Quoc Island and surroundings
Reference information
Amusement parks near Phu Quoc Island
♥ Amusement park 'Vinpearl land' Phu Quoc, 16.2 km from the center.
On the map
Photo
♥ Amusement park 'Koh Kong water land' Koh Kong International Resort Club, 124.4 km from the center.
On the map
Photo
Zoos and gardens in/near Phu Quoc Island
♥ Zoo 'Kampot Zoo' , 52.5 km from the center.
On the map
Photo
♥ Zoo 'Phnom Tamao Wildlife Rescue Centre' , 150.6 km from the center.
On the map
Photo
Famous sights of Phu Quoc Island
Tuolsburg Prison
From the series
"Famous prisons of the world"
Check on the map:
Distance from Phu Quoc Island center - 180.4 km.
The Genocide Museum was opened there a year later. Tourists from all over the world visit it daily today. The prison was deliberately not reconstructed after closing. The entire situation remained unchanged in the surrounding area. There are fences entangled with barbed wire everywhere here. There are also buildings with dilapidated facades and bars on the windows. Tall palm trees and other plants make an amazing contrast to the oppressive environment. There are a lot of plants on the territory. …
Read further

Photogallery of best places of Phu Quoc Island
Children attractions (aquaparks, zoos, amusement parks) on the map of Phu Quoc Island
Interesting places to visit with children around Phu Quoc Island
Guide to sightseeing and entertainment for children in Phu Quoc Island - parks, attractions, museums, zoos, water-parks. All fascinating and educational sites of Phu Quoc Island, which are must visit and see for your child. Find out the best discovery routes and places for kids (local theaters, exhibitions and museums), where you can spend quality time together. Phu Quoc Island for families with children.