City break in Siem Reap. Active leisure ideas for Siem Reap - attractions, recreation and nightlife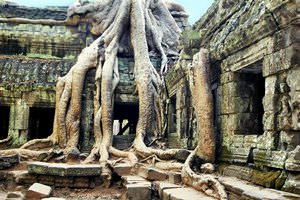 Visits to unique temple complexes and other iconic constructions are the main entertainment for the guests of Siem Reap. In addition to this, this is not an only way to diversify your leisure. Tourists can visit a lot of extraordinary entertainment venues. Hiking fans are offered to visit the national park of Phnom Kulen
, admire fascinating waterfalls and appreciate a diversity of exotic plants. On the territory of the national park, one of the most beautiful temple complexes is located. You even can swim under some picturesque waterfalls.
The main historical symbol of Siem Reap that almost all travelers want to see is the temple complex Angkor Wat. This is a unique monument of Khmer architecture in all respects and the …
Open
During the hot day, you can go to the shore of West Baray
lake where several magnificent beaches are equipped. There are attractive restaurants and market stalls on the lake shore where you can have an interesting stroll. This picturesque place is very popular with the natives and most of the regular visitors of beaches are local kids. Tourists are offered to diversify their leisure with boat trips on the lake. In the evenings, local restaurants become places where interesting entertainments are held.
The nearby village of Meychrey Floating is really a unique place that all Siem Reap guests should visit. Local residents built their houses on high piles directly on the shore. Lush tropical thickets grow close to the shore zone. During tide surges, the tropical forest is flooded, so the main mean of transport here is boats. Tourists will be definitely offered to boat among exotic trees, so all family members will certainly like such entertainment. Copyright www.orangesmile.com
In Siem Reap, travelers can accommodate in more than 400 places that are popular among both connoisseurs of modern luxury and those who prefer recreation in an exotic atmosphere. One of the …
Open
Among unusual entertainment venues, the golf club of Angkor Wat Putt
should be noted. With its exterior it resembles a sophisticated landscaped garden decorated with exotic plants and small copies of famous attractions of the region. Not only fans of the elite kind of sport who can improve their skills in training areas, but also fans of hiking tours will like spending time here.
The Aqua park will perfectly suit family recreation. It is decorated in accordance with national traditions. The visitors can take advantage of beautiful pools, fully equipped terraces with unusual thatched roofs, sunny patios surrounded by exotic plants and a comfortable cafe where they can taste classic French and Cambodian treats.
Siem Reap is a main tourist center of Cambodia and a unique city with eventful and interesting history. In the 19th century, in the nearby surroundings of the city, archaeologists found the …
Open
On the territory of the old town of Angkor, the interesting natural reserve Angkor Centre for Conservation and Biodiversity is located. Its specialists study and maintain the population of rare animal species. Graceful wild cats and curious monkeys, rare species of reptiles and parrots – these are main inhabitants of this natural reserve. The name of the environmental sector Banteay Srey Butterfly Centre speaks for itself. Its specialists study and breed butterflies and other insect species. Dragonfly, mantis and butterfly watching is one of the most interesting entertainments here. Moreover, very exciting excursions are organized on the territory of the reserve.
You will also find worthy shopping centers in Siem Reap. In the Papaya Best T-Shirt Mall, you can buy high-quality clothes and stylish accessories. One of the most picturesque places in the city is the street Psar Chaa - Old Market. Here, you can buy absolutely everything, from national treats to interesting souvenirs and antique items. In the city, there is also the Angkor Night Market.

This guide on active recreation and leisure in Siem Reap is protected by the copyright law. You can re-publish this content with mandatory attribution: direct and active hyperlink to
www.orangesmile.com
.
City tours, excursions and tickets in Siem Reap and surroundings
Reference information
National and city parks around Siem Reap
♥ National Park 'Phnom Kulen' , 42.7 km from the center.
On the map
Photo
♥ National Park 'Ta Phraya' , 158.9 km from the center.
On the map
Photo
Attractions and entertainment in Cambodia

Fans of outdoor activities can go to one of the capital's sports clubs. The most popular one is "The Cambodian Country Club". The club's area is divided into several sections, which house a professional swimming pool, a large stable with a racecourse, a roller-skating track, a huge hotel complex, several diverse restaurants, a spa, and a fitness club. Hotel guests can use the sports club services for free. One of the most popular entertainment is horseback riding. …
Open

Photogallery of picturesque Siem Reap
Search for active leisure and attraction spots on Siem Reap map
City break ideas for neighbours of Siem Reap
Guide to your best city break in Siem Reap - popular places for recreation and leisure. Things to do during the day in Siem Reap - attractions, parks, beaches, aquaparks, racing tracks, biking trails or waterski. Recommendations (with addresses, phone numbers and links) where to spend your time in the evening (bars, discos, clubs, etc.). We share some good ideas and the question 'What to do in Siem Reap?' disappears immediately.