Shopping in Phu Quoc Island - authentic goods, best outlets, malls and boutiques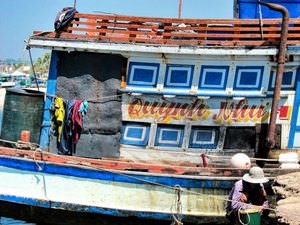 If you decided to go shopping, remember: unlike on other territories of Vietnam, in Phu Quoc, it is not common to bargain. They rarely change the price and it is easier and faster to buy the thing you need at a better price from another seller. It seems there are no general pricing principals here, as the price for the same stuff can be totally different in the two neighboring shops. You should also remember, there seems to be no such thing as a wholesale discount. If you have bought two items of the same product and showed your interest, you can find out that the third one will cost you even more.
Remember that not everyone in Phu Quoc speaks English and that the Vietnamese don't really like the tourists, who look like Americans. This is the effect of their political …
Open
By the way, they rarely put the price tags on things. The only way to find out the price is to ask a seller. Everything will always be more expensive for tourists. Though, despite all this, the shopping in Phu Quoc is quite comfortable. Mostly thanks to low prices. Many things still cost more than in continental Vietnam, but shopping is still advantageous. There is not a wide range of European brands on the island, but there are enough local products.
Many travelers bring back home pearls from their trip to the island. You can buy it at pearl farms and in many other shops around the island. Keep in mind, that the pearls they sell here are very different. Usually, it is the cultivated one, which differs from the natural one only because the grain of sand is put in a clam by people. If the weight of a pearl is not big and the price is not high, it might be fake. Some dishonest producers use a little plastic ball instead of a grain of sand to make the process faster and to lower the cost. However, in Phu Quoc, you can buy cheap jewelry with low-quality pearls and expensive earrings and a necklace with natural sea pearls. Copyright www.orangesmile.com
In Phu Quoc, you can visit two farms, where the pearls are cultivated. One farm belongs to the Americans, another one – to the Japanese. On each of them, you can see how the pearls are …
Open
The travelers can also be interested in fish sauce. Remember that you have to pour it into a plastic bottle to transport it. The transportation of the sauce in a glass bottle is forbidden because of the smell, which covers everything immediately after a small leak. You should also buy spices. Thanks to several plantations, where they grow black pepper, the range of spices is large and the prices are low.
You should also bring the local coffee from Phu Quoc. It is quite good and not at all expensive – as well as the Vietnamese wine. A bottle of rum or vodka with a cobra will become an interesting present. Somebody brings home from the island different ceramic goods, which you can keep as souvenirs or use them for the intended purpose. A nice reminder of the trip will become a hand-embroidered picture or a tapestry. The local craftsmen are excellent in making souvenirs from bamboo, mahogany, and ivory.
Diving in Phu Quoc will please you with low prices and a diversity of underwater flora and fauna. All who want to join should go to the dive-center, which has been giving international …
Open
You should definitely buy Non, a traditional Chinese hat. There is also a lot of t-shirts, pants, jackets, shoes, and electronic goods. Don't forget that Vietnam is second after China in household goods and clothes production. If you want to buy something traditional and not products of world brands, take a closer look at silk outfits. You should better not buy any potted plants and different exotic seeds without documents – they can be confiscated at the Customs. You can also buy a bitter made from a seahorse, which is produced on the island, as a present for a man.

This guide to shopping in Phu Quoc Island is protected by the copyright law. You can re-publish this content with mandatory attribution: direct and active hyperlink to
www.orangesmile.com
.
City tours, excursions and tickets in Phu Quoc Island and surroundings
Photogallery of Phu Quoc Island best places
Search for shopping areas, streets, boutiques and supermarkeets on Phu Quoc Island map
Shopping advices for the whole region around Phu Quoc Island
Shopping advices for Phu Quoc Island. The best spots for buying designer clothes and local delicacies from Vietnam - shops, galleries, boutiques and outlets. We provide you with the shopping streets map, so you can plan your efficient shopping routes, while hunting for authentic souvenirs, goods, drinks, shoes and clothes in Phu Quoc Island.