Preparing your trip to Malta Island: advices & hints - things to do and to obey
1.
Young men looking to visiting local night clubs and casinos should have passport by themselves. Visitors under 18 are not allowed to entertaining establishments of the kind and the availability of passport will help to avoid club admittance troubles.
2. In many restaurants visitors should comply with a dress code. Setting off to a restaurant one should wear formal suits and evening dresses. Visitors wearing beach suits are not allowed to enter casinos and restaurants.
3. Divers should get a special "C" card in one of the local centers. The cards are available in all diving centers. To get a card one should have special health certificates.
4. The most sought after souvenirs among travelers are considered clayware, glassware and ceramics which should better be bought at the outdoor markets. The same original and interesting memorable souvenirs are considered to be brassware.
5.
Local restaurants and cafes welcome tips. 10-15% of the total order sum will be quite enough. Service fee is rarely included into total bill that is why even in upscale restaurants one should give tips in cash. Copyright www.orangesmile.com
6. Crime rate on Malta is rather low that is why one can safely and easily set off to the late evening trip. At the same time one should keep to certain safety rules: one should not keep valuables by oneself and leave bags unattended.
7. Bus are cruising the city from early morning till late evening. This means of transportation is a perfect way to reach any part of the island. Another popular transport is taxi. Commonly cars are not equipped with counters thus one should specify a cost of a trip in advance.
One of the most popular places of shopping for tourists in Malta is the village of masters Ta Qali Crafts Village, it is here you can find the most popular folk art and choose original …
Open
8.
One of the optimum means of transportation through the island is considered to be a private vehicle which can be rented in one of the numerous rental centers. To rent a car one will need only driving license. Drivers aged 25 to 70 can rent a car.
9.
Street call boxes offer the most profitable international telephony rates. The highest rates for international calls are offered in hotels. The street call boxes accept special plastic cards sold in different shops and hotels.

Preparing your trip to Malta Island: advices & hints - things to do and to obey You can re-publish this content with mandatory attribution: direct and active hyperlink to
www.orangesmile.com
.
What to visit being in Malta Island - unique sights
Megalithic Temples of Malta
From the series
"The Oldest Surviving Monuments on Earth"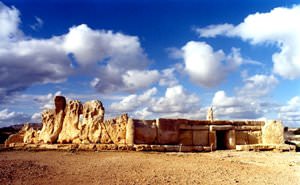 Check on the map:
Distance from Malta Island center - 3.8 km.
In total, more than twenty ancient temples were discovered on the island, among which only seven were preserved by miracle until our days. Of particular interest are four temples: Hagar Qim, Ġgantija, Tarxien and Mnajdra. The oldest temple is Ġgantija, and the largest - Hagar Qim. Mnajdra is characterized by unusual location and orientation. More than 5,000 years ago, this temple was built according to Feng Shui rules. …
Read further

City tours, excursions and tickets in Malta Island and surroundings
Malta: travelling advices

7. On the territory of the islands there is a ban on smoking in public places. For non-compliance with the requirements of the law, tourists face a serious fine. The Maltese strictly abide by the laws of the country. They can complain about an offender and demand that he be held accountable.
8. It is forbidden to sunbathe topless on the beaches, and the temples do not allow visitors in beach or too open clothes. Malta is a religious Christian country therefore, locals expect respectful attitude to temples and holy places.
9. Malta is one of the safest countries in Europe, and therefore tourists can freely navigate through its territory almost at any time of the day. Nevertheless, in popular tourist places, pickpockets operate.
10. In hotels in Malta with 4 or 5 stars, it is customary to follow the dress code; sports or beachwear in the evening time will be inappropriate. To change the towel, you need to leave it at the bottom of the bath. …
Open

Car rental on OrangeSmile.com

Thailand Relaxes Its COVID-19 Policy
New Year events in Thailand are likely to bring more people this year because everyone is tired of lockdowns and craving normal life. Many tourists, who book hotels in Pattaya, Krabi, or Phuket for the holiday season, also want to participate. As champagne has become an essential drink for New Year celebrations, the question regarding alcohol consumption comes to mind. The government allowed serving alcoholic drinks during the New Year countdown but only open-air cafes and restaurants with good ventilation will be permitted to do this until 1 am on 1 January 2022. This rule is nationwide.
Read this
01.06.2023
Photos of Malta Island
Services search (pharmacy, police, parking, banks) on Malta Island map
Tips for the cities around Malta Island
Travelling to Malta Island - advices and tips. What should be provisioned in advance, the rules you might want to follow, and the things you better avoid doing in Malta Island. We help you to make your trip smooth and easy, with no unexpected surprises.