In Malta, the archaeologists have discovered the astonishingly preserved ancient temples whose age is more than 5 500 years. Seven megalithic temples, which today belong to the historical objects of the world, have been used for a thousand years and are now regarded as a unified architectural complex. During the research of the temples were discovered the valuable historical artifacts, which have thrown a light on the specific periods of the history of the islands.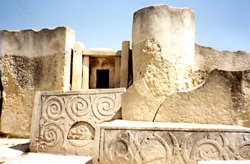 In the temples the fragments of ceramics were found, confirming the theory of the existence of highly developed civilization on the islands in ancient times. The scientists are convinced that there are still many hidden important historical monuments in Malta, some of whose elements were lost in the 19th century. In this period agriculture has begun to develop in Malta. In the excavation of the soil, the peasants unfortunately destroyed many ruins of the ancient buildings.
In total, more than twenty ancient temples were discovered on the island, among which only seven were preserved by miracle until our days. Of particular interest are four temples: Hagar Qim, Ġgantija, Tarxien and Mnajdra. The oldest temple is Ġgantija, and the largest - Hagar Qim. Mnajdra is characterized by unusual location and orientation. More than 5,000 years ago, this temple was built according to Feng Shui rules.
To the beginning - Stonehenge
Useful staff nearby
ATM bankomat: 'BOV ATM' located in 1.25 km (
check the route on the map
).
Car rental office: 'Percius Car Hire' is located in 2.04 km (
on the map
).
Fuel station: 'Petrol Station' in 0.72 km
Parking: 'Deloitte Parking' in 1.6 km
Apotheek: 'St Mary Pharmacy' in 1.54 km
Police station: 'Balzan Police Station' in 2.02 km
Cafe/restaurant: 'Sofra Kebab' in 0.73 km