Shopping in Maastricht - authentic goods, best outlets, malls and boutiques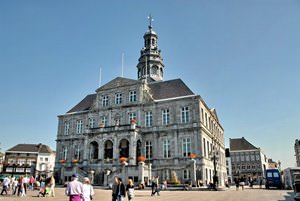 The majority of popular tourist shops in Maastricht are located close to Vrijthof Square. You can find many popular clothes stores with frequent sales and various promotions, as well as souvenir outlets that are always very popular with travelers. Guests of this part of the city can conveniently combine shopping with dining and relaxing in numerous charming cafes and restaurants. Moreover, there are many historical landmarks nearby.
Of course, the southernmost city of Holland is distinguished by special national features. Its residents cherish the traditions and customs of their ancestors. You will understand this if …
Open
If you're interested in premium designer items, head to Wolfstraat Street. There are many boutique shops that sell items by the most famous brands. Besides that, you will find a significant number of fashion house boutiques on that street. If you cannot find exactly what you need, you can always make an order to local tailors. Shops on Wolfstraat Street are distinguished by high prices, so many tourists prefer not to shop there.
If you're on a budget or simply do not want to spend much, shops located in Wyck district would suit you better. The shops in this part of the city have a lot more democratic prices. Besides clothes, one can buy interesting souvenirs. There are pavilions with classic and inexpensive souvenirs, and there are more interesting souvenir shops that sell exclusive handicrafts. Fans of vintage will be excited with their visit to Wyck as there are several great antiquity shops in that area. Copyright www.orangesmile.com
Start your observation of the city from visiting Vrijthof Square, which is the location of two bright architectural constructions - Basilica of Sint Servaas and Yanskerk Church. These …
Open
Connoisseurs of modern art should head to the elegant district of Jerkerkwartier. Here, they will find the most popular art galleries in the city, which exhibit works of young and talented artists. All the works exhibited there are available for sale. Visitors can even order a painting on demand or ask the make a portrait. As it's not hard to guess, the price of such works is not cheap, so many travelers visit these art galleries simply to enjoy an excursion.
If the idea of visiting interesting markets early in the morning sounds appealing to you, wait till Wednesday or Friday and head to Market Square. On these days, a wonderful farmers' market works there. In summer, the stalls are full of delicious fresh vegetables and fruit. The market is also a great place to purchase mouth-watering meat delicacies produced by local farmers, as well as magnificent Dutch cheese. Travelers, who are lucky to visit Maastricht in December, will have an opportunity to visit a wonderful Christmas market and purchase excellent gifts for their beloved ones.
In addition to traditional coffee shops, nightclubs and discos, Maastricht offers to its guests really many interesting ways of spending time. Thus, on the territory of the city are located …
Open
Selexyz Dominicanen bookstore remains the most famous shopping landmark in Maastricht. More than a decade ago, the shop opened in the building of a fully restored Dominican church that had been built more than 700 years ago. During a thorough restoration, the church has kept many elements of the original décor, including magnificent stained-glass windows. Nowadays, inside the beautiful architectural landmark, you will find rows of bookshelves and a great selection of books on different languages of the world. Besides that, the shop sells interesting souvenirs, brochures with the description of Maastricht landmarks, and maps with excursion routes. Once your visit to the internationally famous bookstore is finished, head to Luna Rossa café located nearby in order to try the most delicious ice cream in the city.
The Latin Quarter is a special place, a mere shopping in which will be more like an exciting excursion. Every shop in this part of the city looks more like an art gallery. In the Latin Quarter, travelers will find unique artworks, designer clothes and shoes, hand-made jewelry, and one-of-a-kind souvenirs. There are also several famous modern art galleries that exhibit many creative and interesting items. Of course, all works exhibited there can be purchased.
1. Tips in local restaurants and bars are included into the amount of the bill and estimate approximately 10 - 15%. If you want to, you can leave an additional amount for a waiter. Tips are …
Open
Every Saturday morning, the street near the railway station turns into a colorful antiquity market. As the market works only one day a week, it is better to visit it early. Old books, paintings and statuettes, vintage clothes and jewelry are just a small share of the goods that can be found on the market. Old vinyl records, antique tableware, and household items – it is not hard to guess why the market is so popular with collectors.

This guide to shopping in Maastricht is protected by the copyright law. You can re-publish this content with mandatory attribution: direct and active hyperlink to
www.orangesmile.com
.
City tours, excursions and tickets in Maastricht and surroundings
Reference information
Shopping streets in Maastricht
♥ Shopping area ' Stokstraat' Maastricht, 0.2 km from the center.
On the map
Photo
♥ Shopping area ' Wycker Brugstraat' Maastricht, 0.2 km from the center.
On the map
Photo
♥ Shopping area ' Kleine Staat' Maastricht, 0.3 km from the center.
On the map
Photo
♥ Shopping area ' Grote Staat' Maastricht, 0.4 km from the center.
On the map
Photo
Designer outlets in Maastricht and nearby
♥ Outlet 'Maasmechelen Village' Zetellaan 100, Maasmechelen, 3630, Belgium, 17.1 km from Maastricht.
On the map
♥ Outlet 'Designer Outlet Roermond' Stadsweide 2, Roermond, 6041, Netherlands, 44 km from Maastricht.
On the map
♥ Outlet 'Rosada Fashion Outlet' Rosada 70, Roosendaal, 4703, Netherlands, 116.4 km from Maastricht.
On the map
♥ Outlet 'McARTHURGLEN LUXEMBOURG' Route d Messancy, 6780, Belgium,, 139.6 km from Maastricht.
On the map
♥ Outlet 'Marques Avenue Talange ' Z.I. de Talange Hauconcourt, Talange, 57525, France, 183.4 km from Maastricht.
On the map
♥ Outlet 'Zweibruecken' Londoner Bogen 10-90 Zweibruecken 66482 Germany, 217.4 km from Maastricht.
On the map
Photogallery of Maastricht best places
Search for shopping areas, streets, boutiques and supermarkeets on Maastricht map
Shopping advices for the whole region around Maastricht
Shopping advices for Maastricht. The best spots for buying designer clothes and local delicacies from Netherlands - shops, galleries, boutiques and outlets. We provide you with the shopping streets map, so you can plan your efficient shopping routes, while hunting for authentic souvenirs, goods, drinks, shoes and clothes in Maastricht.